Review by Gary Tooze
Production:
Theatrical: Columbia Pictures Corporation
Video: Twilight Time
Disc:
Region: FREE (as verified by the Oppo Blu-ray player)
Runtime: 1:30:26.498
Disc Size: 30,629,785,278 bytes
Feature Size: 28,748,292,096 bytes
Video Bitrate: 21.99 Mbps
Chapters: 24
Case: Transparent Blu-ray case
Release date: August, 2016
Video:
Aspect ratio: 1.85:1
Resolution: 1080p / 23.976 fps
Video codec: MPEG-4 AVC Video
Audio:
DTS-HD Master Audio English 1922 kbps 2.0 / 48 kHz / 1922 kbps / 24-bit (DTS Core: 2.0 / 48 kHz / 1509 kbps / 24-bit)
Commentary:
DTS-HD Master Audio English 1799 kbps 2.0 / 48 kHz / 1799 kbps / 16-bit (DTS Core: 2.0 / 48 kHz / 1509 kbps / 16-bit)
Isolated Score:
DTS-HD Master Audio English 1946 kbps 2.0 / 48 kHz / 1946 kbps / 24-bit (DTS Core: 2.0 / 48 kHz / 1509 kbps / 24-bit)
Subtitles:
• English (SDH), None
Extras:
• Audio Commentary with Film Historians David Del Valle and Steven Peros
• Introduction by Actress Patricia Clarkson (4:23)
• Isolated Music & Effects Track
• Original Theatrical Trailer (2:59)
• Liner notes by Julie Kirgo
Limited to 3,000 Copies!
Bitrate:
Description: In the Pacific after the war, a U.S. Marine unit that includes Sgt. Phil O'Hara (Aldo Ray) is awaiting discharge when missionary Alfred Davidson (Jose Ferrer), physician Dr. Robert McPhail (Russell Collins) and singer Sadie Thompson (Rita Hayworth) arrive at the base. The soldiers are delighted by the spirited, friendly Sadie, and Phil falls in love with her. Davidson, however, unearths a secret in Sadie's past and, blocking her attempt to leave the island, demands that she repent.
The Film:
Filmed on location in Hawaii, Miss Sadie Thompson gave Rita Hayworth an opportunity to play one of the most famous femme fatales in literature, a role originally immortalized on the stage by the legendary Jeanne Eagels. Other actresses have attempted it since including Gloria Swanson and Joan Crawford but Hayworth puts a new spin on the character, bravely deglamorizing herself in the process. Ten pounds over her usual weight and costumed in dresses so tight you expect them to pop open any second (the film was originally released in 3-D), Hayworth perfectly captures Sadie's bawdy, unkempt physical appearance and unapologetic behavior. She also goes for broke during a frenzied musical number, "The Heat Is On," which is the genuine showstopper among the other two songs she performs (her vocals are dubbed by Jo Ann Greer), "Hear No Evil, See No Evil" and "Blue Pacific Blues." The latter number was nominated for the 1953 Best Song Oscar but lost to "Secret Love" from Calamity Jane.
Excerpt from TCM located HERE
For the most part, "Miss Sadie Thompson," as Columbia has brought it to the screen, is a Technicolor fable of the visit of an American party girl to a South Pacific island populated largely by a garrison of howling marines. This lady becomes the center of attraction the moment she arrives, and continues so, with interruptions, right up to the moment she leaves.

Her particular trick of delectation seems to be to get a gang of the boys either in Chung's bar or Joe Horn's hotel, and there regale them into the wee small hours with some rather hot singing and dancing, which plainly encourages the consumption of beer. The consequent caterwauling obviously and naturally annoys a visiting gentleman representing some foreign missions, who has taken a dim view of Miss Thompson, anyhow.
Excerpt from the NYTimes located HERE

Image : NOTE: The below Blu-ray captures were taken directly from the Blu-ray disc.
This Twilight Time Blu-ray package offers both the 3D and 2D (Standard) versions of the film, Miss Sadie Thompson. We will only review the 2D version here. The menu offers an option for both 3-D and 2-D playback, so this disc can be viewed on a regular 2-D monitor and 2-D Blu-ray player.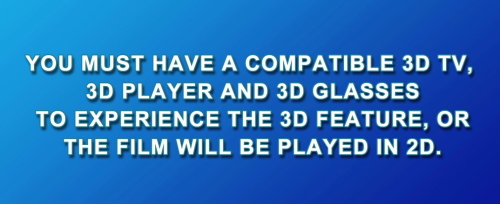 It should be noted that this was Columbia's first widescreen film!
Twilight Time did not include the original 'intermission title' on their Blu-ray release.
NOTE: the NTSC captures were obtained from Sony's 2010 DVD set The Films of Rita Hayworth reviewed HERE.
Miss Sadie Thompson comes to Twilight Time Blu-ray in a dual-layered, 1080P transfer with an uncharacteristically modest bitrate. The visuals are not overwhelming varying from massively clumpy grain with faded colors (the Technicolor is not exported with any richness or vibrancy) to cardboard cut-out flatness. It is much 'lighter' than the SD. Now, I did view the 3D on a friend's system and it did tend to look better although still imperfect but, for 2D viewing, this has some issues probably associated with the 3D process (my guess). I appreciated the 3D which offered simpler effects like swaying palms trees not 'pie-in-your-face' visuals. This Blu-ray gives an unusually weak and inconsistent 2D presentation in the original 1.85:1 aspect ratio however it does look better in-motion than the stills below represent. Regardless, I hope there is a better - or restorable - one surfacing somewhere.