Review by Gary Tooze
Production:
Theatrical: Columbia Pictures Corporation
Video: Twilight Time
Disc:
Region: FREE (as verified by the Oppo Blu-ray player)
Runtime: 1:12:47.821
Disc Size: 37,028,837,637 bytes
Feature Size: 23,149,314,048 bytes
Video Bitrate: 21.99 Mbps
Chapters: 12
Case: Standard Blu-ray case
Release date: January, 2017
Video:
Aspect ratio: 1.78:1
Resolution: 1080p / 23.976 fps
Video codec: MPEG-4 AVC Video
Audio:
DTS-HD Master Audio English 1965 kbps 2.0 / 48 kHz / 1965 kbps / 24-bit (DTS Core: 2.0 / 48 kHz / 1509 kbps / 24-bit)
Isolated Score:
DTS-HD Master Audio English 1721 kbps 2.0 / 48 kHz / 1721 kbps / 24-bit (DTS Core: 2.0 / 48 kHz / 1509 kbps / 24-bit)
Commentary:
DTS-HD Master Audio English 2049 kbps 2.0 / 48 kHz / 2049 kbps / 24-bit (DTS Core: 2.0 / 48 kHz / 1509 kbps / 24-bit)
Subtitles:
• English (SDH), None
Extras:
•
Audio Commentary by Film Historians David Del Valle and Steven Peros

•
Isolated Music Track

•
Two 3D/2D 1953 Comedy Shorts Starring The Three Stooges, Pardon My Backfire (15:57) and Spooks! (15:45)!

•
Master of Fright!: Conjuring The Mad Magician (19:49)

•
Original Theatrical Trailer (2:09)
• Liner notes by Julie Kirgo
Limited to 3,000 Copies!
Bitrate:
Description: Columbia Pictures' last entry in the 1950s 3D craze, The Mad Magician (1954) stars Vincent Price in a trademark role as a round-the-bend illusionist bent on revenge. Delightfully tongue-in-cheek, the film also offers some genuinely frightfest-style moments, courtesy of director John Brahm (The Lodger, The Undying Monster), one of Hollywood's foremost stylists of the macabre.
The Film:
For their final entry in the 1950s 3-D craze, Columbia decided to have producer Bryan Foy attempt to duplicate the success of the movie that started it all, House of Wax- Foy employed the star (Price) and the scriptwriter (Crane Wilbur) from that picture and created a very similar story of gruesome revenge tinged with tongue-in-cheek humor. The result, The Mad Magician (1954), was filmed in sparkling black-and-white and 3-D.

Turn-of-the-century illusion expert Don Gallico (Vincent Price) creates elaborate tricks for well-known magicians. He plans to open a show of his own using an elaborate buzz-saw trick which will appear to cut off the head of his assistant, Karen Lee (Mary Murphy). Gallico's employer at Illusion, Inc., Ross Ormond (Donald Randolph), shuts down the show before it begins. Gallico protests that he developed the new trick on his own time, but Ormond says that according to their contract of employment, he owns anything Gallico creates. At Gallico's workshop, Ormond shows the buzz-saw trick to magician The Great Rinaldi (John Emery), and Rinaldi is only too happy to take his rival's creation. After Rinaldi exits, Gallico confronts Ormond not only about his unfair business practices, but about stealing his wife Claire (Eva Gabor) away from him years before. Enraged, Gallico decapitates Ormond with the buzz-saw, and later disguises himself as Ormond to dispose of the body. Karen's boyfriend just happens to be police detective Lt. Alan Bruce (Patrick O'Neal), who sets about investigating Ormond's disappearance.
Excerpt from TCM located HERE

Image : NOTE: The below Blu-ray captures were taken directly from the Blu-ray disc.
Firstly, this Twilight Time Blu-ray package offers both the 3D and 2D version of the film, The Mad Magician. We will only review the 2D version here.
NOTE: The menu offers an option for both 3-D and 2-D playback but will only function in 3D when viewed on a compatible 3-D monitor and 3-D Blu-ray player set-up. When this disc is viewed on a regular 2-D monitor and 2-D Blu-ray player, the 3-D version is inaccessible -- regardless of the choice the "Play Movie" option defaults solely to the 2-D version.
This is dual-layered and looks fairly modest but acceptable - it has some softness but pleasing grain. I recently watched the 3D version on a friends' compatible system and it exported the usual effects (ex. a Yo-Yo performer on stage as found in House of Wax) that sometimes looked quite effective. The overall image is a bit 'light' but contrast seems adeptly layered. Not much damage or speckles are visible. I noticed no compression-style artifacts and it seemed a relatively consistent presentation. The Blu-ray 1080P isn't stellar but does an acceptable job in the, bastardized, 1.78:1 aspect ratio.
CLICK EACH BLU-RAY CAPTURE TO SEE ALL IMAGES IN FULL 1920X1080 RESOLUTION
Audio :
The DTS-HD mono track at 1066 kbps sounds clean with a few more impressive moments in pushing the film's modest depth through.
Arthur Lange (
The Undying Monster, Cry Danger, 99 River Street
) and Emil Newman (
Hondo
)
Twilight Time offer an isolated score in a slightly more robust lossless track. There are optional English subtitles (sample above) and m
y
Oppo
has identified it as being a region FREE.

Extras :
Twilight Time give us another fine audio commentary by film historians David Del Valle and Steven Peros who deconstruct features of the production - educating listeners in the process. There is the usual isolated music track plus included are two 1953, 3D-made, comedy shorts Starring The Three Stooges, Pardon My Backfire and Spooks! running over 1/2 hour in total with the optional of viewing in 2D or 3D. Master of Fright!: Conjuring The Mad Magician is a 20-minute piece with C. Courtney Joyner and others delving into the film's technical aspects and production foibles. Lastly are an original theatrical trailer and a liner notes leaflet with an essay by Julie Kirgo. The package is limited to 3,000 copies.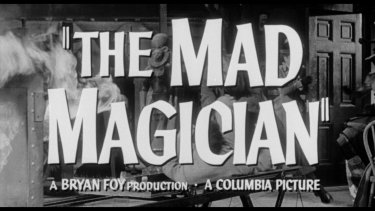 BOTTOM LINE:
The Mad Magician has a pretty good concept going for it - and classy Price is about as hammy as I can recall seeing with some dramatic facial expressions. It has the 3D appeal but the story is a bit lifeless the conflict building at a measured pace. I did enjoy many aspects of this horror but it is a notch below similar era work in the genre. Unless you are really drawn to it and are keen on viewing the 3-D capabilities - I'd say pass - kudos for the great cover though!
Gary Tooze
January 17th, 2017