Review by Gary Tooze
Production:
Theatrical: Gico Cinematografica S.r.l.
Video: 88 Films
Disc:
Region: 'B' (as verified by the Oppo Blu-ray player)
Runtime: 1:31:56.511
Disc Size: 22,939,712,340 bytes
Feature Size: 19,891,759,104 bytes
Video Bitrate: 24.00 Mbps
Chapters: 12
Case: Transparent Blu-ray case
Release date: January 11th, 2016
Video:
Aspect ratio: 1.85:1
Resolution: 1080p / 23.976 fps
Video codec: MPEG-4 AVC Video
Audio:
LPCM Audio English 1536 kbps 2.0 / 48 kHz / 1536 kbps / 16-bit
LPCM Audio Italian 1536 kbps 2.0 / 48 kHz / 1536 kbps / 16-bit
Subtitles:
English, none
Extras:
•
Trailer (2:18)
• 88 Films Trailer Reel (18:05)
• Italian Opening and End Credits (3:06)
• Reversible Sleeve with alternative art
• Includes a Collectible 300gsm Original Poster Post Card
Bitrate:
Description: Joe D'Amato may have hit video nasty pay-dirt with his classic monster-mash ANTHROPOPHAGUS but it was with EMANUELLE AND THE LAST CANNIBALS that the late great splatter genius made his most mesmerising flesh n fear masterpiece. Spinning a similar story to the later genre trendsetter CANNIBAL HOLOCAUST, DAmato begins his horror-shocker in Manhattan, wherein an undercover journalist (essayed by the legendary sex symbol Laura Gemser) comes across some found footage of native practices. Further indicating its influence on the movies that followed, DAmato sends his raven-haired reporter all the way to South America although even she cannot be prepared for the native nastiness that is about entrap her in the Amazon jungle!

Packing in plenty of exposed skin, and corporeal craziness, EMANUELLE AND THE LAST CANNIBALS has finally arrived in the UK nearly 40 years after its theatrical debut thanks to the daring of 88 Films, who present this gruelling gore-fest re-mastered and fully uncut and uncensored! Don't say you weren't warned....
The Film:
Black Emanuelle meets CANNIBAL HOLOCAUST (or perhaps more suitably CANNIBAL FEROX) when roving reporter Emanuelle (Laura Gemser, MURDER OBSESSION) does an expose of a New York mental hospital and witnesses a feral young woman (Dirce Funari, EROTIC NIGHTS OF THE LIVING DEAD) bite off a handsy nurse's breast. Sneaking into the restrained girl's room, she discovers and photographs a strange tattoo on the girl's abdomen. She seeks the expertise (in and out of the sack) of Professor Mark Lester (Gemser's husband Gabriele Tinti, LISA AND THE DEVIL) who recognizes the tattoo as belonging to that of a supposedly extinct Amazonian cannibal tribe. The two mount an expedition in search of this lost tribe, accompanied by missionary Sister Angela (Annamaria Clementi, PORNO SHOP ON 7TH STREET), hunter Donald McKenzie (Donald O'Brien, ZOMBIE HOLOCAUST's DR. BUTCHER, M.D. [MEDICAL DEVIATE]) and his horny wife Maggie (Susan Scott/Nieves Navarro, BLACK EMANUELLE, WHITE EMANUELLE/VELLUTO NERO), their studly guide Salvador (Percy Hogan, BLACK EMANUELLE 2), and Isabelle (Monica Zanchi, HITCH HIKE), the hot-to-trot virginal daughter of missionary Wilkes (Geoffrey Copleston, THE NIGHT PORTER). In between sweaty couplings, the expedition encounter sinister evidence that they are not alone, and sex soon gives way to rape and gut-munching (with effects by 1900's Fabrizio Sforza) as the survivors are captured and must decide whether to eat or be eaten. Producers Fabrizio de Angelis and Gianfranco Couyoumdjian would reuse much of series composer Nico Fidenco's original score - which includes the insanely catchy theme song "Make Love on the Wing" - in his ZOMBIE FLESH EATERS/CANNIBAL HOLOCAUST cash-grab ZOMBI HOLOCAUST (released stateside completely rescored as DR. BUTCHER M.D. (MEDICAL DEVIATE)) which had pretty much the same plot as EMANUELLE AND THE LAST CANNIBALS but swapped out the sex for more gore and Gemser for NEW YORK RIPPER's Alexandra delli Colli.
Eric Cotenas
Deeply involved in her journalist career, and glowing with the earnest nobility of a sixth form prefect, black Emanuelle (descended from the French softcore heroine but with only one 'm' to her name) finds little time for sex in this hilariously gruesome tale set in the Amazon jungles.
Excerpt from TimeOut located HERE

Image : NOTE: The below Blu-ray captures were taken directly from the Blu-ray disc.
Emanuelle and the Last Cannibals gets a Blu-ray transfer from 88 Films in the UK as part of their 'Italian Collection' series. It single-layered with a middling bitrate and can look quite soft at times. I have no idea what the original film looked like but this may not be far off - even though I understand it was shot in 35mm. It looks like the sources is of the same quality as the ones used in the Black Emanuelle Boxset that Eric reviewed. This is 1080P and the jungle colors seem fairly rich but I saw no depth in the 1.85:1 frame. The print used seems fairly clean and this may prove to be the best Emanuelle and the Last Cannibals can look for your home theatre. I have no idea. This Blu-ray actually looks better in-motion than the static captures.
CLICK EACH BLU-RAY CAPTURE TO SEE ALL IMAGES IN FULL 1920X1080 RESOLUTION
Audio :
88 Films offer linear PCM 2.0 channel tracks at 1536 kbps (16-bit) for both English and Italian with English subtitles. It sounds about as good as the video looks with sync issues prevalent. There is a hauntingly awkward score by Nico Fidenco (
Emanuelle and the White Slave Trade
,
Emanuelle in Bangkok
,
Emanuelle in America
) that seems to suit the film pretty well. Overall the audio is relatively weak but I would credit that to the production or source. My
Oppo
has identified it as being a region 'B'-locked.
Extras :
Extras consist of a rough looking trailer, 88 Films, almost 20-minute, Trailer Reel with with with Children of the Corn, Don't Go Into the Woods, Hollywood Chainsaw Hookers, Live Like a Cop, Die Like a Man, Mother's Day, Slaughterhouse, Transcers, Splatter University. There are 3-minutes of the Italian Opening and End Credits. The package has a reversible sleeve with alternative art, and it includes a collectible 300gsm Original Poster Post Card and a liner notes in the transparent case.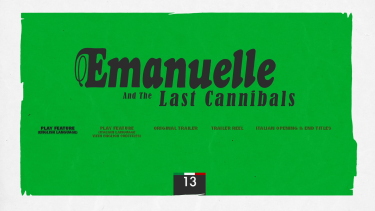 | | |
| --- | --- |
| | |
BOTTOM LINE:
Emanuelle and the Last Cannibals is pure exploitation garbage - which wouldn't be too bad if it had some style. It instead relies on the Laura Gemser's pretty face and very skinny body - okay, she's quite hot. There is a disturbing appeal in the filmmaking. Those keen on this genre might get a kick out of it (it's really so bad that it's funny) but overall I'd say it doesn't live up to its title. The 88 Films Blu-ray may be the definitive for all I know and for those interested, and prepared, it's kind of a funky film to own in HD.
Gary Tooze
January 21st, 2016