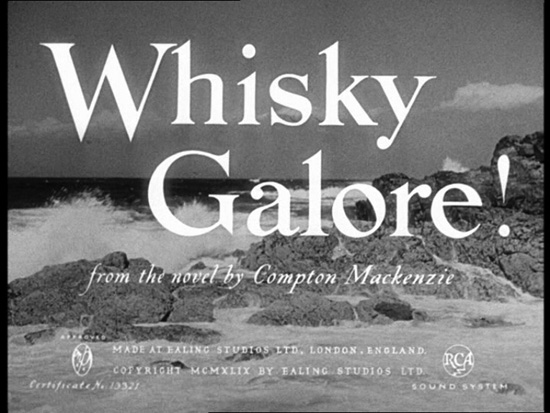 (aka "Tight Little Island" or "Whisky a Go Go")
directed by Alexander Mackendrick
United Kingdom 1949
In 1943 disaster struck the little island of Todday. A disaster worse than Nazi-bombs. The island was denied whisky. A state of devastation sat in. Fishermen contemplated drowning themselves, because what was life without whisky. But then a cargo ship carrying 50,000 cases of whisky struck a reef. And no sooner than the Sabbath was over, one minute past midnight Monday morning, the cargo was looted. Whisky galore!

Based on a true event, "Whisky Galore!" stands today, 60 years after its making, as one of the not just most popular British comedies ever made, but also one of the best British films ever.

It was almost dropped from production. First time director Alexander Mackendrick went £20,000 over budget and Ealing seriously considered pulling the plugs. But they decided to finish the film and it became one of their biggest successes, making Mackendrick one of their most prominent names, who would go on making great films like "The Man in the White Suit", "The Maggie" and "The Ladykillers", and then later the seminal "Sweet Smell of Success".

Written by Compton MacKenzie, who plays the captain of the ship in the film, and Angus McPhail, featuring great performances by Basil Radford and Joan Greenwood, "Whisky Galore!" is a triumph of Ealing comedy.

Posters
Theatrical Release: June 1949
Reviews More Reviews DVD Reviews
DVD Review: Optimum (2 Disc Special Edition) - Region 2 - PAL
Big thanks to Henrik Sylow for the Review!
DVD Box Cover

CLICK to order from:

Distribution

Optimum

Region 2 - PAL

Runtime
1:19:58 (4% PAL speedup)
Video

1.30:1 Original Aspect Ratio
Average Bitrate: 6.21 mb/s
PAL 720x576 25.00 f/s

NOTE: The Vertical axis represents the bits transferred per second. The Horizontal is the time in minutes.

Bitrate

Audio
2.0 Dolby Digital English Mono
Subtitles
No subtitles
Features
Release Information:
Studio: Optimum

Aspect Ratio:
Fullscreen - 1.30:1

Edition Details:
• Audio commentary by John Ellis
• Introduction by George Perry (5:06)
• Ealing Poster Gallery
• Other releases

Disc 2:
• Distilling Whisky Galore (52:05 / 4:3)
• The real Whisky Galore with Angus Campbell (19:46 / 4:3)
• Hilery MacKendrick in conversation with Anthony Slide (36:55 / 4:3)
• 64 page book comprising extracts from Faber's Alexander Mackendrick on Film-making

DVD Release Date: October 10, 2005
Keep Case

Chapters 8
Comments
Presented in the original 1.30:1 format, this newly digitally restored version of "Whisky Galore!" is simply stunning. While few scenes display W&T, and few are very grainy due to poor source, the general transfer, newly digitally restored and remastered, is impressive to say the least. Strong details, solid blacks and basically flawless. One very beautiful transfer.

Sound is the original mono track.

The extras are equally impressive. With the DVD comes a 64 page book about Mackendrick as filmmaker. The film is introduced by film critic George Perry, and is supported by a historical audio commentary by historian John Ellis. It is a highly informative commentary, full of anecdotes and historical details, similar to those by Bruce Eder or Rudy Behlmer.

Disc two has three amazing features. The first is the 1991 documentary about "Whisky Galore" and the real event by John Ellis. Very BBC-ish in its presentation, but very informative and with interviews by Mackendrick and crew. The second is a 20 minute personal reflection of the real event by islander Angus Campbell. The third and final is an interview of Alexander Mackendrick's wife, Hilary Mackendrick, by film historian Anthony Slide.

Considering the beautiful transfer and the overwhelming additional material, this is one of the best DVD releases of the year.
---
---
Screen Captures
DONATIONS Keep DVDBeaver alive and advertisement free:
Mail cheques, money orders, cash to: or CLICK PayPal logo to donate!
Thank You!
Alexander Mackendrick's - Whisky Galore! - DVD Review Alexander Mackendrick Whisky Galore! DVD Review Alexander Mackendrick Whisky Galore! DVD Review Alexander Mackendrick Whisky Galore! DVD Review Alexander Mackendrick Whisky Galore! DVD Review Alexander Mackendrick Whisky Galore! DVD Review Alexander Mackendrick Whisky Galore! DVD Review Alexander Mackendrick Whisky Galore! DVD Review Alexander Mackendrick Whisky Galore! DVD Review Alexander Mackendrick Whisky Galore! DVD Review Alexander Mackendrick's - Whisky Galore! - DVD Review Alexander Mackendrick Whisky Galore! DVD Review Alexander Mackendrick Whisky Galore! DVD Review Alexander Mackendrick Whisky Galore! DVD Review Alexander Mackendrick Whisky Galore! DVD Review Alexander Mackendrick Whisky Galore! DVD Review Alexander Mackendrick Whisky Galore! DVD Review Alexander Mackendrick Whisky Galore! DVD Review Alexander Mackendrick Whisky Galore! DVD Review Alexander Mackendrick Whisky Galore! DVD Review Alexander Mackendrick's - Whisky Galore! - DVD Review Alexander Mackendrick Whisky Galore! DVD Review Alexander Mackendrick Whisky Galore! DVD Review Alexander Mackendrick Whisky Galore! DVD Review Alexander Mackendrick Whisky Galore! DVD Review Alexander Mackendrick Whisky Galore! DVD Review Alexander Mackendrick Whisky Galore! DVD Review Alexander Mackendrick Whisky Galore! DVD Review Alexander Mackendrick Whisky Galore! DVD Review Alexander Mackendrick Whisky Galore! DVD Review Alexander Mackendrick's - Whisky Galore! - DVD Review Alexander Mackendrick Whisky Galore! DVD Review Alexander Mackendrick Whisky Galore! DVD Review Alexander Mackendrick Whisky Galore! DVD Review Alexander Mackendrick Whisky Galore! DVD Review Alexander Mackendrick Whisky Galore! DVD Review Alexander Mackendrick Whisky Galore! DVD Review Alexander Mackendrick Whisky Galore! DVD Review Alexander Mackendrick Whisky Galore! DVD Review Alexander Mackendrick Whisky Galore! DVD Review Alexander Mackendrick's - Whisky Galore! - DVD Review Alexander Mackendrick Whisky Galore! DVD Review Alexander Mackendrick Whisky Galore! DVD Review Alexander Mackendrick Whisky Galore! DVD Review Alexander Mackendrick Whisky Galore! DVD Review Alexander Mackendrick Whisky Galore! DVD Review Alexander Mackendrick Whisky Galore! DVD Review Alexander Mackendrick Whisky Galore! DVD Review Alexander Mackendrick Whisky Galore! DVD Review Alexander Mackendrick Whisky Galore! DVD Review Alexander Mackendrick's - Whisky Galore! - DVD Review Alexander Mackendrick Whisky Galore! DVD Review Alexander Mackendrick Whisky Galore! DVD Review Alexander Mackendrick Whisky Galore! DVD Review Alexander Mackendrick Whisky Galore! DVD Review Alexander Mackendrick Whisky Galore! DVD Review Alexander Mackendrick Whisky Galore! DVD Review Alexander Mackendrick Whisky Galore! DVD Review Alexander Mackendrick Whisky Galore! DVD Review Alexander Mackendrick Whisky Galore! DVD Review Alexander Mackendrick's - Whisky Galore! - DVD Review Alexander Mackendrick Whisky Galore! DVD Review Alexander Mackendrick Whisky Galore! DVD Review Alexander Mackendrick Whisky Galore! DVD Review Alexander Mackendrick Whisky Galore! DVD Review Alexander Mackendrick Whisky Galore! DVD Review Alexander Mackendrick Whisky Galore! DVD Review Alexander Mackendrick Whisky Galore! DVD Review Alexander Mackendrick Whisky Galore! DVD Review Alexander Mackendrick Whisky Galore! DVD Review Alexander Mackendrick's - Whisky Galore! - DVD Review Alexander Mackendrick Whisky Galore! DVD Review Alexander Mackendrick Whisky Galore! DVD Review Alexander Mackendrick Whisky Galore! DVD Review Alexander Mackendrick Whisky Galore! DVD Review Alexander Mackendrick Whisky Galore! DVD Review Alexander Mackendrick Whisky Galore! DVD Review Alexander Mackendrick Whisky Galore! DVD Review Alexander Mackendrick Whisky Galore! DVD Review Alexander Mackendrick Whisky Galore! DVD Review Alexander Mackendrick's - Whisky Galore! - DVD Review Alexander Mackendrick Whisky Galore! DVD Review Alexander Mackendrick Whisky Galore! DVD Review Alexander Mackendrick Whisky Galore! DVD Review Alexander Mackendrick Whisky Galore! DVD Review Alexander Mackendrick Whisky Galore! DVD Review Alexander Mackendrick Whisky Galore! DVD Review Alexander Mackendrick Whisky Galore! DVD Review Alexander Mackendrick Whisky Galore! DVD Review Alexander Mackendrick Whisky Galore! DVD Review Alexander Mackendrick's - Whisky Galore! - DVD Review Alexander Mackendrick Whisky Galore! DVD Review Alexander Mackendrick Whisky Galore! DVD Review Alexander Mackendrick Whisky Galore! DVD Review Alexander Mackendrick Whisky Galore! DVD Review Alexander Mackendrick Whisky Galore! DVD Review Alexander Mackendrick Whisky Galore! DVD Review Alexander Mackendrick Whisky Galore! DVD Review Alexander Mackendrick Whisky Galore! DVD Review Alexander Mackendrick Whisky Galore! DVD Review Alexander Mackendrick's - Whisky Galore! - DVD Review Alexander Mackendrick Whisky Galore! DVD Review Alexander Mackendrick Whisky Galore! DVD Review Alexander Mackendrick Whisky Galore! DVD Review Alexander Mackendrick Whisky Galore! DVD Review Alexander Mackendrick Whisky Galore! DVD Review Alexander Mackendrick Whisky Galore! DVD Review Alexander Mackendrick Whisky Galore! DVD Review Alexander Mackendrick Whisky Galore! DVD Review Alexander Mackendrick Whisky Galore! DVD Review Alexander Mackendrick's - Whisky Galore! - DVD Review Alexander Mackendrick Whisky Galore! DVD Review Alexander Mackendrick Whisky Galore! DVD Review Alexander Mackendrick Whisky Galore! DVD Review Alexander Mackendrick Whisky Galore! DVD Review Alexander Mackendrick Whisky Galore! DVD Review Alexander Mackendrick Whisky Galore! DVD Review Alexander Mackendrick Whisky Galore! DVD Review Alexander Mackendrick Whisky Galore! DVD Review Alexander Mackendrick Whisky Galore! DVD Review Alexander Mackendrick's - Whisky Galore! - DVD Review Alexander Mackendrick Whisky Galore! DVD Review Alexander Mackendrick Whisky Galore! DVD Review Alexander Mackendrick Whisky Galore! DVD Review Alexander Mackendrick Whisky Galore! DVD Review Alexander Mackendrick Whisky Galore! DVD Review Alexander Mackendrick Whisky Galore! DVD Review Alexander Mackendrick Whisky Galore! DVD Review Alexander Mackendrick Whisky Galore! DVD Review Alexander Mackendrick Whisky Galore! DVD Review