Review by Gary Tooze
Production:
Theatrical: Twentieth Century Fox Film Corporation
Video: Signal One Entertainment
Disc:
Region: 'B' (as verified by the Oppo Blu-ray player)
Runtime: 1:30:28.800
Disc Size: 24,876,786,974 bytes
Feature Size: 20,254,276,032 bytes
Video Bitrate: 24.99 Mbps
Chapters: 19
Case: Standard Blu-ray case
Release date: July 31st, 2017
Video:
Aspect ratio: 2.35:1
Resolution:
1080P / 24 fps

Video codec: MPEG-4 AVC Video
Audio:
LPCM Audio English 1536 kbps 2.0 / 48 kHz / 1536 kbps / 16-bit
Commentary:
LPCM Audio English 1536 kbps 2.0 / 48 kHz / 1536 kbps / 16-bit
Subtitles:
English (HoH), None
Extras:
• Audio Commentary by Actor John Leyton
• Still Gallery
• Original Theatrical Trailer (1:44)
DVD
Bitrate:
Description: Regimental Sergeant-Major Lauderdale is a spit-and-polish, by-the-book disciplinarian, who seems like a 19th Century anachronism in a sleepy peacetime African outpost of the modern British Commonwealth. He is ridiculed behind his back by his subordinate NCO's and must play host to a liberal female MP making a tour of the base. However, when an ambitious African officer, who happens to be a protégé of the MP's, initiates a coup d'etat against Captain Abraham, the lawful African commandant, the resourceful RSM uses all his military training to arm his men despite being under house arrest and rescue the wounded commandant from a certain firing squad. When Lt. Boniface, the leader of the mutiny surrounds the sergeants mess with two Bofors guns, it looks like Lauderdale will have to surrender unless he again disobeys orders and takes the initiative.
***
The East African nation of Batasi is tearing apart at the seams, and a group of British soldiers are caught in the middle. As fighting breaks out between two rival factions in the former British colony, by-the-books Regimental Sgt. Maj. Lauderdale (Richard Attenborough) attempts to preserve peace and order. But his rigid style of command becomes increasingly ill-suited to a volatile political situation in which the stability of the old era has been replaced by violent conflict.
The Film:
There are British officers there who are trying to handle the situation that has sprung upon them. The leader of these officers is Sgt. Maj. Lauderdale, portrayed by Richard Attenborough. And let me say that he is absolutely fantastic here (he won a BAFTA for his performance). In the beginning we see him through the eyes of his subordinates, a odler officer who is set in his ways, tells the same stories over and over, and is too strict for their liking. However, when he takes the lead when the mutiny takes place he is assertive, decisive, smart, and demanding of both his men and of the mutineers.

Now I want to talk about the camera work, because it was exceptional. It was nominated for a BAFTA, and I feel it was well deserving. The camera just seems to have a way of flowing between the characters and capturing the action so well. There are multiple shots here where I just said to myself, "Wow." It was nothing breathtaking like scenery, but just framing, angles, lighting. Just overall great stuff here.
Excerpt from CornDogChats located HERE
Richard Attenborough gives what's regarded as one of his finest performances as a Regimental Sergeant Major who goes down fighting while the British military relinquishes its command over early '60s Africa. John Guillermin directed this 1964 Cinemascope production, which offers terrific performances from Attenborough, Jack Hawkins, Flora Robson, and Mia Farrow in her movie debut.
Excerpt from AndyFilm located HERE

Image : NOTE: The below Blu-ray captures were taken directly from the Blu-ray disc.
Guns at Batasi gets an imperfect transfer to Blu-ray from Signal One in the UK. It is single-layered, 1080P, with a supportive bitrate for the 1.5 hour feature. The film was shot in CinemaScope at Pinewood studios and looks quite remarkable in black and white with a 2.35:1 widescreen aspect ratio. It can look quite striking with some excellent lighting and cinematography by Douglas Slocombe - DoP for many highly acclaimed films. Contrast has some impressive layers but has some green infiltration and there is plenty of depth. It looked very pleasing on my system with no unforgivable flaws.
CLICK EACH BLU-RAY CAPTURE TO SEE ALL IMAGES IN FULL 1920X1080 RESOLUTION
Audio :
Audio comes in a linear PCM 2.0 channel track at 1536 kbps (16-bit) in the original English language. There are plenty of battle-preparation scenes but limited aggression and the dialogue is quite clear and consistent in the lossless. The
score is by John Addison (
The Man Between
,
A Taste of Honey, The Honey Pot, The Seven-Per-Cent Solution, Strange Invaders) and augments the film's building tension and desperation.
There are optional English (SDH) subtitles and my
Oppo
has identified it as being a region 'B'-locked.
Extras :
There is an audio commentary by actor, and singer, John Leyton. As well as Guns at Batasi his films include The Great Escape, Von Ryan's Express, Krakatoa, East of Java and many more. He expands on the fact that the film was all studio shot - although appearing to be Africa and the performance by Richard Attenborough that he claims may be his best ever - he describes it as dedicated and intense. It's fairly casual and modestly paced but he provides some good first-hand details about the production. Not bad. There is a stills gallery, an original theatrical trailer and the package has a second disc DVD.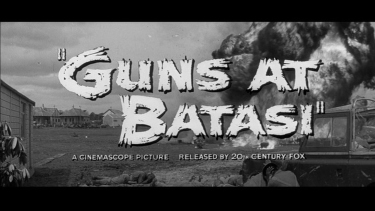 BOTTOM LINE:
Guns at Batasi is a very good film that evokes the impending danger and fear exported by Zulu - on a smaller scale, of course. Attenborough is outstanding and the support is top shelf. Great to see Mia's first feature. The Signal One Blu-ray is solid in presenting the film in an impressive 1080P transfer complete with a commentary. This surprised me both as an exceptional, war-related and less racial and more political/cultural, film and the completeness of the Blu-ray. Great job Signal One! Very much recommended!
Gary Tooze
September 20th, 2017