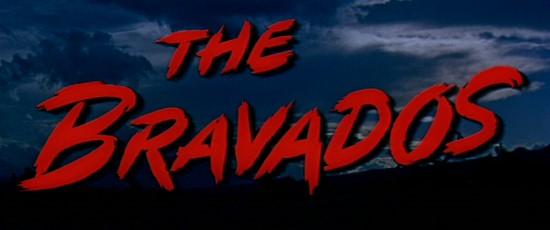 directed by Henry King
USA 1958
Except for Joan Collins's abject failure as a Latina heiress and some of the overly pumped-up musical score, "The Bravados" is a great film, one of the great adult westerns of the 1950s, in the company of Anthony Mann's westerns with James Stewart and John Ford's "The Searchers," which is now recognized as a canonical masterpiece. Peck in "The Bravados" has the same relentless monomania John Wayne had in "The Searchers" (and that Peck himself had in John Huston's film of "Moby Dick").

Jim Douglass (Peck) arrives in Rio Arriba at the start of the film to watch the hanging of four men he has been stalking for six months, since his wife was raped and murdered. He is practically mute, with a barely contained rage blazing in his eyes. When the Sheriff Sanchez (Herbert Rudley) lets him look at the prisoners in their cell, he emits no sound. The "Indian" Lujan (Henry Silva) recognizes the eyes of a hunter. None of the four condemned men know Douglass or who he is. (Over the course of the movie, they find out.)

They are sprung by Joe DeRita ("Curly Joe" of the 3 Stooges!) as the hangman and the hunt resumes, with Douglass the de facto leader of a posse, but picking off the escaped prisoners in direct encounters, confronting them with the picture of his dead wife and young daughter that he carries inside his pocket watch. The ones I recognize are Lee Van Cleef, Stephen Boyd, and Henry Silva. (I think the other is Albert Salmi.) For me, Silva is indelibly one of the villains from "The Manchurian Candidate," but his role here turns out to have surprising depths. He does more than lock eyes with Peck in the jailhouse scene.

The movie has a denouement (before the ending) that rivals those in "The Gunfighter" and "The Searchers" for poetic justice (of the mouthful of ashes flavor). The movie is also very scenic (filmed by four-time Oscar winner Leon Shamroy) and contains the carefully wrought details of escape and the hunt of the best action flicks. What really matters most, however, is all in Gregory Peck's eyes (and not just the burning quest for vengeance).

Henry King made a range of movies. Indeed, he made a range of movies just with Gregory Peck, including some of Peck's best (Twelve o'clock High, The Snows of Kilimanjaro, The Gunfighter).
Excerpt from Stephen O. Murray's review on Epinions located HERE
Posters
Theatrical Release: June 25th, 1958
Reviews More Reviews DVD Reviews
DVD Review: 20th Century Fox - Region 1 - NTSC
DVD Box Cover

CLICK to order from:

Distribution
20th Century Fox Home Video - Region 1 - NTSC
Runtime
1:37:42
Video
2.35:1 Original Aspect Ratio
Average Bitrate: 5.67 mb/s
NTSC 720x480 29.97 f/s

NOTE: The Vertical axis represents the bits transferred per second. The Horizontal is the time in minutes.

Bitrate:

Audio
English (Dolby Digital 4.0 Surround), DUBs: French (Mono) , Spanish (Mono)
Subtitles
English, Spanish, None
Features

Release Information:
Studio: 20th Century Fox Home Video

Aspect Ratio:
Original Aspect Ratio 2.35:1

Edition Details:

• Theatrical trailer
• Fox Movie-Tone news (2 short features)

NOTE: Full Screen version on opposite side.

DVD Release Date: May 24th, 2005
Keep Case
Chapters: 12
Comments:

NOTE: This image seems slightly horizontally stretched to me.

Many have noted that in the past year or so I have become a HUGE western fan. Luckily they are being released on DVD quite frequently of late, so I am indulging very extensively.

The anamorphic image on this DVD is very good. Colors seem acceptable (skin tones realistic) and it has relative sharpness. The progressive image is an accurate and tight 2.35:1 ratio and looks fabulous on a tube TV. Minor complaint might be that it looks a little thick in some scenes, but contrast and black levels are quite strong. The 4.0 audio is tested a few times and is up to par. The subtitles are well-done and Extras are quite lean with a trailer and 2 Fox Movie-Tone filler clips.

I have to try to be objective in my estimation of the film as I tend to enjoy westerns so much these days, but I saw a lot of positives in this movie. Strong story and performances and adept direction from King. I recommend! out of
---



DVD Menus
---
Subtitle Sample
Screen Captures
---
---
---
Recommended Reading for Western Genre Fans (CLICK COVERS or TITLES for more information)
Check out more in "The Library"
---
DVD Box Cover

CLICK to order from:

Distribution
20th Century Fox Home Video - Region 1 - NTSC
---






Henry King's The Bravados 20th Century Fox - region 1- NTSC The Bravados Henry King Gregory Peck DVD Review The Bravados Henry King Gregory Peck DVD Review The Bravados Henry King Gregory Peck DVD Review The Bravados Henry King Gregory Peck DVD Review The Bravados Henry King Gregory Peck DVD Review The Bravados Henry King Gregory Peck DVD Review The Bravados Henry King Gregory Peck DVD Review The Bravados Henry King Gregory Peck DVD Review The Bravados Henry King Gregory Peck DVD Review The Bravados Henry King Gregory Peck DVD Review The Bravados Henry King Gregory Peck DVD Review The Bravados Henry King Gregory Peck DVD Review The Bravados Henry King Gregory Peck DVD Review The Bravados Henry King Gregory Peck DVD Review Henry King's The Bravados 20th Century Fox - region 1- NTSC The Bravados Henry King Gregory Peck DVD Review The Bravados Henry King Gregory Peck DVD Review The Bravados Henry King Gregory Peck DVD Review The Bravados Henry King Gregory Peck DVD Review The Bravados Henry King Gregory Peck DVD Review The Bravados Henry King Gregory Peck DVD Review The Bravados Henry King Gregory Peck DVD Review The Bravados Henry King Gregory Peck DVD Review The Bravados Henry King Gregory Peck DVD Review The Bravados Henry King Gregory Peck DVD Review The Bravados Henry King Gregory Peck DVD Review The Bravados Henry King Gregory Peck DVD Review The Bravados Henry King Gregory Peck DVD Review The Bravados Henry King Gregory Peck DVD Review Henry King's The Bravados 20th Century Fox - region 1- NTSC The Bravados Henry King Gregory Peck DVD Review The Bravados Henry King Gregory Peck DVD Review The Bravados Henry King Gregory Peck DVD Review The Bravados Henry King Gregory Peck DVD Review The Bravados Henry King Gregory Peck DVD Review The Bravados Henry King Gregory Peck DVD Review The Bravados Henry King Gregory Peck DVD Review The Bravados Henry King Gregory Peck DVD Review The Bravados Henry King Gregory Peck DVD Review The Bravados Henry King Gregory Peck DVD Review The Bravados Henry King Gregory Peck DVD Review The Bravados Henry King Gregory Peck DVD Review The Bravados Henry King Gregory Peck DVD Review The Bravados Henry King Gregory Peck DVD Review Henry King's The Bravados 20th Century Fox - region 1- NTSC The Bravados Henry King Gregory Peck DVD Review The Bravados Henry King Gregory Peck DVD Review The Bravados Henry King Gregory Peck DVD Review The Bravados Henry King Gregory Peck DVD Review The Bravados Henry King Gregory Peck DVD Review The Bravados Henry King Gregory Peck DVD Review The Bravados Henry King Gregory Peck DVD Review The Bravados Henry King Gregory Peck DVD Review The Bravados Henry King Gregory Peck DVD Review The Bravados Henry King Gregory Peck DVD Review The Bravados Henry King Gregory Peck DVD Review The Bravados Henry King Gregory Peck DVD Review The Bravados Henry King Gregory Peck DVD Review The Bravados Henry King Gregory Peck DVD Review Henry King's The Bravados 20th Century Fox - region 1- NTSC The Bravados Henry King Gregory Peck DVD Review The Bravados Henry King Gregory Peck DVD Review The Bravados Henry King Gregory Peck DVD Review The Bravados Henry King Gregory Peck DVD Review The Bravados Henry King Gregory Peck DVD Review The Bravados Henry King Gregory Peck DVD Review The Bravados Henry King Gregory Peck DVD Review The Bravados Henry King Gregory Peck DVD Review The Bravados Henry King Gregory Peck DVD Review The Bravados Henry King Gregory Peck DVD Review The Bravados Henry King Gregory Peck DVD Review The Bravados Henry King Gregory Peck DVD Review The Bravados Henry King Gregory Peck DVD Review The Bravados Henry King Gregory Peck DVD Review