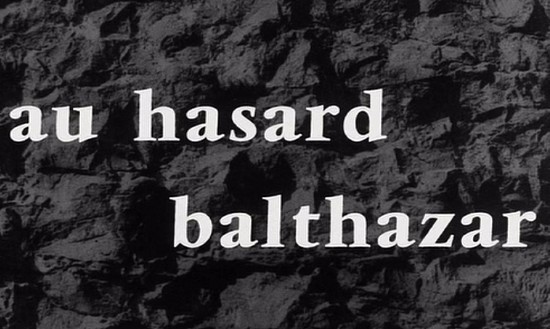 (aka 'Balthazar' or 'Min všn Balthazar' ')
(written in September 2003 just before the U.S. October 2003 theatrical run of Balthazar)

Although Robert Bresson's 1966 Au Hasard, Balthazar instantly attained its status as a classic, the current revival run at New York City's Film Forum (October 17 – 30, 2003) actually represents the first theatrical release for the film in the United States. Au Hasard, Balthazar has continued to intrigue film critics and scholars (it missed placing in the Top Ten during the 2002 Sight & Sound poll of international critics, but it made it into the Top Twenty), but it is one of those classics that remains virtually invisible to the public at large, certainly in this country. (For the record, Au Hasard, Balthazar tied with two other films at Number 19: Truffaut's Jules and Jim and Antonioni's L'Avventura.)

The circumstances of the making of Au Hasard, Balthazar were anomalous in the extreme. Mag Bodard, the French producer whose company Parc Films was actually a very small, independent concern, had just had a huge international success with Jacques Demy's The Umbrellas of Cherbourg (1964); Demy was an avowed disciple of Bresson (Elina Labourdette, who played Cecile's mother in Demy's first feature, Lola, had been the ingenue in Bresson's Les Dames du Bois de Boulogne; stills from Bresson's film are used in Lola to represent the character's past); Demy put Mag Bodard in touch with Bresson for the express purpose of producing Bresson's next film. Since the mid-1950s, Bresson's dream project had been a film about the legend of King Arthur, but the budget for that project proved too much for Bodard's limited finances. Turning to an anecdote from Dostoevsky's The Idiot, Bresson came up with an original script about the turmoil of an adolescent girl in a small border village; the trick was that the story of Marie would be contrasted with the life of her pet, a donkey she has named Balthazar. The financing for the film would be part of a deal involving coproduction money with Svensk Filmindustri; the only requirement was that there had to be some Swedish personnel involved. (This was the same deal which also brought about Jean-Luc Godard's Masculine Feminine for George De Beauregard's Rome-Paris Films.) By the end of 1965, with a script ready and the film cast, Bresson set about the production of Au Hasard, Balthazar, only the second "original" screenplay of his career (his previous works had been adaptations of novels or nonfiction, with the exception of Pickpocket).
Excerpt of Daryl Chin's article found on Robert-Bresson.com
Posters
Theatrical Release: May 25th, 1966 - France
Reviews More Reviews DVD Reviews
DVD Review:
Nouveaux Pictures - Region 0 - PAL
Big thanks to Trond Trondsen of Masters of Cinema for the screen captures!
DVD Box Cover

CLICK to order from:

Distribution
Nouveaux Pictures - Region 0 - PAL
Runtime
1:31:24
Video
1.63:1 Original Aspect Ratio
Average Bitrate: 6.29 mb/s
PAL 720x576 25.00 f/s

NOTE: The Vertical axis represents the bits transferred per second. The Horizontal is the time in minutes.

Bitrate:

Audio
French (Dolby Digital 1.0 Mono)
Subtitles
English (non-removable)
Features

Release Information:
Studio: Nouveaux Pictures

Aspect Ratio:
Original aspect Ratio 1.63:1

Edition Details:

• Bresson Filmography

• Photo Gallery

DVD Release Date: November 22nd, 2004
Keep Case
Chapters: 12
Comments:

This DVD has been mastered from the newly restored print. The transfer is simply breathtaking, as the screengrabs below also bear witness to. The contrast is perfectly balanced, and you'll be hard-pressed to find traces of dust or scratches. I probably haven't been as excited over the visual quality of a DVD since I first saw Criterion's L'Avventura, Asmik Ace's Suna no onna, and Tartan's Winter Light. The audio has some minor problems with subtle humming, whirring, and whistling at various odd frequencies. The English subtitles are excellent. There are a few minor typographical blunders, and the subtitles unfortunately cannot be turned off. There are no significant extras, but who cares, really, in the face of such an excellent representation of a cinematic masterpiece. This is probably one of my favorite DVDs thus far! Support DVDBeaver and click the Amazon link above, NOW!

out of (due to inability to turn subs off)

--Trond Trondsen, mastersofcinema.org
Recommended Reading for Robert Bresson fans (CLICK COVERS or TITLES for more information)
Check out more in "The Library"
---


DVD Menus
---
Subtitle Sample
Screen Captures
---
---
Recommended Reading for Robert Bresson fans (CLICK COVERS or TITLES for more information)
Check out more in "The Library"
---
DVD Box Cover

CLICK to order from:

Distribution
Nouveaux Pictures - Region 0 - PAL






Robert Bresson Au hasard Balthazar DVD Review Robert Bresson Au hasard Balthazar DVD Review Robert Bresson Au hasard Balthazar DVD Review Robert Bresson Au hasard Balthazar DVD Review Robert Bresson Au hasard Balthazar DVD Review Robert Bresson Au hasard Balthazar DVD Review Robert Bresson Au hasard Balthazar DVD Review Robert Bresson Au hasard Balthazar DVD Review Robert Bresson Au hasard Balthazar DVD Review Robert Bresson Au hasard Balthazar DVD Review Robert Bresson Au hasard Balthazar DVD Review Robert Bresson Au hasard Balthazar DVD Review Robert Bresson Au hasard Balthazar DVD Review Robert Bresson Au hasard Balthazar DVD Review Robert Bresson Au hasard Balthazar DVD Review Robert Bresson Au hasard Balthazar DVD Review Robert Bresson Au hasard Balthazar DVD Review Robert Bresson Au hasard Balthazar DVD Review Robert Bresson Au hasard Balthazar DVD Review Robert Bresson Au hasard Balthazar DVD Review Robert Bresson Au hasard Balthazar DVD Review Robert Bresson Au hasard Balthazar DVD Review Robert Bresson Au hasard Balthazar DVD Review Robert Bresson Au hasard Balthazar DVD Review Robert Bresson Au hasard Balthazar DVD Review Robert Bresson Au hasard Balthazar DVD Review Robert Bresson Au hasard Balthazar DVD Review Robert Bresson Au hasard Balthazar DVD Review Robert Bresson Au hasard Balthazar DVD Review Robert Bresson Au hasard Balthazar DVD Review Robert Bresson Au hasard Balthazar DVD Review Robert Bresson Au hasard Balthazar DVD Review Robert Bresson Au hasard Balthazar DVD Review Robert Bresson Au hasard Balthazar DVD Review Robert Bresson Au hasard Balthazar DVD Review Robert Bresson Au hasard Balthazar DVD Review Robert Bresson Au hasard Balthazar DVD Review Robert Bresson Au hasard Balthazar DVD Review Robert Bresson Au hasard Balthazar DVD Review Robert Bresson Au hasard Balthazar DVD Review Robert Bresson Au hasard Balthazar DVD Review Robert Bresson Au hasard Balthazar DVD Review Robert Bresson Au hasard Balthazar DVD Review Robert Bresson Au hasard Balthazar DVD Review Robert Bresson Au hasard Balthazar DVD Review Robert Bresson Au hasard Balthazar DVD Review Robert Bresson Au hasard Balthazar DVD Review Robert Bresson Au hasard Balthazar DVD Review Robert Bresson Au hasard Balthazar DVD Review Robert Bresson Au hasard Balthazar DVD Review Robert Bresson Au hasard Balthazar DVD Review Robert Bresson Au hasard Balthazar DVD Review Robert Bresson Au hasard Balthazar DVD Review Robert Bresson Au hasard Balthazar DVD Review Robert Bresson Au hasard Balthazar DVD Review Robert Bresson Au hasard Balthazar DVD Review Robert Bresson Au hasard Balthazar DVD Review Robert Bresson Au hasard Balthazar DVD Review Robert Bresson Au hasard Balthazar DVD Review Robert Bresson Au hasard Balthazar DVD Review Robert Bresson Au hasard Balthazar DVD Review Robert Bresson Au hasard Balthazar DVD Review Robert Bresson Au hasard Balthazar DVD Review Robert Bresson Au hasard Balthazar DVD Review Robert Bresson Au hasard Balthazar DVD Review Robert Bresson Au hasard Balthazar DVD Review Robert Bresson Au hasard Balthazar DVD Review Robert Bresson Au hasard Balthazar DVD Review Robert Bresson Au hasard Balthazar DVD Review Robert Bresson Au hasard Balthazar DVD Review Robert Bresson Au hasard Balthazar DVD Review Robert Bresson Au hasard Balthazar DVD Review Robert Bresson Au hasard Balthazar DVD Review Robert Bresson Au hasard Balthazar DVD Review Robert Bresson Au hasard Balthazar DVD Review Robert Bresson Au hasard Balthazar DVD Review Robert Bresson Au hasard Balthazar DVD Review Robert Bresson Au hasard Balthazar DVD Review Robert Bresson Au hasard Balthazar DVD Review Robert Bresson Au hasard Balthaz