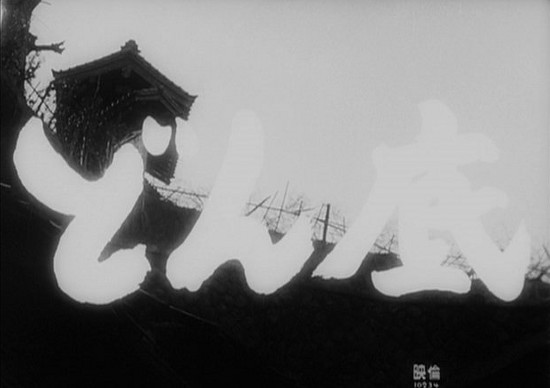 (aka 'The Lower Depths')
Based on the play by Maxim Gorky, Akira Kurosawa's film is a faithful adaptation, taking liberties only with the change in character names and setting (from imperial Russia to Edo-period Japan). This surprisingly comical tale focuses on the daily tribulations of a group of lower-class people living in a small tenement. Osugi (Isuzu Yamada), the landlady, bickers with Okayo (Ky˘ko Kagawa), her sister, over the man they both want--Sutekichi (Toshir˘ Mifune), the thief. Other characters in the close confines include a priest (Bokuzen Hidari), an ex-samurai (Minoru Chiaki), an actor (Kamatari Fujiwara), and a gambler (Koji Mitsui). By setting the film in one room and a small adjoining courtyard, Kurosawa emphasizes both its claustrophobic premise and theatrical origins. Featuring an excellent ensemble cast, Kurosawa's tragicomic film is especially notable for Mifune's remarkable performance as the edgy yet sensitive Sutekichi.
Posters
Theatrical Release: September 17th, 1957 (Roadshow) - Japan
Reviews More Reviews DVD Reviews
DVD Review: Criterion - Region 0 - NTSC
DVD Box Cover

CLICK to order from:

CLICK to order from:

Distribution
The Criterion Collection - Spine # 239
Runtime
2:04:52
Video
1.33:1 Original Aspect Ratio
Average Bitrate: 6.68 mb/s
NTSC 720x480 29.97 f/s

NOTE: The Vertical axis represents the bits transferred per second. The Horizontal is the time in minutes.

Bitrate:

Audio
Japanese (Dolby Digital 2.0 Mono)
Subtitles
English, None
Features
Release Information:
Studio: Criterion Collection

Aspect Ratio:
Full Screen (Standard) - 1.33:1

Edition Details:
• Renoir's (1936) "The Lower Depths" see HERE.

Audio commentary on Kurosawa's The Lower Depths featuring Japanese-film expert Donald Richie (A Hundred Years of Japanese Film)
• A 33-minute documentary on Kurosawa's The Lower Depths from the series Akira Kurosawa: It is Wonderful to Create, including interviews with Kurosawa, actress Kyoko kagawa, art director Yoshiro Muraki, and others
• Introduction to Jean Renoir's The Lower Depths by the director
• Cast biographies for Kurosawa's The Lower Depths by Stephen Prince, author of The Warrior's Camera: The Cinema of Akira Kurosawa
• Original theatrical trailer for Kurosawa's The Lower Depths
• New essay by Keiko McDonald (From Book to Screen: Modern Japanese Literature in Films) and Thomas Rimer (A Reader's Guide to Japanese Literature) for the Kurosawa film; new essay by film scholar Alexander Sesonske, author of Jean Renoir: The French Films 1924-1939, for the Renoir
• New and improved subtitle translations

DVD Release Date: June 22, 2004
Keep Case
Chapters: 22
| | |
| --- | --- |
| Comments: | Not unlike Criterion's "Stray Dog" DVD we see a fairly dark image with muted contrast and a high degree of film grain visibility in Kurosawa's "The Lower Depths" , their new Digital Versatile Disc. Fairly sharp considering the source print, but not as defined as many other Criterion DVDs of films also made in the 50's. Toho is quite protective of their material (also with Godzilla) so it is understandable the difficulty and adherence to quality that Criterion included. Brightness boosting may have taken place in the digitizing process, but it is not extensive. Subtitles are probably the best we will ever see. For many this DVD includes a more desirable film than the Kurosawa one - Jean Renoir's adaptation of the Gorky story as well, from 1936. The print used on this looks superior to the Kurosawa, and fans will rejoice at the directors opening remarks. Extras for the Kurosawa are bountiful and overshadow the Renoir, but I feel I am looking a gift-horse in the mouth. This is pretty much a must-have package for film fans. I can't imagine too many overlooking it for desire of at least on of these films. Criterion continue to mark the path for all DVD production companies. It is hard not to give them out of . |
---
Recommended Reading for Japanese Film Fans (CLICK COVERS or TITLES for more information)
The Japan Journals : 1947-2004,

by Donald Richie

The Midnight Eye Guide to New Japanese Film
by Tom Mes and Jasper Sharp

Kon Ichikawa (Cinematheque Ontario Monographs)

by James Quandt, Cinematheque Ontario

Shohei Imamura (Cinematheque Ontario Monographs, No. 1)
by James Quandt
Eros Plus Massacre: An Introduction to the Japanese New Wave Cinema (Midland Book, Mb 469)
by David Desser
The Films of Akira Kurosawa by Donald Ritchie

Ozu by Donald Richie

A Hundred Years of Japanese Film by Donald Richie
Check out more in "The Library"
---


DVD Menus
---
Subtitle Sample
Screen Captures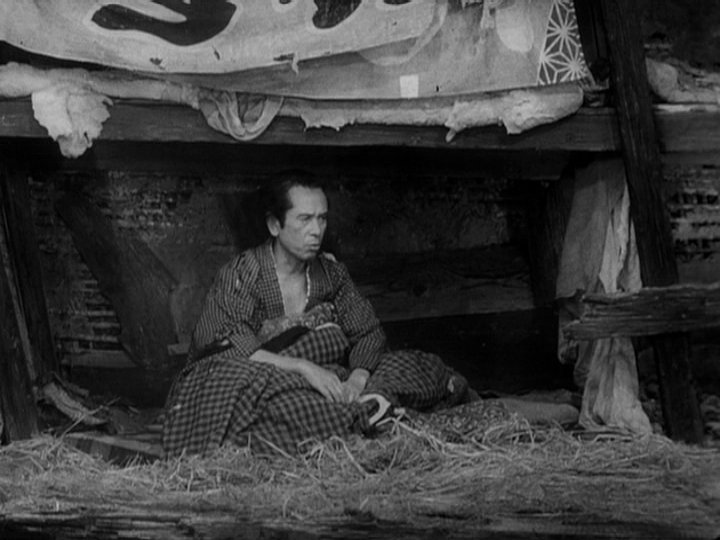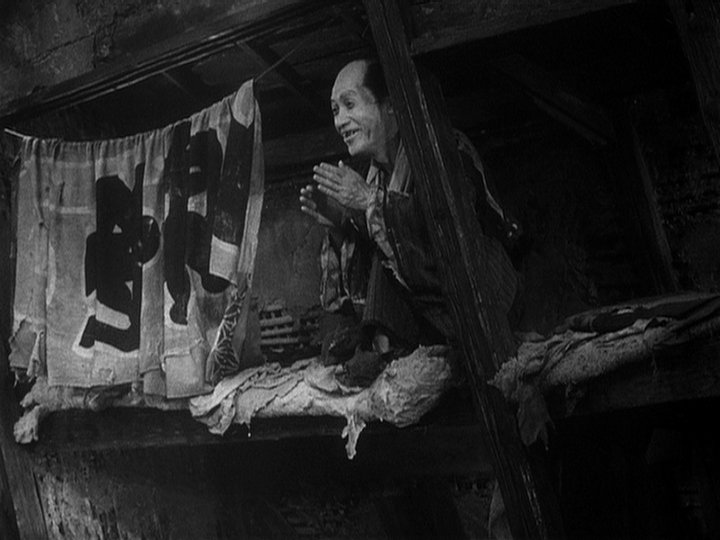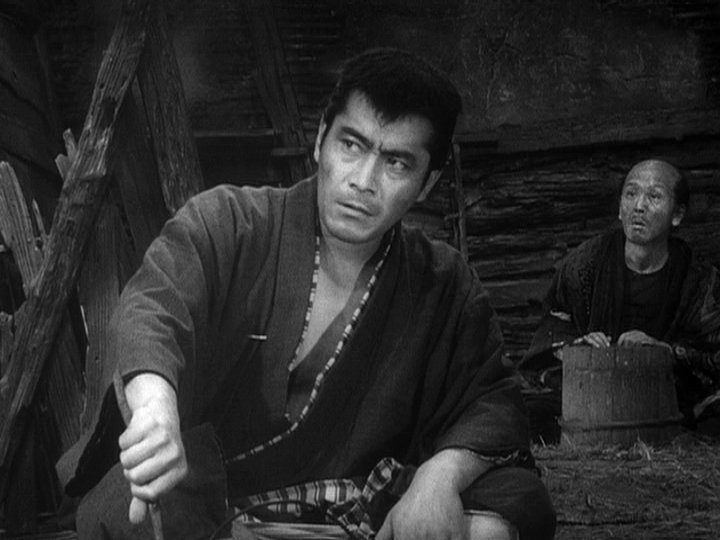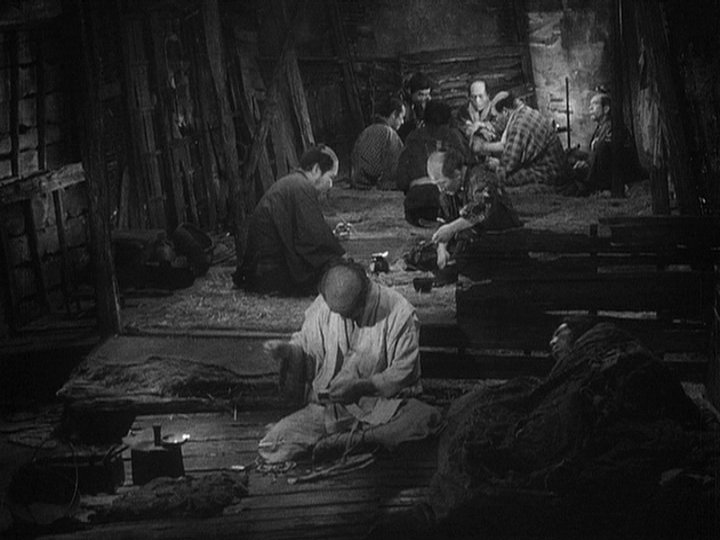 ---
---
---
---
Recommended Reading for Kurosawa Fans (CLICK COVERS or TITLES for more information)
Check out more in "The Library"
---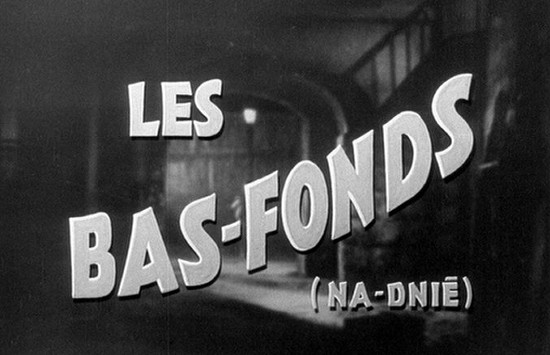 (aka 'The Lower Depths" or "Underground" or "Underworld")
Renoir, working amidst the rise of Hitler and the Popular front in France, had need to take license with the dark nature of Gorky's source material, softening its bleak outlook. Working with his most celebrated actor (Gabin), this film offers a unique look at cinematic adaptation—where social conditions and filmmaking style converges to create a unique masterpiece.
Renoir adapted this story by Russian playwright Maxim Gorky, updating it and moving the setting to an undisclosed country. The result is powerful, if frequently uncomfortable, viewing. Gabin stars as the petty thief who decides he fancies his mistress's sister more, and resorts to violent crimes to rescue her from a self-destructive relationship. The characters aren't exactly sympathetic, and you know that it's all going to go horribly wrong before long, but Renoir's direction is as assured as ever, and Gabin compelling. The source material is evidently strong. Akira Kurosaw's 1957 film Donzoko was an adaptation of the same play.
Theatrical Release: December -1936 - France
Reviews More Reviews DVD Reviews
Video
1.33:1 Original Aspect Ratio
Average Bitrate: 7.88 mb/s
NTSC 720x480 29.97 f/s

NOTE: The Vertical axis represents the bits transferred per second. The Horizontal is the time in minutes.

Bitrate:

Audio
French (Dolby Digital 2.0 Mono)
Subtitles
English, None
Features
Release Information:
Studio: Criterion Collection

Aspect Ratio:
Full Screen (Standard) - 1.33:1

Edition Details:
• In same DVD package as Kurosaw's "The Lower Depths"
• New essay by film scholar Alexander Sesonske, author of Jean Renoir: The French Films 1924-1939
• New and improved subtitle translations

DVD Release Date: June 22, 2004
Keep Case
Chapters: 20


DVD Menus
Subtitle Sample
Screen Captures
DVD Box Cover

CLICK to order from:

CLICK to order from:

Distribution
The Criterion Collection - Spine # 239





Akira Kurosawa The Lower Depths Criterion DVD Review Renoir Akira Kurosawa The Lower Depths Criterion DVD Review Renoir Akira Kurosawa The Lower Depths Criterion DVD Review Renoir Akira Kurosawa The Lower Depths Criterion DVD Review Renoir Akira Kurosawa The Lower Depths Criterion DVD Review Renoir Akira Kurosawa The Lower Depths Criterion DVD Review Renoir Akira Kurosawa The Lower Depths Criterion DVD Review Renoir Akira Kurosawa The Lower Depths Criterion DVD Review Renoir Akira Kurosawa The Lower Depths Criterion DVD Review Renoir Akira Kurosawa The Lower Depths Criterion DVD Review Renoir Akira Kurosawa The Lower Depths Criterion DVD Review Renoir Akira Kurosawa The Lower Depths Criterion DVD Review Renoir Akira Kurosawa The Lower Depths Criterion DVD Review Renoir Akira Kurosawa The Lower Depths Criterion DVD Review Renoir Akira Kurosawa The Lower Depths Criterion DVD Review Renoir Akira Kurosawa The Lower Depths Criterion DVD Review Renoir Akira Kurosawa The Lower Depths Criterion DVD Review Renoir Akira Kurosawa The Lower Depths Criterion DVD Review Renoir Akira Kurosawa The Lower Depths Criterion DVD Review Renoir Akira Kurosawa The Lower Depths Criterion DVD Review Renoir Akira Kurosawa The Lower Depths Criterion DVD Review Renoir Akira Kurosawa The Lower Depths Criterion DVD Review Renoir Akira Kurosawa The Lower Depths Criterion DVD Review Renoir Akira Kurosawa The Lower Depths Criterion DVD Review Renoir Akira Kurosawa The Lower Depths Criterion DVD Review Renoir Akira Kurosawa The Lower Depths Criterion DVD Review Renoir Akira Kurosawa The Lower Depths Criterion DVD Review Renoir Akira Kurosawa The Lower Depths Criterion DVD Review Renoir Akira Kurosawa The Lower Depths Criterion DVD Review Renoir Akira Kurosawa The Lower Depths Criterion DVD Review Renoir Akira Kurosawa The Lower Depths Criterion DVD Review Renoir Akira Kurosawa The Lower Depths Criterion DVD Review Renoir Akira Kurosawa The Lower Depths Criterion DVD Review Renoir Akira Kurosawa The Lower Depths Criterion DVD Review Renoir Akira Kurosawa The Lower Depths Criterion DVD Review Renoir Akira Kurosawa The Lower Depths Criterion DVD Review Renoir Akira Kurosawa The Lower Depths Criterion DVD Review Renoir Akira Kurosawa The Lower Depths Criterion DVD Review Renoir Akira Kurosawa The Lower Depths Criterion DVD Review Renoir Akira Kurosawa The Lower Depths Criterion DVD Review Renoir Akira Kurosawa The Lower Depths Criterion DVD Review Renoir Akira Kurosawa The Lower Depths Criterion DVD Review Renoir Akira Kurosawa The Lower Depths Criterion DVD Review Renoir Akira Kurosawa The Lower Depths Criterion DVD Review Renoir Akira Kurosawa The Lower Depths Criterion DVD Review Renoir Akira Kurosawa The Lower Depths Criterion DVD Review Renoir Akira Kurosawa The Lower Depths Criterion DVD Review Renoir Akira Kurosawa The Lower Depths Criterion DVD Review Renoir Akira Kurosawa The Lower Depths Criterion DVD Review Renoir Akira Kurosawa The Lower Depths Criterion DVD Review Renoir Akira Kurosawa The Lower Depths Criterion DVD Review Renoir Akira Kurosawa The Lower Depths Criterion DVD Review Renoir Akira Kurosawa The Lower Depths Criterion DVD Review Renoir Akira Kurosawa The Lower Depths Criterion DVD Review Renoir Akira Kurosawa The Lower Depths Criterion DVD Review Renoir Akira Kurosawa The Lower Depths Criterion DVD Review Renoir Akira Kurosawa The Lower Depths Criterion DVD Review Renoir Akira Kurosawa The Lower Depths Criterion DVD Review Renoir Akira Kurosawa The Lower Depths Criterion DVD Review Renoir Akira Kurosawa The Lower Depths Criterion DVD Review Renoir Akira Kurosawa The Lower Depths Criterion DVD Review Renoir Akira Kurosawa The Lower Depths Criterion DVD Review Renoir Akira Kurosawa The Lower Depths Criterion DVD Review Renoir Akira Kurosawa The Lower Depths Criterion DVD Review Renoir Akira Kurosawa The Lower Depths Criterion DVD Review Renoir Akira Kurosawa The Lower Depths Criterion DVD Review Renoir Akira Kurosawa The Lower Depths Criterion DVD Review Renoir Akira Kurosawa The Lower Depths Criterion DVD Review Renoir Akira Kurosawa The Lower Depths Criterion DVD Review Renoir Akira Kurosawa The Lower Depths Criterion DVD Review Renoir Akira Kurosawa The Lower Depths Criterion DVD Review Renoir Akira Kurosawa The Lower Depths Criterion DVD Review Renoir Akira Kurosawa The Lower Depths Criterion DVD Review Renoir Akira Kurosawa The Lower Depths Criterion DVD Review Renoir Akira Kurosawa The Lower Depths Criterion DVD Review Renoir Akira Kurosawa The Lower Depths Criterion DVD Review Renoir Akira Kurosawa The Lower Depths Criterion DVD Review Renoir Akira Kurosawa The Lower Depths Criterion DVD Review Renoir Akira Kurosawa The Lower Depths Criterion DVD Review Renoir Akira Kurosawa The Lower Depths Criterion DVD Review Renoir Akira Kurosawa The Lower Depths Criterion DVD Review Renoir Akira Kurosawa The Lower Depths Criterion DVD Review Renoir Akira Kurosawa The Lower Depths Criterion DVD Review Renoir Akira Kurosawa The Lower Depths Criterion DVD Review Renoir Akira Kurosawa The Lower Depths Criterion DVD Review Renoir Akira Kurosawa The Lower Depths Criterion DVD Review Renoir Akira Kurosawa The Lower Depths Criterion DVD Review Renoir Akira Kurosawa The Lower Depths Criterion DVD Review Renoir Akira Kurosawa The Lower Depths Criterion DVD Review Renoir Akira Kurosawa The Lower Depths Criterion DVD Review Renoir Akira Kurosawa The Lower Depths Criterion DVD Review Renoir Akira Kurosawa The Lower Depths Criterion DVD Review Renoir Akira Kurosawa The Lower Depths Criterion DVD Review Renoir Akira Kurosawa The Lower Depths Criterion DVD Review Renoir Akira Kurosawa The Lower Depths Criterion DVD Review Renoir Akira Kurosawa The Lower Depths Criterion DVD Review Renoir Akira Kurosawa The Lower Depths Criterion DVD Review Renoir Akira Kurosawa The Lower Depths Criterion DVD Review Renoir Akira Kurosawa The Lower Depths Criterion DVD Review Renoir Akira Kurosawa The Lower Depths Criterion DVD Review Renoir Akira Kurosawa The Lower Depths Criterion DVD Review Renoir Akira Kurosawa The Lower Depths Criterion DVD Review Renoir Akira Kurosawa The Lower Depths Criterion DVD Review Renoir Akira Kurosawa The Lower Depths Criterion DVD Review Renoir Akira Kurosawa The Lower Depths Criterion DVD Review Renoir Akira Kurosawa The Lower Depths Criterion DVD Review Renoir Akira Kurosawa The Lower Depths Criterion DVD Review Renoir Akira Kurosawa The Lower Depths Criterion DVD Review Renoir Akira Kurosawa The Lower Depths Criterion DVD Review Renoir Akira Kurosawa The Lower Depths Criterion DVD Review Renoir Akira Kurosawa The Lower Depths Criterion DVD Review Renoir Akira Kurosawa The Lower Depths Criterion DVD Review Renoir Akira Kurosawa The Lower Depths Criterion DVD Review Renoir Akira Kurosawa The Lower Depths Criterion DVD Review Renoir Akira Kurosawa The Lower Depths Criterion DVD Review Renoir Akira Kurosawa The Lower Depths Criterion DVD Review Renoir Akira Kurosawa The Lower Depths Criterion DVD Review Renoir