NOTE: The below Blu-ray captures were taken directly from the Blu-ray disc.

ADDITION: Criterion Blu-ray (April 2020): Criterion have transferred Dorothy Arzner's Dance, Girl, Dance to Blu-ray. It is cited as being from a "New, restored 4K digital transfer". It looks magnificent - some minor surface scratches - two frame-specific instances of damage and the rest is beautifully layered contrast, exquisite textures and pleasing detail in the film's many close-ups. This is one impressive looking film from 1940. Very high marks for the 1080P presentation. Wow.

NOTE: We have added 58 more large resolution Blu-ray captures (in lossless PNG format) for DVDBeaver Patrons HERE

On their Blu-ray, Criterion use a linear PCM mono track (24-bit) in the original English language. There is singing and dancing throughout Dance, Girl, Dance starting with the Beer Barrel Polka aka "Roll Out the Barrel" played at the Palais Royale Club and danced and sung by Lucille Ball and the chorus girls, Mother, What Do I Do Now? and Jitterbug Bite sung by Lucille Ball in the Bailey Brothers Burlesque Theater plus a background score by Edward Ward (The Climax, Mystery of Edwin Drood, Night Must Fall, Boys Town, Cobra Woman, Ali Baba and the Forty Thieves) sounding flat but even in the uncompressed. Criterion offer optional English subtitles on their Region 'A' / 'B' Blu-ray.

The Criterion Blu-ray

offers a new introduction by critic B. Ruby Rich for 1/4 hour where she discusses gender politics, Arzner's Craig's Wife (1936), quotes from Lucille Ball and Katherine Hepburn being uncomfortable around her 'manly' appearance inferring 'she looked like a lesbian', that Dorothy Arzner was independently wealthy allowing her to walk away from projects where she was not comfortable. It's very revealing - I loved it. But I could watch the next supplement for hours on end; we get 10-minutes of filmmaker Francis Ford Coppola talking about his previous teacher, Dorothy Arzner, as a top notch director, that her films were sophisticated and that she was the teacher of his directing class. He states that she had a salty, man-ish, look but an enormous heart. She bought the starving film student a club sandwich - which he obviously never forgot, editing by hand (regulating the time by how many yard lengths the film was), and she was so impactful on him that he made a straight rye whiskey named after her: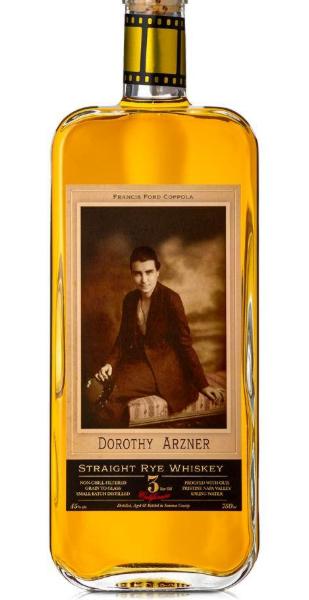 The package also has a liner notes booklet with an essay by critic Sheila O'Malley.

Well, you learn something new every day - I was fascinated by Dorothy Arzner. Both in her adept filmmaking and that I previously knew so little about her.

With 17 feature films - she may be the woman with the most Hollywood directorial credits to this day. Dance, Girl, Dance is layered with sexual politics and keen inferences - it is such a bold and positive effort. Dorothy Arzner needs more Blu-ray releases - I want to see all of them. What an exceptional choice by Criterion. I loved the two supplements and now want more. The Criterion Blu-ray gets an extremely strong recommendation!. I'm still blown away by Coppola's comments. Wow. Buy now.

P.S. If I have to say something bad about this release - that is a very unflattering picture of Maureen O'Hara on the cover.