Review by Gary Tooze
Production:
Theatrical: Universal Pictures
Video: Alive AG
Disc:
Region: 'B'-locked (as verified by the Oppo Blu-ray player)
Runtime: 1:10:23.135
Disc Size: 22,133,165,747 bytes
Feature Size: 10,570,407,936 bytes Widescreen: 8,928,239,616 bytes
Video Bitrate: 14.98 Mbps / Widescreen: 11.99 Mbps
Chapters: 10
Case: Standard Blu-ray case
Release date: October 4th, 2013
Video:
Aspect ratio: 1.33:1 / 1.75:1
Resolution: 1080p / 23.976 fps
Video codec: MPEG-4 AVC Video
Audio:
LPCM Audio English 2304 kbps 2.0 / 48 kHz / 2304 kbps / 24-bit
LPCM Audio German 1536 kbps 2.0 / 48 kHz / 1536 kbps / 16-bit
Subtitles:
German, none
Extras: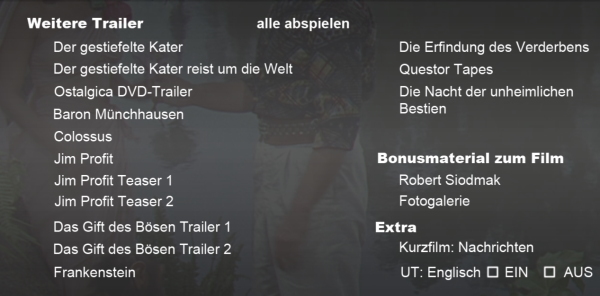 Bitrate:
Description: On the eve of her wedding to Ramu (Jon Hall), the beautiful Tollea (Maria Montez) is spirited away from her tranquil South Sea island to the mysterious, forbidden place of her birth, Cobra Island. Ramu follows and, with help from his young-but-not-too-bright friend Kado (Sabu) and their chimp Coco, manages to land on the island and avoid capture, which would mean death. It turns out that Tollea is the rightful high priestess of Cobra Island, the first born of two twin daughters of the earlier priestess. Tollea was not immune to the venom of the king cobra, however, so she was spirited away from the island as an infant to avoid her unnecessary death. Now her grandmother, the Queen (Mary Nash), has secured her return. Tollea's twin sister, Naja (also played by Montez), has turned cruel, greedy, and ambitious, and is killing, torturing, and tormenting her people and perverting their religion; Naja must be deposed, hopefully before the volcano on the far side of the island registers too loud an objection to her blasphemies. But Naja -- who is wanton enough to want Ramu for her own pleasure -- and her confederate, the evil, ambitious Martok (Edgar Barrier), don't plan on leaving quietly.
1.78:1 Widescreen Mode
The Film:
Maria Montez, Jon Hall, and the ineffable Sabu in an insane piece of high camp (1944) perpetrated by the usually stone-faced Robert Siodmak (The Killers, Phantom Lady). The setting is a tropical island located somewhere in the wilds of Universal's back lot; the story has something to do with twin sisters--one good, one less so--fighting for control of the local tribe of snake worshippers. Few phallic symbols go unexploited, and the gaudy Technicolor is a riot all by itself. Sarong optional.
Excerpt from Dave Kehr's review at the Chicago Reader located HERE
That beautiful land of nowhere which Universal has carved out of the blue for the recently recurring caprices of Maria Montez, Jon Hall and Sabu again rocks to exotic music, the solemn boom of gongs and the rumble of the great Fire Mountain in "Cobra Woman," which came to Loew's Criterion yesterday. And again the submissive audience is witchingly rocked to sleep with as wacky an adventure fable as was ever dished up outside the comic strips. For the story of Cobra Island is being hissed through Universal's glittering teeth—glittering, that is, in Technicolor. And anybody who doesn't believe it can take a hike.

Cobra Island, we hasten to inform you, is ruled by a viperous doll who snake-dances in the sacred temple, surrounded by a bevy of night-gowned toots. She also sends levies of her subjects to be tossed into the fire, and generally behaves so that no one will vote her the most-popular-girl in her class. So it is not in the least surprising when a hurry call is sent for her beautiful and gracious twin-sister to come home from someplace else and grab the throne. It is not in the least surprising—and not in the least out of line—that the good one should be accompanied by her ardent fiancÚ, Mr. Hall, himself appropriately accompanied by Sabu and a chimpanzee. And it is not in the least implausible—provided you're with us up to now—that the whole kit-and-kaboodle should fight like wildcats before the island is finally freed.
Excerpt from The NY Times located HERE
Montez stars in a dual role as the rightful queen of a cobra-worshipping cult and her evil sister who tries to steal the throne. Hall and Sabu, who teamed with Montez on numerous occasions, are on hand to save the good queen. Laughable jungle plot is given a highly stylized, colorful presentation by talented director Siodmak who created some of the best film noir of the 1940s and 1950s before returning to his native Germany where he continued to direct until his death in 1973.
Excerpt from TV Guide located HERE
Image : NOTE: The below Blu-ray captures were taken directly from the Blu-ray disc.
Cobra Woman gets a creative package on Blu-ray from Alive AG in Germany. There appears to be three viewing options - although I had trouble accessing one of them. Okay, we get the film in the original 4:3 ratio, another in 'Curtain Mode' (see the title captures) with red curtains on the side edges to fill the 1.78 screen (this is the one I couldn't get to work through the complete film making me think it was seamlessly branched from the 4:3.) A 1.78:1 widescreen that only chops heads, adds artifacts and minimizes the viewing area is the last option. Let's forget the 'Curtain' and Widescreen - neither are appealing my opinion. But looking at the 4:3, even with a modestly robust transfer - it looks very good - almost exceptional considering the age. Colors are brilliant and depth is frequently apparent. It has dramatically more detail and sharpness than the SD. This 4:3 Blu-ray provides a very pleasing presentation.