| | |
| --- | --- |
| | S E A R C H D V D B e a v e r |
Robert Siodmak Collection
Phantom Lady (1944) Cobra Woman (1944) The Killers (1946)
Defined as Siodmak's first all-out Noir effort ,"Phantom Lady" in 1943, was to give a glimmer of the stylistic and thematic characteristics that are readily apparent in his later noirs. Siodmak, while at Universal, carved out a defining niche for himself with the pulpy black cinema style (directing 12 in all - with many quintessential gems like The File on Thelma Jordon (1950), Criss Cross (1949), Cry of the City (1948), and The Dark Mirror (1946) ), but one of the most cited was "The Killers" in 1946. Successful at the box office and with critics, it earned Siodmak his only Oscar nomination for direction in Hollywood (NOTE: German production, "Nachts, Wenn Der Teufel Kam," would be nominated for best foreign film in 1956). "The Killers" is also notable for being Burt Lancaster's debut film.
---
Titles
---
Phantom Lady (1944)
Siodmak's first American success, a moody thriller from a Cornell Woolrich novel which set the mould for a string of dark classics. The wife of an engineer (Curtis) is murdered, his female alibi's very existence is denied by every witness, and he faces the chair. His secretary (Raines) and a curious off-duty cop (Gomez) investigate... Siodmak's angled compositions and dramatic lighting might be uncharitably ticked off as genre staples, but his manipulation of the film's key motif is masterly. He concentrates on the tangible and psychological evidence - the 'records' - of absence: the wife's portrait, the messages on the office dictaphone, the court transcript, the dead witness' typed address, the hat that recalls a dead fiancÚ. And the film's quest is for a woman who exists only in the memories of the condemned man and the audience.
Excerpt from TimeOut Film Guide located HERE

Cobra Woman (1944)
Maria Montez, Jon Hall, and the ineffable Sabu in an insane piece of high camp (1944) perpetrated by the usually stone-faced Robert Siodmak (The Killers, Phantom Lady). The setting is a tropical island located somewhere in the wilds of Universal's back lot; the story has something to do with twin sisters--one good, one less so--fighting for control of the local tribe of snake worshippers. Few phallic symbols go unexploited, and the gaudy Technicolor is a riot all by itself. Sarong optional.
Excerpt from Dave Kehr's review at the Chicago Reader located HERE
The Killers (1946)
The first Universal production supervised by Hellinger, a one-time reporter turned film producer, this definitive film noir is at least as powerful as his earlier crime movies, The Roaring Twenties and High Sierra. The Killers, which features a now famous musical score (later used in the "Dragnet" TV series) by Miklos Rosza, is also notable as Burt Lancaster's film debut. The ace crime director Siodmak uses the bare bones of Hemingway's terse story to build a taut and fascinating tale of murder, robbery, and betrayal. It also features one of the genre's most celebrated femme fatales.
It opens with the killers of the Hemingway story (Charles McGraw and William Conrad) entering the diner in search of the Swede (Lancaster). They have a murder contract to fulfill, they learn that he will soon be coming in for dinner. Nick Adams (Phil Brown) overhears the killer's intent and runs to a boarding house to warn the Swede. He listens, but remains indifferently on his bed, explaining simply "I did something wrong... once". With that he quietly awaits his fate. The Hemingway story ends about there, but this is only the beginning of the film. Edmond O'Brien is Jim Reardon, an energetic insurance investigator whose company has to pay off on the Swede's death. By interviewing the Swede's associates, Rearden begins the laborious process of reconstructing the dead man's turbulent life, a process we see through a series of extended flashbacks.
Posters
Theatrical Releases: 1944 - 1946
DVD Review: Carlotta Films (4-disc) - Region 2 - PAL
DVD Box Cover

CLICK to order from:

Distribution
Carlotta Films - Region 2 - PAL
Time:
Respectively - 1:23:03 + 1:07:30 + 1:38:04 - all with 4% PAL Speedup
Bitrate: Phantom Lady
Bitrate: Cobra Woman
Bitrate: The Killers
Audio
English (mono) - DUBs in French (mono)
Subtitles
French, (possibly forced on some machines when original English dialogue is chosen though none of my systems were displaying them as forced)
Features

Release Information:
Studio: Carlotta Films

Aspect Ratio:
All Original Aspect Ratios - 1.33

Edition Details:

NOTE: NONE OF THE EXTRAS ARE IN ENGLISH OR HAVE ENG. SUBS (except the 30 minute Radiophone with montage on The Killers)

On Phantom Lady -

• Interview with Herve Dumont (17 min)
• Conversations with Robert Siodmak (1971 - 60 min)
• Bande-annonce

On Cobra Woman -
• Interview with Herve Dumont (10 min)
• Conversations with Robert Siodmak (1971 - 60 min)
• Bande-annonce

On The Killers (2-disc) -

• Interview avec Herve Dumont (16 min)
• Expressionnisme en noires et blanches (16 min)
• Le boxeur sans confession : Une analyse sur la place du personnage de Burt Lancaster (15 min)
• Les Tueurs version radiophonique : Une adaptation radio mise en images avec Burt Lancaster et Shelley Winters dans les titres (1949 b+w 30 min)
• Tarkovsky's student film of Hemingway's The Killers - ( 19 min)


DVD Release Date: April 4th, 2007
Custom 3-tiered slipcase inside cardboard box
Chapters: various
Comments:

This exciting boxset features 4 dual-layered DVDs containing three Siodmak films - Phantom Lady (1944), Cobra Woman (1944) and The Killers (1946) and supplements. The boxset offers optional French subtitles or a French DUB and all of my systems could easily remove the subs to present the films in their original English language form. The discs are coded for region 2 in the PAL standard and all 3 films are progressively transferred. The packaging is quite beautiful.

Phantom Lady has some visible damage marks - lots of speckles and some light, but extensive, scratches (see last screen capture). Detail is quite good and there are moments of visible digital artifacts. Audio quality was consistent. There are extra features but they are either in French or German (with French subtitles) and are not English friendly.

Cobra Woman is a kind of fun, silly little film and the transfer displays the Technicolor quite vibrantly. It doesn't look bad at all - very sharp at times. I have no idea how accurate it is to the theatrical presentation but I don't think it matters too much as the movie is a bit of a campy throw away. Really an odd choice for the collection which should have focused totally on Siodmak's Noir output. This disc also has some conversations and interviews but none suitable for English-locked audience appreciation.

The Killers - this is really the focal point of the boxset. We have compared it to the Criterion below and it presents itself very favorably. I see the same minimal damage marks - meaning the identical print could have been utilized. If there is a difference - the Carlotta might have a bit more grain where as the Criterion possibly digitally cleaned some of that away. The Carlotta has a frame shift sideways (to the left). Regardless, the differences are minimal in the image department. Both editions look fabulous. The PAL version of The Killers has a 2nd disc of extras - all in French except a 30 minute radio short in English with a montage of images from the film. Like the Criterion, it contains Tarkovsky's student short of the Hemingway story - in Russian but only with French subtitles.

Overall I would say that I am happy with this collection. I, of course, want more (strong DVDs of Cry of the City, The Dark Mirror etc.) but Carlotta did a great job with the packaging and extras although, unfortunately, they are not English friendly - which is a big disappointment. If you don't own the Criterion edition of The Killers then purchasing this boxset is not such a bad idea - but if you do - you may just want to nab the singles of Phantom Lady... and Cobra Woman if you are keen.
---


DVD Menus




S

upplements

: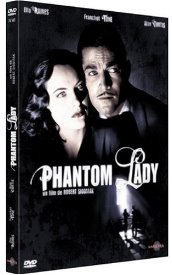 Also available individually here:

Screen Captures
Phantom Lady
Stars Franchot Tone, Ella Raines, Alan Curtis, Aurora Miranda, Thomas Gomez and Elisha Cook Jr.

Theatrical Release Date: January 28th, 1944
---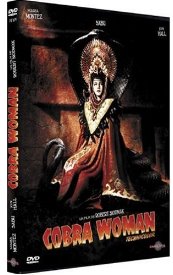 Also available individually here:

Screen Captures
Cobra Woman

Stars Maria Montez, Jon Hall, Sabu, Edgar Barrier, Mary Nash and Lon Chaney Jr.

Theatrical Release Date: May 12th, 1944
The Killers
Stars Burt Lancaster, Ava Gardner, Edmond O'Brien and Albert Dekker

Theatrical Release Date: August 28th, 1946
(Criterion - Region 0 - NTSC TOP vs. Carlotta - Region 2 - PAL BOTTOM)
(Criterion - Region 0 - NTSC TOP vs. Carlotta - Region 2 - PAL BOTTOM)
(Criterion - Region 0 - NTSC TOP vs. Carlotta - Region 2 - PAL BOTTOM)
(Criterion - Region 0 - NTSC TOP vs. Carlotta - Region 2 - PAL BOTTOM)
(Criterion - Region 0 - NTSC TOP vs. Carlotta - Region 2 - PAL BOTTOM)