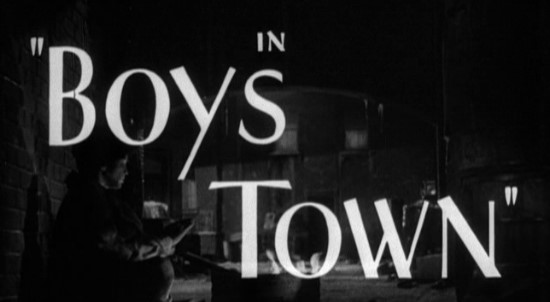 Directed by Norman Taurog
USA 1938
Against all odds Father Flanagan starts "Boys' Town" after hearing a convict's story. Whitey Marsh comes there. He runs away but, hungry, returns. He runs away again but, when friend Pee Wee is hit by a car, returns. He runs away and joins his brother's gang. Flanagan and the boys capture the crooks and the reward saves the town.
****
Tracy won his second Oscar here playing the Catholic priest Father Flannigan who set up a school and home for juvenile boys. The film documents how he is touched by the plight of the young thugs around him and decides to offer them a chance in life and looks at the relationship he builds up with tough kid Whitey (18-year-old Rooney) who shows weakness only when he sees his best friend hit by a car. In the 30s, this sort of sentimentality was celebrated (the movies got a writing Oscar) but these days you might gag at some of the more saccharine aspects.
Excerpt from Cannel 4 located HERE

Trivia: The day after Spencer Tracy won the Best Actor Oscar for his performance in this film, an MGM publicist released a statement--without consulting Tracy first--that the actor would donate his Oscar to the real Boys Town in Nebraska. Tracy agreed to make the donation if the Academy would send him a replacement Oscar. When the replacement arrived, the engraving on the award read: "Best Actor - Dick Tracy.".
Posters
Theatrical Release: September 8th, 1938
Reviews More Reviews DVD Reviews
DVD Review: Warner - Region 1, 2, 3, 4 - NTSC
DVD Box Cover

CLICK to order from:

Also available in the Warner Bros. Classic Holiday Collection which includes Boys Town / A Christmas Carol 1938 / Christmas in Connecticut

Distribution
Warner Home Video - Region 1, 2, 3, 4 - NTSC
Runtime
1:32:42
Video
1.33:1 Original Aspect Ratio
Average Bitrate: 5.55 mb/s
NTSC 720x480 29.97 f/s

NOTE: The Vertical axis represents the bits transferred per second. The Horizontal is the time in minutes.

Bitrate:

Audio
English (Dolby Digital 2.0)
Subtitles
English, French, Spanish, None
Features

Release Information:
Studio: Warner Home Video

Aspect Ratio:
Original aspect Ratio 1.33:1

Edition Details:

• Featurette: 'The City of Little Men'
• Featurette: 'Girls and Boys Town'
• 'Men of Boys Town' on opposite side
• Excerpt of 'Good News of 1938' radio broadcast
• Theatrical trailer

DVD Release Date: November 8th, 2005
Keep Case
Chapters: 27
| | |
| --- | --- |
| Comments: | This is typical Warner - a very strong image with some grain showing and excellent contrast. I think the addition of 'Men of Boys Town' is an excellent choice. As a film it may be a notch below the feature presentation but it certainly has relevancy with the continuation of the story and the same stars - Tracy and Rooney. Warner should also be commended for not attempting to squeeze both onto the same side of the DVD, but allowing the film to be transferred on the opposite side of the DVD18 (dual layered - dual sided). The other extras on side one are also great additions and Warner have once again proven their commitment to the medium and the consumers. A perfect holiday film that we recommend! |
---



DVD Menus

Opposite side of disc
---
Subtitle Sample
Screen Captures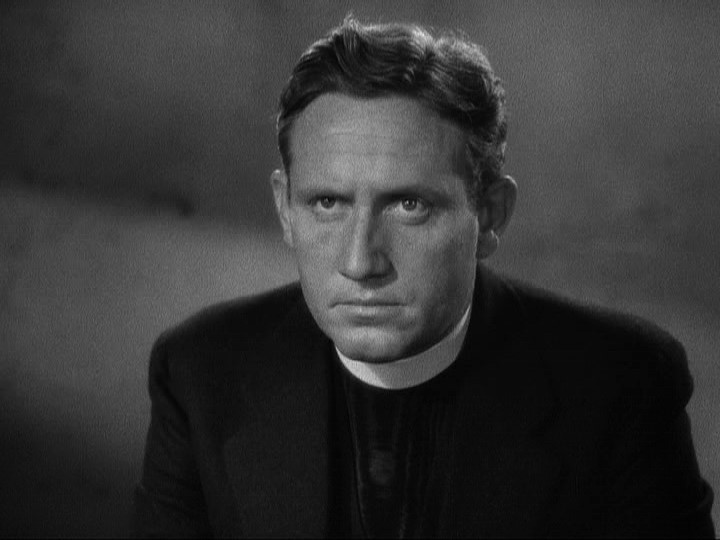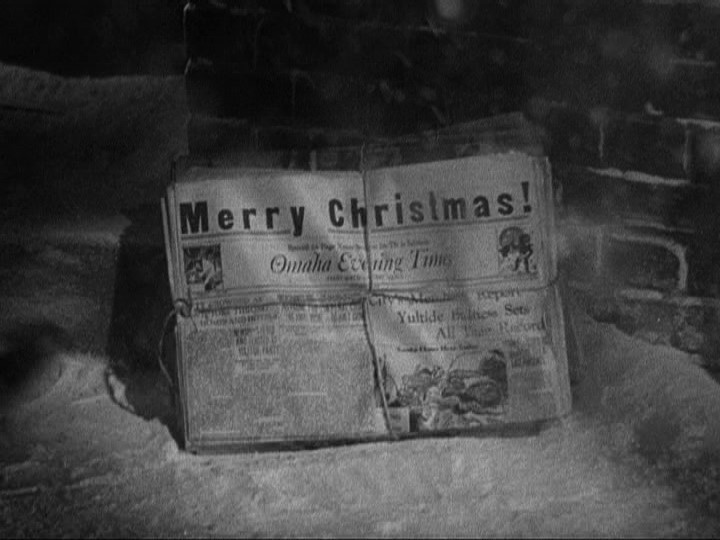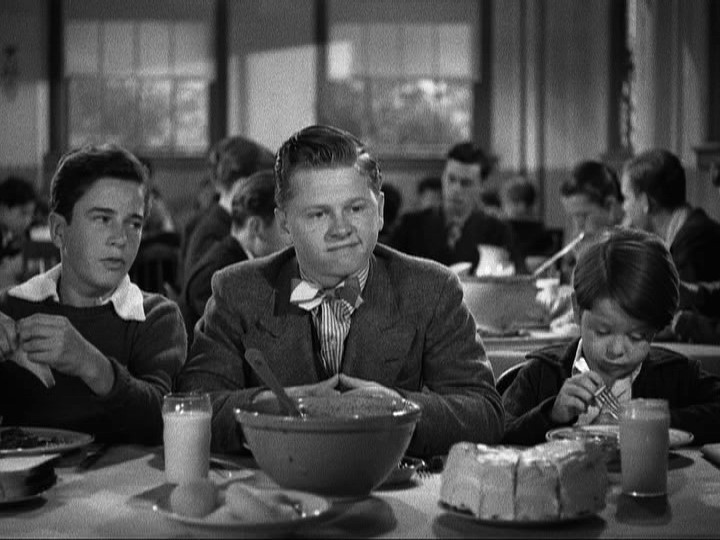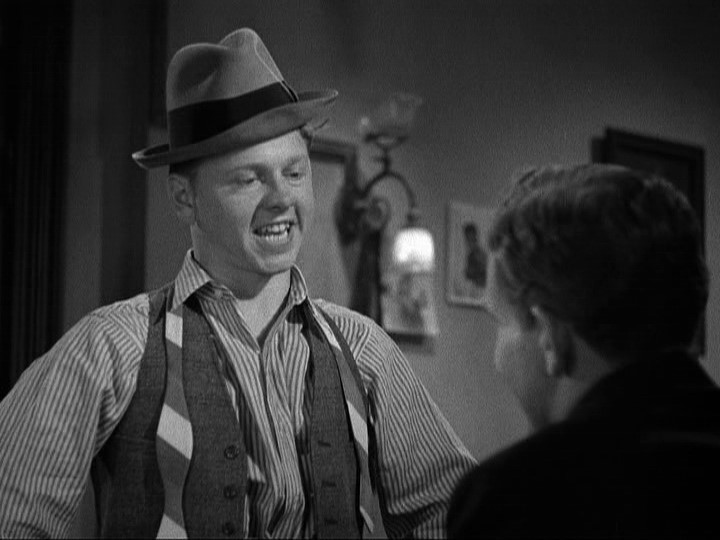 ---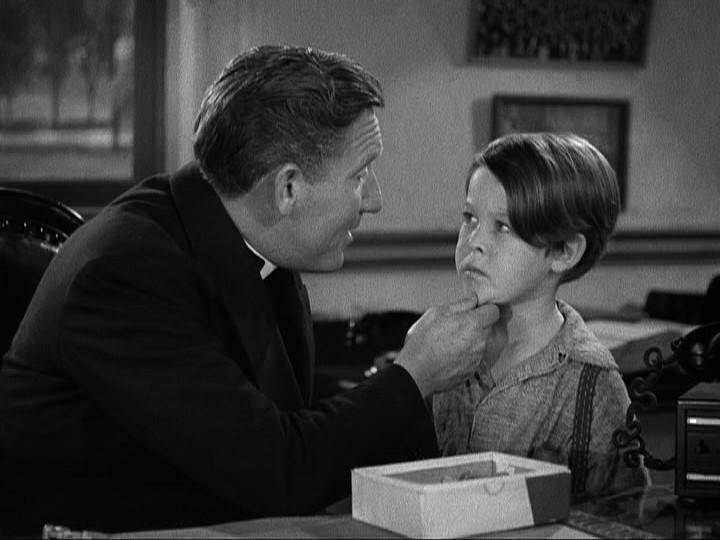 ---
---




















DONATIONS Keep DVDBeaver alive:
Mail cheques, money orders, cash to: or CLICK PayPal logo to donate!
Gary Tooze

Mississauga, Ontario,

CANADA
Thank You!
Norman Taurog's - Boys Town - Spencer Tracy DVD Review Norman Taurog Boys Town Spencer Tracy DVD Review Norman Taurog Boys Town Spencer Tracy DVD Review Norman Taurog Boys Town Spencer Tracy DVD Review Norman Taurog Boys Town Spencer Tracy DVD Review Norman Taurog Boys Town Spencer Tracy DVD Review Norman Taurog Boys Town Spencer Tracy DVD Review Norman Taurog Boys Town Spencer Tracy DVD Review Norman Taurog Boys Town Spencer Tracy DVD Review Norman Taurog Boys Town Spencer Tracy DVD Review Norman Taurog's - Boys Town - Spencer Tracy DVD Review Norman Taurog Boys Town Spencer Tracy DVD Review Norman Taurog Boys Town Spencer Tracy DVD Review Norman Taurog Boys Town Spencer Tracy DVD Review Norman Taurog Boys Town Spencer Tracy DVD Review Norman Taurog Boys Town Spencer Tracy DVD Review Norman Taurog Boys Town Spencer Tracy DVD Review Norman Taurog Boys Town Spencer Tracy DVD Review Norman Taurog Boys Town Spencer Tracy DVD Review Norman Taurog Boys Town Spencer Tracy DVD Review Norman Taurog's - Boys Town - Spencer Tracy DVD Review Norman Taurog Boys Town Spencer Tracy DVD Review Norman Taurog Boys Town Spencer Tracy DVD Review Norman Taurog Boys Town Spencer Tracy DVD Review Norman Taurog Boys Town Spencer Tracy DVD Review Norman Taurog Boys Town Spencer Tracy DVD Review Norman Taurog Boys Town Spencer Tracy DVD Review Norman Taurog Boys Town Spencer Tracy DVD Review Norman Taurog Boys Town Spencer Tracy DVD Review Norman Taurog Boys Town Spencer Tracy DVD Review Norman Taurog's - Boys Town - Spencer Tracy DVD Review Norman Taurog Boys Town Spencer Tracy DVD Review Norman Taurog Boys Town Spencer Tracy DVD Review Norman Taurog Boys Town Spencer Tracy DVD Review Norman Taurog Boys Town Spencer Tracy DVD Review Norman Taurog Boys Town Spencer Tracy DVD Review Norman Taurog Boys Town Spencer Tracy DVD Review Norman Taurog Boys Town Spencer Tracy DVD Review Norman Taurog Boys Town Spencer Tracy DVD Review Norman Taurog Boys Town Spencer Tracy DVD Review Norman Taurog's - Boys Town - Spencer Tracy DVD Review Norman Taurog Boys Town Spencer Tracy DVD Review Norman Taurog Boys Town Spencer Tracy DVD Review Norman Taurog Boys Town Spencer Tracy DVD Review Norman Taurog Boys Town Spencer Tracy DVD Review Norman Taurog Boys Town Spencer Tracy DVD Review Norman Taurog Boys Town Spencer Tracy DVD Review Norman Taurog Boys Town Spencer Tracy DVD Review Norman Taurog Boys Town Spencer Tracy DVD Review Norman Taurog Boys Town Spencer Tracy DVD Review Norman Taurog's - Boys Town - Spencer Tracy DVD Review Norman Taurog Boys Town Spencer Tracy DVD Review Norman Taurog Boys Town Spencer Tracy DVD Review Norman Taurog Boys Town Spencer Tracy DVD Review Norman Taurog Boys Town Spencer Tracy DVD Review Norman Taurog Boys Town Spencer Tracy DVD Review Norman Taurog Boys Town Spencer Tracy DVD Review Norman Taurog Boys Town Spencer Tracy DVD Review Norman Taurog Boys Town Spencer Tracy DVD Review Norman Taurog Boys Town Spencer Tracy DVD Review Norman Taurog's - Boys Town - Spencer Tracy DVD Review Norman Taurog Boys Town Spencer Tracy DVD Review Norman Taurog Boys Town Spencer Tracy DVD Review Norman Taurog Boys Town Spencer Tracy DVD Review Norman Taurog Boys Town Spencer Tracy DVD Review Norman Taurog Boys Town Spencer Tracy DVD Review Norman Taurog Boys Town Spencer Tracy DVD Review Norman Taurog Boys Town Spencer Tracy DVD Review Norman Taurog Boys Town Spencer Tracy DVD Review Norman Taurog Boys Town Spencer Tracy DVD Review Norman Taurog's - Boys Town - Spencer Tracy DVD Review Norman Taurog Boys Town Spencer Tracy DVD Review Norman Taurog Boys Town Spencer Tracy DVD Review Norman Taurog Boys Town Spencer Tracy DVD Review Norman Taurog Boys Town Spencer Tracy DVD Review Norman Taurog Boys Town Spencer Tracy DVD Review Norman Taurog Boys Town Spencer Tracy DVD Review Norman Taurog Boys Town Spencer Tracy DVD Review Norman Taurog Boys Town Spencer Tracy DVD Review Norman Taurog Boys Town Spencer Tracy DVD Review Norman Taurog's - Boys Town - Spencer Tracy DVD Review Norman Taurog Boys Town Spencer Tracy DVD Review Norman Taurog Boys Town Spencer Tracy DVD Review Norman Taurog Boys Town Spencer Tracy DVD Review Norman Taurog Boys Town Spencer Tracy DVD Review Norman Taurog Boys Town Spencer Tracy DVD Review Norman Taurog Boys Town Spencer Tracy DVD Review Norman Taurog Boys Town Spencer Tracy DVD Review Norman Taurog Boys Town Spencer Tracy DVD Review Norman Taurog Boys Town Spencer Tracy DVD Review Norman Taurog's - Boys Town - Spencer Tracy DVD Review Norman Taurog Boys Town Spencer Tracy DVD Review Norman Taurog Boys Town Spencer Tracy DVD Review Norman Taurog Boys Town Spencer Tracy DVD Review Norman Taurog Boys Town Spencer Tracy DVD Review Norman Taurog Boys Town Spencer Tracy DVD Review Norman Taurog Boys Town Spencer Tracy DVD Review Norman Taurog Boys Town Spencer Tracy DVD Review Norman Taurog Boys Town Spencer Tracy DVD Review Norman Taurog Boys Town Spencer Tracy DVD Review Norman Taurog's - Boys Town - Spencer Tracy DVD Review Norman Taurog Boys Town Spencer Tracy DVD Review Norman Taurog Boys Town Spencer Tracy DVD Review Norman Taurog Boys Town Spencer Tracy DVD Review Norman Taurog Boys Town Spencer Tracy DVD Review Norman Taurog Boys Town Spencer Tracy DVD Review Norman Taurog Boys Town Spencer Tracy DVD Review Norman Taurog Boys Town Spencer Tracy DVD Review Norman Taurog Boys Town Spencer Tracy DVD Review Norman Taurog Boys Town Spencer Tracy DVD Review Norman Taurog's - Boys Town - Spencer Tracy DVD Review Norman Taurog Boys Town Spencer Tracy DVD Review Norman Taurog Boys Town Spencer Tracy DVD Review Norman Taurog Boys Town Spencer Tracy DVD Review Norman Taurog Boys Town Spencer Tracy DVD Review Norman Taurog Boys Town Spencer Tracy DVD Review Norman Taurog Boys Town Spencer Tracy DVD Review Norman Taurog Boys Town Spencer Tracy DVD Review Norman Taurog Boys Town Spencer Tracy DVD Review Norman Taurog Boys Town Spencer Tracy DVD Review Norman Taurog's - Boys Town - Spencer Tracy DVD Review Norman Taurog Boys Town Spencer Tracy DVD Review Norman Taurog Boys Town Spencer Tracy DVD Review Norman Taurog Boys Town Spencer Tracy DVD Review Norman Taurog Boys Town Spencer Tracy DVD Review Norman Taurog Boys Town Spencer Tracy DVD Review Norman Taurog Boys Town Spencer Tracy DVD Review Norman Taurog Boys Town Spencer Tracy DVD Review Norman Taurog Boys Town Spencer Tracy DVD Review Norman Taurog Boys Town Spencer Tracy DVD Review Norman Taurog's - Boys Town - Spencer Tracy DVD Review Norman Taurog Boys Town Spencer Tracy DVD Review Norman Taurog Boys Town Spencer Tracy DVD Review Norman Taurog Boys Town Spencer Tracy DVD Review Norman Taurog Boys Town Spencer Tracy DVD Review Norman Taurog Boys Town Spencer Tracy DVD Review Norman Taurog Boys Town Spencer Tracy DVD Review Norman Taurog Boys Town Spencer Tracy DVD Review Norman Taurog Boys Town Spencer Tracy DVD Review Norman Taurog Boys Town Spencer Tracy DVD Review Norman Taurog's - Boys Town - Spencer Tracy DVD Review Norman Taurog Boys Town Spencer Tracy DVD Review Norman Taurog Boys Town Spencer Tracy DVD Review Norman Taurog Boys Town Spencer Tracy DVD Review Norman Taurog Boys Town Spencer Tracy DVD Review Norman Taurog Boys Town Spencer Tracy DVD Review Norman Taurog Boys Town Spencer Tracy DVD Review Norman Taurog Boys Town Spencer Tracy DVD Review Norman Taurog Boys Town Spencer Tracy DVD Review Norman Taurog Boys Town Spencer Tracy DVD Review Norman Taurog's - Boys Town - Spencer Tracy DVD Review Norman Taurog Boys Town Spencer Tracy DVD Review Norman Taurog Boys Town Spencer Tracy DVD Review Norman Taurog Boys Town Spencer Tracy DVD Review Norman Taurog Boys Town Spencer Tracy DVD Review Norman Taurog Boys Town Spencer Tracy DVD Review Norman Taurog Boys Town Spencer Tracy DVD Review Norman Taurog Boys Town Spencer Tracy DVD Review Norman Taurog Boys Town Spencer Tracy DVD Review Norman Taurog Boys Town Spencer Tracy DVD Review