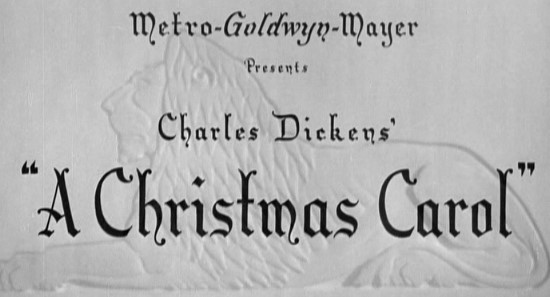 Directed by Edwin L. Marin
USA 1938
This classic Dicken's story is succinctly presented in a rewarding re-telling. Perhaps one of the lighter versions - it is still surely one of the best. For me this stands up well against the later Alistair Sim version ('Scrooge') that is considered the definitive. The timeless message is a simple yet powerful one - about greed and the true value in life - once again money rears its ugly head as the major combatant. The story is an integral a part of Christmas, and like a good sermon, simply reminds you to put our endless desire for the almighty dollar into check.... for at least a couple of weeks.
Poster
Theatrical Release: December 16th, 1938
Reviews More Reviews DVD Reviews
DVD Review: Warner - Region 1, 2, 3, 4 - NTSC
DVD Box Cover

CLICK to order from:

Also available in the Warner Bros. Classic Holiday Collection which includes Boys Town / A Christmas Carol 1938 / Christmas in Connecticut

Distribution
Warner Home Video - Region 1, 2, 3, 4 - NTSC
Runtime
1:09:06
Video
1.33:1 Original Aspect Ratio
Average Bitrate: 5.54 mb/s
NTSC 720x480 29.97 f/s

NOTE: The Vertical axis represents the bits transferred per second. The Horizontal is the time in minutes.

Bitrate:

Audio
English (Dolby Digital 2.0)
Subtitles
English, French, Spanish, None
Features

Release Information:
Studio: Warner Home Video

Aspect Ratio:
Original Aspect Ratio 1.33:1

Edition Details:

• Jackie Cooper's Christmas Party
• Judy Garland sings Silent Night
• Peace on earth cartoon short
• Theatrical trailer

DVD Release Date: November 8th, 2005
Keep Case
Chapters: 18
| | |
| --- | --- |
| Comments: | Of the entire Holiday Boxset - this DVD has the best image. Exceedingly sharp - great grayscale and all-around winner in my books. This really benefits from some relevant holiday extras too including Judy Garland singing Silent Night! We recommend this and the entire Boxset for some substantial savings over purchasing individually. These three films make for perfect holiday viewing. |
---



DVD Menus

---
Subtitle Sample
Screen Captures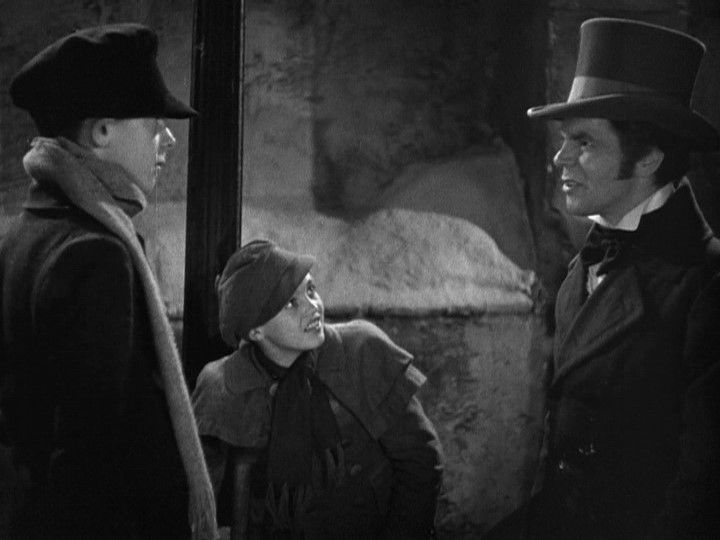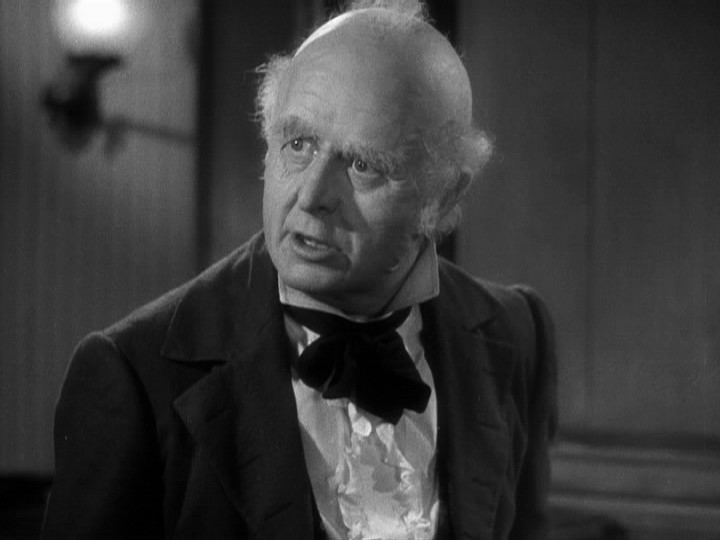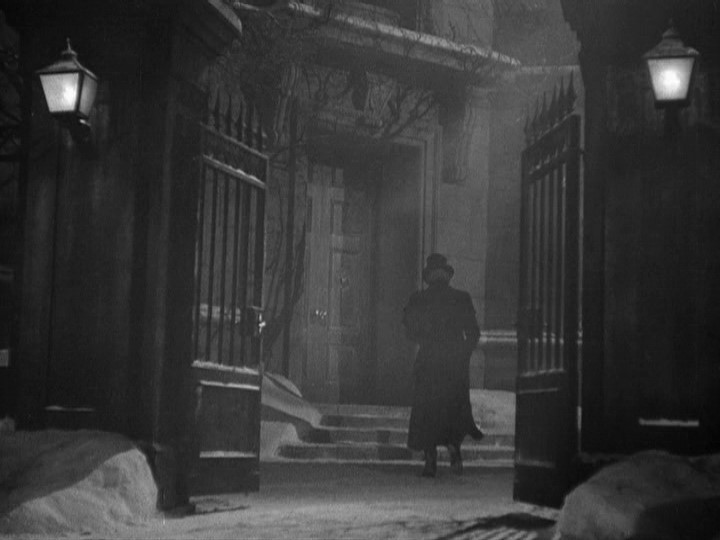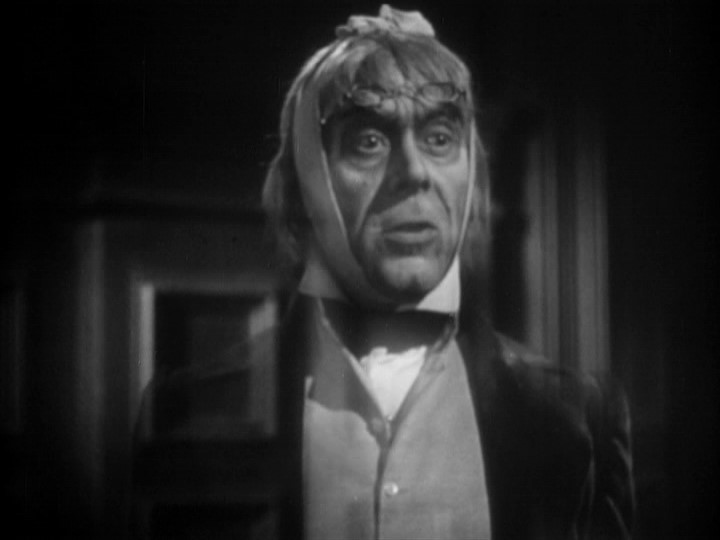 ---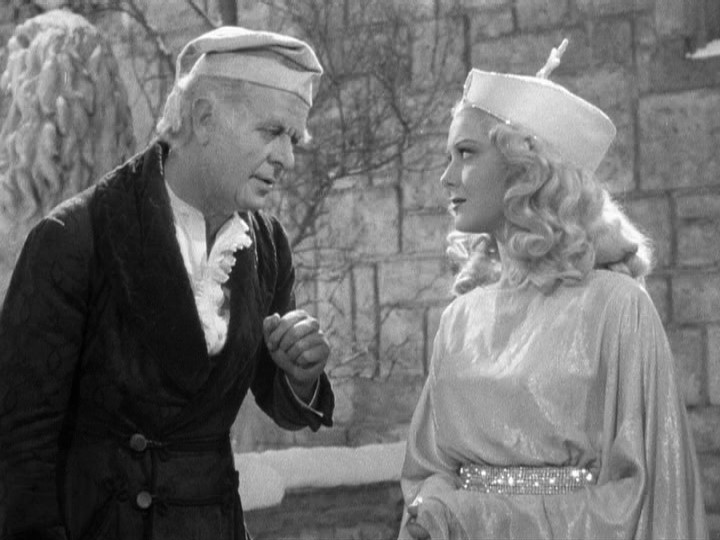 ---




















DONATIONS Keep DVDBeaver alive:
Mail cheques, money orders, cash to: or CLICK PayPal logo to donate!
Gary Tooze

Mississauga, Ontario,

CANADA
Thank You!
Edwin L. Marin's 1938 - A Christmas Carol - DVD Review Edwin L. Marin A Christmas Carol DVD Review Edwin L. Marin A Christmas Carol DVD Review Edwin L. Marin A Christmas Carol DVD Review Edwin L. Marin A Christmas Carol DVD Review Edwin L. Marin A Christmas Carol DVD Review Edwin L. Marin A Christmas Carol DVD Review Edwin L. Marin A Christmas Carol DVD Review Edwin L. Marin A Christmas Carol DVD Review Edwin L. Marin A Christmas Carol DVD Review Edwin L. Marin's 1938 - A Christmas Carol - DVD Review Edwin L. Marin A Christmas Carol DVD Review Edwin L. Marin A Christmas Carol DVD Review Edwin L. Marin A Christmas Carol DVD Review Edwin L. Marin A Christmas Carol DVD Review Edwin L. Marin A Christmas Carol DVD Review Edwin L. Marin A Christmas Carol DVD Review Edwin L. Marin A Christmas Carol DVD Review Edwin L. Marin A Christmas Carol DVD Review Edwin L. Marin A Christmas Carol DVD Review Edwin L. Marin's 1938 - A Christmas Carol - DVD Review Edwin L. Marin A Christmas Carol DVD Review Edwin L. Marin A Christmas Carol DVD Review Edwin L. Marin A Christmas Carol DVD Review Edwin L. Marin A Christmas Carol DVD Review Edwin L. Marin A Christmas Carol DVD Review Edwin L. Marin A Christmas Carol DVD Review Edwin L. Marin A Christmas Carol DVD Review Edwin L. Marin A Christmas Carol DVD Review Edwin L. Marin A Christmas Carol DVD Review Edwin L. Marin's 1938 - A Christmas Carol - DVD Review Edwin L. Marin A Christmas Carol DVD Review Edwin L. Marin A Christmas Carol DVD Review Edwin L. Marin A Christmas Carol DVD Review Edwin L. Marin A Christmas Carol DVD Review Edwin L. Marin A Christmas Carol DVD Review Edwin L. Marin A Christmas Carol DVD Review Edwin L. Marin A Christmas Carol DVD Review Edwin L. Marin A Christmas Carol DVD Review Edwin L. Marin A Christmas Carol DVD Review Edwin L. Marin's 1938 - A Christmas Carol - DVD Review Edwin L. Marin A Christmas Carol DVD Review Edwin L. Marin A Christmas Carol DVD Review Edwin L. Marin A Christmas Carol DVD Review Edwin L. Marin A Christmas Carol DVD Review Edwin L. Marin A Christmas Carol DVD Review Edwin L. Marin A Christmas Carol DVD Review Edwin L. Marin A Christmas Carol DVD Review Edwin L. Marin A Christmas Carol DVD Review Edwin L. Marin A Christmas Carol DVD Review Edwin L. Marin's 1938 - A Christmas Carol - DVD Review Edwin L. Marin A Christmas Carol DVD Review Edwin L. Marin A Christmas Carol DVD Review Edwin L. Marin A Christmas Carol DVD Review Edwin L. Marin A Christmas Carol DVD Review Edwin L. Marin A Christmas Carol DVD Review Edwin L. Marin A Christmas Carol DVD Review Edwin L. Marin A Christmas Carol DVD Review Edwin L. Marin A Christmas Carol DVD Review Edwin L. Marin A Christmas Carol DVD Review Edwin L. Marin's 1938 - A Christmas Carol - DVD Review Edwin L. Marin A Christmas Carol DVD Review Edwin L. Marin A Christmas Carol DVD Review Edwin L. Marin A Christmas Carol DVD Review Edwin L. Marin A Christmas Carol DVD Review Edwin L. Marin A Christmas Carol DVD Review Edwin L. Marin A Christmas Carol DVD Review Edwin L. Marin A Christmas Carol DVD Review Edwin L. Marin A Christmas Carol DVD Review Edwin L. Marin A Christmas Carol DVD Review Edwin L. Marin's 1938 - A Christmas Carol - DVD Review Edwin L. Marin A Christmas Carol DVD Review Edwin L. Marin A Christmas Carol DVD Review Edwin L. Marin A Christmas Carol DVD Review Edwin L. Marin A Christmas Carol DVD Review Edwin L. Marin A Christmas Carol DVD Review Edwin L. Marin A Christmas Carol DVD Review Edwin L. Marin A Christmas Carol DVD Review Edwin L. Marin A Christmas Carol DVD Review Edwin L. Marin A Christmas Carol DVD Review Edwin L. Marin's 1938 - A Christmas Carol - DVD Review Edwin L. Marin A Christmas Carol DVD Review Edwin L. Marin A Christmas Carol DVD Review Edwin L. Marin A Christmas Carol DVD Review Edwin L. Marin A Christmas Carol DVD Review Edwin L. Marin A Christmas Carol DVD Review Edwin L. Marin A Christmas Carol DVD Review Edwin L. Marin A Christmas Carol DVD Review Edwin L. Marin A Christmas Carol DVD Review Edwin L. Marin A Christmas Carol DVD Review Edwin L. Marin's 1938 - A Christmas Carol - DVD Review Edwin L. Marin A Christmas Carol DVD Review Edwin L. Marin A Christmas Carol DVD Review Edwin L. Marin A Christmas Carol DVD Review Edwin L. Marin A Christmas Carol DVD Review Edwin L. Marin A Christmas Carol DVD Review Edwin L. Marin A Christmas Carol DVD Review Edwin L. Marin A Christmas Carol DVD Review Edwin L. Marin A Christmas Carol DVD Review Edwin L. Marin A Christmas Carol DVD Review Edwin L. Marin's 1938 - A Christmas Carol - DVD Review Edwin L. Marin A Christmas Carol DVD Review Edwin L. Marin A Christmas Carol DVD Review Edwin L. Marin A Christmas Carol DVD Review Edwin L. Marin A Christmas Carol DVD Review Edwin L. Marin A Christmas Carol DVD Review Edwin L. Marin A Christmas Carol DVD Review Edwin L. Marin A Christmas Carol DVD Review Edwin L. Marin A Christmas Carol DVD Review Edwin L. Marin A Christmas Carol DVD Review Edwin L. Marin's 1938 - A Christmas Carol - DVD Review Edwin L. Marin A Christmas Carol DVD Review Edwin L. Marin A Christmas Carol DVD Review Edwin L. Marin A Christmas Carol DVD Review Edwin L. Marin A Christmas Carol DVD Review Edwin L. Marin A Christmas Carol DVD Review Edwin L. Marin A Christmas Carol DVD Review Edwin L. Marin A Christmas Carol DVD Review Edwin L. Marin A Christmas Carol DVD Review Edwin L. Marin A Christmas Carol DVD Review Edwin L. Marin's 1938 - A Christmas Carol - DVD Review Edwin L. Marin A Christmas Carol DVD Review Edwin L. Marin A Christmas Carol DVD Review Edwin L. Marin A Christmas Carol DVD Review Edwin L. Marin A Christmas Carol DVD Review Edwin L. Marin A Christmas Carol DVD Review Edwin L. Marin A Christmas Carol DVD Review Edwin L. Marin A Christmas Carol DVD Review Edwin L. Marin A Christmas Carol DVD Review Edwin L. Marin A Christmas Carol DVD Review Edwin L. Marin's 1938 - A Christmas Carol - DVD Review Edwin L. Marin A Christmas Carol DVD Review Edwin L. Marin A Christmas Carol DVD Review Edwin L. Marin A Christmas Carol DVD Review Edwin L. Marin A Christmas Carol DVD Review Edwin L. Marin A Christmas Carol DVD Review Edwin L. Marin A Christmas Carol DVD Review Edwin L. Marin A Christmas Carol DVD Review Edwin L. Marin A Christmas Carol DVD Review Edwin L. Marin A Christmas Carol DVD Review Edwin L. Marin's 1938 - A Christmas Carol - DVD Review Edwin L. Marin A Christmas Carol DVD Review Edwin L. Marin A Christmas Carol DVD Review Edwin L. Marin A Christmas Carol DVD Review Edwin L. Marin A Christmas Carol DVD Review Edwin L. Marin A Christmas Carol DVD Review Edwin L. Marin A Christmas Carol DVD Review Edwin L. Marin A Christmas Carol DVD Review Edwin L. Marin A Christmas Carol DVD Review Edwin L. Marin A Christmas Carol DVD Review