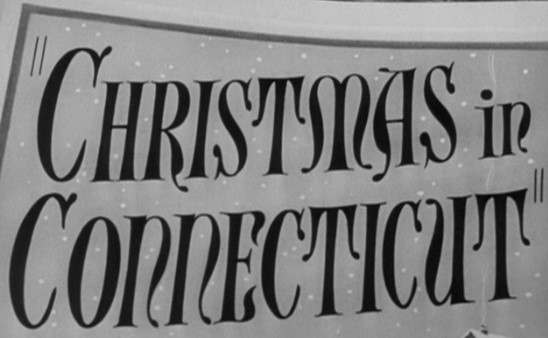 (aka 'Indiscretion')
Directed by Peter Godfrey
USA 1945
Journalist Elizabeth Lane (Stanwyck) is one of the country's most famous food writers. In her columns, she describes herself as a hard working farm woman, taking care of her children and being an excellent cook. But this is all lies. In reality she is an umarried New Yorker who can't even boil an egg. The recipes come from her good friend Felix. The owner of the magazine she works for has decided that a heroic sailor will spend his Christmas on *her* farm. Miss Lane knows that her career is over if the truth comes out, but what can she do?
Lots of laughs to be had here and a pleasant alternative to rewatching The Sound of Music this holiday season.
Poster
Theatrical Release: July 20th, 1945
Reviews More Reviews DVD Reviews
DVD Review: Warner - Region 1, 3, 4 - NTSC
DVD Box Cover

CLICK to order from:

Also available in the Warner Bros. Classic Holiday Collection which includes Boys Town / A Christmas Carol 1938 / Christmas in Connecticut

Distribution
Warner Home Video - Region 1, 3, 4 - NTSC
Runtime
1:41:15
Video
1.33:1 Original Aspect Ratio
Average Bitrate: 5.55 mb/s
NTSC 720x480 29.97 f/s

NOTE: The Vertical axis represents the bits transferred per second. The Horizontal is the time in minutes.

Bitrate:

Audio
English (Dolby Digital 2.0)
Subtitles
English, French, Spanish, None
Features

Release Information:
Studio: Warner Home Video

Aspect Ratio:
Original Aspect Ratio 1.33:1

Edition Details:

• Featurette: 'Star in the Night' - Oscar Winning short
• Trailer

DVD Release Date: November 8th, 2005
Keep Case
Chapters: 27
Comments:

Firstly Barbara Stanwyck can do no wrong in my books so I am very biased about the film (still awaiting my Barbara Stanwyck - Screen Goddess Boxset HERE from Amazon.UK). This role fits here like a tight, sequined gown.

The image is good, but perhaps a minute notch below the impeccably high standard that Warner have been churning out this year. Sharp and detailed enough with excellent contrast - original audio and optional subtitles. A fabulous extra inclusion of the Don Siegel's 1945 Oscar Winning short 'Star in the Night' - a wonderful little film.
---



DVD Menus

---
Subtitle Sample
Screen Captures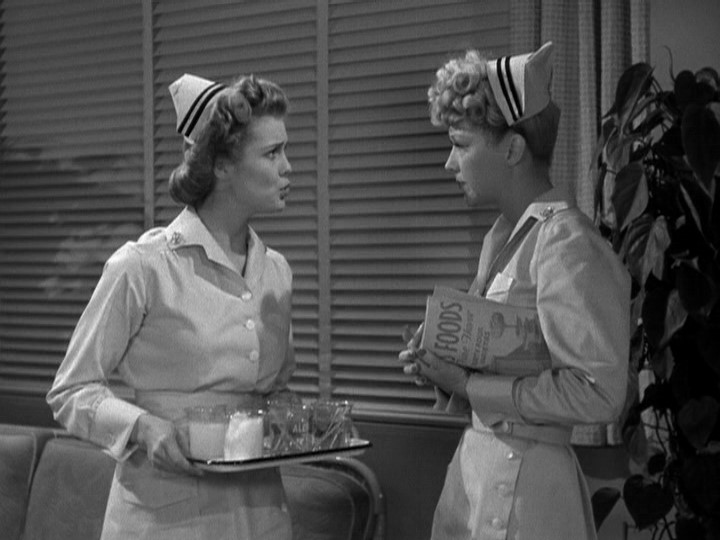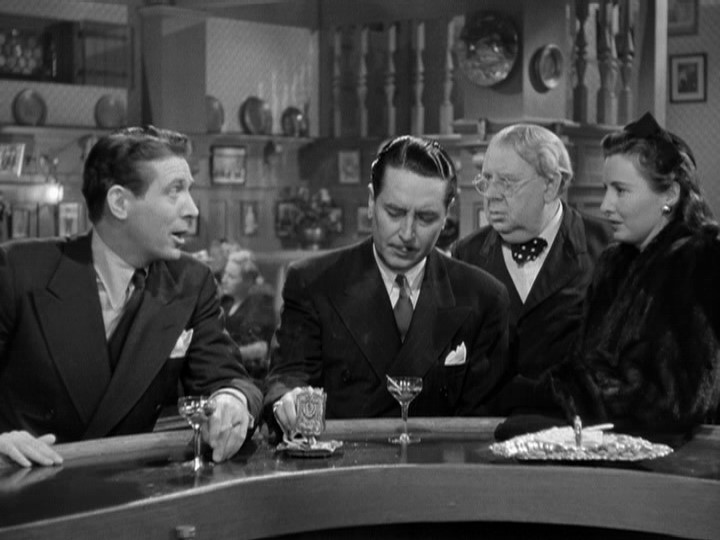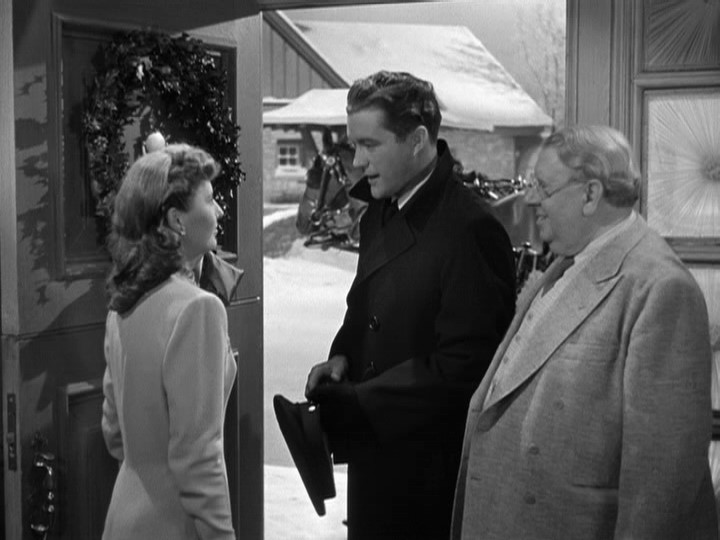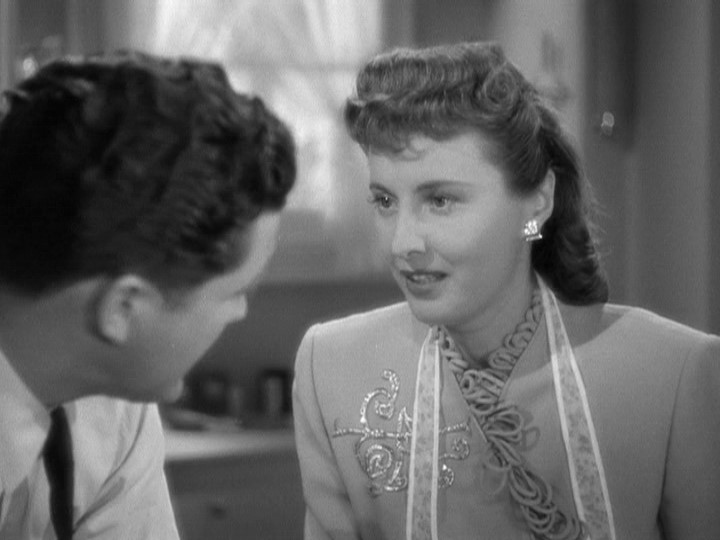 ---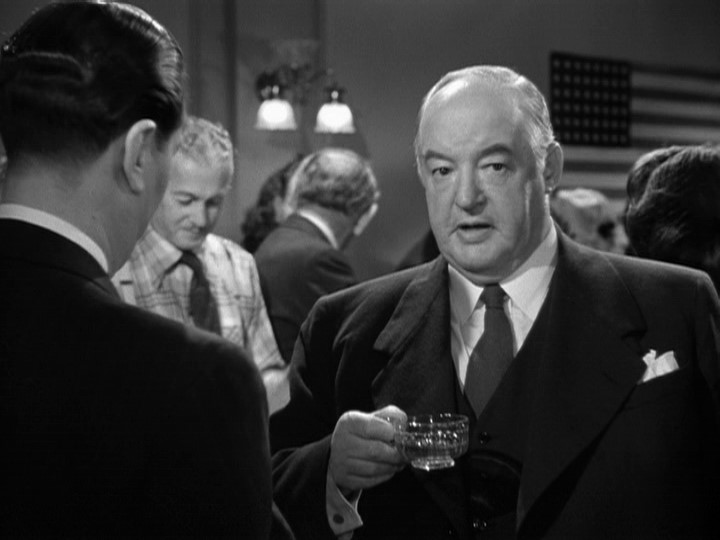 ---





Mail cheques, money orders, cash to: or CLICK PayPal logo to donate!
Gary Tooze

Mississauga, Ontario,

CANADA
Thank You!
Peter Godfrey's - Christmas in Connecticut - DVD Review Barbara Stanwyck Peter Godfrey Christmas in Connecticut DVD Review Barbara Stanwyck Peter Godfrey Christmas in Connecticut DVD Review Barbara Stanwyck Peter Godfrey Christmas in Connecticut DVD Review Barbara Stanwyck Peter Godfrey Christmas in Connecticut DVD Review Barbara Stanwyck Peter Godfrey Christmas in Connecticut DVD Review Barbara Stanwyck Peter Godfrey Christmas in Connecticut DVD Review Barbara Stanwyck Peter Godfrey Christmas in Connecticut DVD Review Barbara Stanwyck Peter Godfrey Christmas in Connecticut DVD Review Barbara Stanwyck Peter Godfrey's - Christmas in Connecticut - DVD Review Barbara Stanwyck Peter Godfrey Christmas in Connecticut DVD Review Barbara Stanwyck Peter Godfrey Christmas in Connecticut DVD Review Barbara Stanwyck Peter Godfrey Christmas in Connecticut DVD Review Barbara Stanwyck Peter Godfrey Christmas in Connecticut DVD Review Barbara Stanwyck Peter Godfrey Christmas in Connecticut DVD Review Barbara Stanwyck Peter Godfrey Christmas in Connecticut DVD Review Barbara Stanwyck Peter Godfrey Christmas in Connecticut DVD Review Barbara Stanwyck Peter Godfrey Christmas in Connecticut DVD Review Barbara Stanwyck Peter Godfrey's - Christmas in Connecticut - DVD Review Barbara Stanwyck Peter Godfrey Christmas in Connecticut DVD Review Barbara Stanwyck Peter Godfrey Christmas in Connecticut DVD Review Barbara Stanwyck Peter Godfrey Christmas in Connecticut DVD Review Barbara Stanwyck Peter Godfrey Christmas in Connecticut DVD Review Barbara Stanwyck Peter Godfrey Christmas in Connecticut DVD Review Barbara Stanwyck Peter Godfrey Christmas in Connecticut DVD Review Barbara Stanwyck Peter Godfrey Christmas in Connecticut DVD Review Barbara Stanwyck Peter Godfrey Christmas in Connecticut DVD Review Barbara Stanwyck Peter Godfrey's - Christmas in Connecticut - DVD Review Barbara Stanwyck Peter Godfrey Christmas in Connecticut DVD Review Barbara Stanwyck Peter Godfrey Christmas in Connecticut DVD Review Barbara Stanwyck Peter Godfrey Christmas in Connecticut DVD Review Barbara Stanwyck Peter Godfrey Christmas in Connecticut DVD Review Barbara Stanwyck Peter Godfrey Christmas in Connecticut DVD Review Barbara Stanwyck Peter Godfrey Christmas in Connecticut DVD Review Barbara Stanwyck Peter Godfrey Christmas in Connecticut DVD Review Barbara Stanwyck Peter Godfrey Christmas in Connecticut DVD Review Barbara Stanwyck Peter Godfrey's - Christmas in Connecticut - DVD Review Barbara Stanwyck Peter Godfrey Christmas in Connecticut DVD Review Barbara Stanwyck Peter Godfrey Christmas in Connecticut DVD Review Barbara Stanwyck Peter Godfrey Christmas in Connecticut DVD Review Barbara Stanwyck Peter Godfrey Christmas in Connecticut DVD Review Barbara Stanwyck Peter Godfrey Christmas in Connecticut DVD Review Barbara Stanwyck Peter Godfrey Christmas in Connecticut DVD Review Barbara Stanwyck Peter Godfrey Christmas in Connecticut DVD Review Barbara Stanwyck Peter Godfrey Christmas in Connecticut DVD Review Barbara Stanwyck Peter Godfrey's - Christmas in Connecticut - DVD Review Barbara Stanwyck Peter Godfrey Christmas in Connecticut DVD Review Barbara Stanwyck Peter Godfrey Christmas in Connecticut DVD Review Barbara Stanwyck Peter Godfrey Christmas in Connecticut DVD Review Barbara Stanwyck Peter Godfrey Christmas in Connecticut DVD Review Barbara Stanwyck Peter Godfrey Christmas in Connecticut DVD Review Barbara Stanwyck Peter Godfrey Christmas in Connecticut DVD Review Barbara Stanwyck Peter Godfrey Christmas in Connecticut DVD Review Barbara Stanwyck Peter Godfrey Christmas in Connecticut DVD Review Barbara Stanwyck Peter Godfrey's - Christmas in Connecticut - DVD Review Barbara Stanwyck Peter Godfrey Christmas in Connecticut DVD Review Barbara Stanwyck Peter Godfrey Christmas in Connecticut DVD Review Barbara Stanwyck Peter Godfrey Christmas in Connecticut DVD Review Barbara Stanwyck Peter Godfrey Christmas in Connecticut DVD Review Barbara Stanwyck Peter Godfrey Christmas in Connecticut DVD Review Barbara Stanwyck Peter Godfrey Christmas in Connecticut DVD Review Barbara Stanwyck Peter Godfrey Christmas in Connecticut DVD Review Barbara Stanwyck Peter Godfrey Christmas in Connecticut DVD Review Barbara Stanwyck Peter Godfrey's - Christmas in Connecticut - DVD Review Barbara Stanwyck Peter Godfrey Christmas in Connecticut DVD Review Barbara Stanwyck Peter Godfrey Christmas in Connecticut DVD Review Barbara Stanwyck Peter Godfrey Christmas in Connecticut DVD Review Barbara Stanwyck Peter Godfrey Christmas in Connecticut DVD Review Barbara Stanwyck Peter Godfrey Christmas in Connecticut DVD Review Barbara Stanwyck Peter Godfrey Christmas in Connecticut DVD Review Barbara Stanwyck Peter Godfrey Christmas in Connecticut DVD Review Barbara Stanwyck Peter Godfrey Christmas in Connecticut DVD Review Barbara Stanwyck Peter Godfrey's - Christmas in Connecticut - DVD Review Barbara Stanwyck Peter Godfrey Christmas in Connecticut DVD Review Barbara Stanwyck Peter Godfrey Christmas in Connecticut DVD Review Barbara Stanwyck Peter Godfrey Christmas in Connecticut DVD Review Barbara Stanwyck Peter Godfrey Christmas in Connecticut DVD Review Barbara Stanwyck Peter Godfrey Christmas in Connecticut DVD Review Barbara Stanwyck Peter Godfrey Christmas in Connecticut DVD Review Barbara Stanwyck Peter Godfrey Christmas in Connecticut DVD Review Barbara Stanwyck Peter Godfrey Christmas in Connecticut DVD Review Barbara Stanwyck Peter Godfrey's - Christmas in Connecticut - DVD Review Barbara Stanwyck Peter Godfrey Christmas in Connecticut DVD Review Barbara Stanwyck Peter Godfrey Christmas in Connecticut DVD Review Barbara Stanwyck Peter Godfrey Christmas in Connecticut DVD Review Barbara Stanwyck Peter Godfrey Christmas in Connecticut DVD Review Barbara Stanwyck Peter Godfrey Christmas in Connecticut DVD Review Barbara Stanwyck Peter Godfrey Christmas in Connecticut DVD Review Barbara Stanwyck Peter Godfrey Christmas in Connecticut DVD Review Barbara Stanwyck Peter Godfrey Christmas in Connecticut DVD Review Barbara Stanwyck Peter Godfrey's - Christmas in Connecticut - DVD Review Barbara Stanwyck Peter Godfrey Christmas in Connecticut DVD Review Barbara Stanwyck Peter Godfrey Christmas in Connecticut DVD Review Barbara Stanwyck Peter Godfrey Christmas in Connecticut DVD Review Barbara Stanwyck Peter Godfrey Christmas in Connecticut DVD Review Barbara Stanwyck Peter Godfrey Christmas in Connecticut DVD Review Barbara Stanwyck Peter Godfrey Christmas in Connecticut DVD Review Barbara Stanwyck Peter Godfrey Christmas in Connecticut DVD Review Barbara Stanwyck Peter Godfrey Christmas in Connecticut DVD Review Barbara Stanwyck Peter Godfrey's - Christmas in Connecticut - DVD Review Barbara Stanwyck Peter Godfrey Christmas in Connecticut DVD Review Barbara Stanwyck Peter Godfrey Christmas in Connecticut DVD Review Barbara Stanwyck Peter Godfrey Christmas in Connecticut DVD Review Barbara Stanwyck Peter Godfrey Christmas in Connecticut DVD Review Barbara Stanwyck Peter Godfrey Christmas in Connecticut DVD Review Barbara Stanwyck Peter Godfrey Christmas in Connecticut DVD Review Barbara Stanwyck Peter Godfrey Christmas in Connecticut DVD Review Barbara Stanwyck Peter Godfrey Christmas in Connecticut DVD Review Barbara Stanwyck Peter Godfrey's - Christmas in Connecticut - DVD Review Barbara Stanwyck Peter Godfrey Christmas in Connecticut DVD Review Barbara Stanwyck Peter Godfrey Christmas in Connecticut DVD Review Barbara Stanwyck Peter Godfrey Christmas in Connecticut DVD Review Barbara Stanwyck Peter Godfrey Christmas in Connecticut DVD Review Barbara Stanwyck Peter Godfrey Christmas in Connecticut DVD Review Barbara Stanwyck Peter Godfrey Christmas in Connecticut DVD Review Barbara Stanwyck Peter Godfrey Christmas in Connecticut DVD Review Barbara Stanwyck Peter Godfrey Christmas in Connecticut DVD Review Barbara Stanwyck Peter Godfrey's - Christmas in Connecticut - DVD Review Barbara Stanwyck Peter Godfrey Christmas in Connecticut DVD Review Barbara Stanwyck Peter Godfrey Christmas in Connecticut DVD Review Barbara Stanwyck Peter Godfrey Christmas in Connecticut DVD Review Barbara Stanwyck Peter Godfrey Christmas in Connecticut DVD Review Barbara Stanwyck Peter Godfrey Christmas in Connecticut DVD Review Barbara Stanwyck Peter Godfrey Christmas in Connecticut DVD Review Barbara Stanwyck Peter Godfrey Christmas in Connecticut DVD Review Barbara Stanwyck Peter Godfrey Christmas in Connecticut DVD Review Barbara Stanwyck Peter Godfrey's - Christmas in Connecticut - DVD Review Barbara Stanwyck Peter Godfrey Christmas in Connecticut DVD Review Barbara Stanwyck Peter Godfrey Christmas in Connecticut DVD Review Barbara Stanwyck Peter Godfrey Christmas in Connecticut DVD Review Barbara Stanwyck Peter Godfrey Christmas in Connecticut DVD Review Barbara Stanwyck Peter Godfrey Christmas in Connecticut DVD Review Barbara Stanwyck Peter Godfrey Christmas in Connecticut DVD Review Barbara Stanwyck Peter Godfrey Christmas in Connecticut DVD Review Barbara Stanwyck Peter Godfrey Christmas in Connecticut DVD Review Barbara Stanwyck Peter Godfrey's - Christmas in Connecticut - DVD Review Barbara Stanwyck Peter Godfrey Christmas in Connecticut DVD Review Barbara Stanwyck Peter Godfrey Christmas in Connecticut DVD Review Barbara Stanwyck Peter Godfrey Christmas in Connecticut DVD Review Barbara Stanwyck Peter Godfrey Christmas in Connecticut DVD Review Barbara Stanwyck Peter Godfrey Christmas in Connecticut DVD Review Barbara Stanwyck Peter Godfrey Christmas in Connecticut DVD Review Barbara Stanwyck Peter Godfrey Christmas in Connecticut DVD Review Barbara Stanwyck Peter Godfrey Christmas in Connecticut DVD Review Barbara Stanwyck Peter Godfrey's - Christmas in Connecticut - DVD Review Barbara Stanwyck Peter Godfrey Christmas in Connecticut DVD Review Barbara Stanwyck Peter Godfrey Christmas in Connecticut DVD Review Barbara Stanwyck Peter Godfrey Christmas in Connecticut DVD Review Barbara Stanwyck Peter Godfrey Christmas in Connecticut DVD Review Barbara Stanwyck Peter Godfrey Christmas in Connecticut DVD Review Barbara Stanwyck Peter Godfrey Christmas in Connecticut DVD Review Barbara Stanwyck Peter Godfrey Christmas in Connecticut DVD Review Barbara Stanwyck Peter Godfrey Christmas in Connecticut DVD Review Barbara Stanwyck Peter Godfrey's - Christmas in Connecticut - DVD Review Barbara Stanwyck Peter Godfrey Christmas in Connecticut DVD Review Barbara Stanwyck Peter Godfrey Christmas in Connecticut DVD Review Barbara Stanwyck Peter Godfrey Christmas in Connecticut DVD Review Barbara Stanwyck Peter Godfrey Christmas in Connecticut DVD Review Barbara Stanwyck Peter Godfrey Christmas in Connecticut DVD Review Barbara Stanwyck Peter Godfrey Christmas in Connecticut DVD Review Barbara Stanwyck Peter Godfrey Christmas in Connecticut DVD Review Barbara Stanwyck Peter Godfrey Christmas in Connecticut DVD Review Barbara Stanwyck Peter Godfrey's - Christmas in Connecticut - DVD Review Barbara Stanwyck Peter Godfrey Christmas in Connecticut DVD Review Barbara Stanwyck Peter Godfrey Christmas in Connecticut DVD Review Barbara Stanwyck Peter Godfrey Christmas in Connecticut DVD Review Barbara Stanwyck Peter Godfrey Christmas in Connecticut DVD Review Barbara Stanwyck Peter Godfrey Christmas in Connecticut DVD Review Barbara Stanwyck Peter Godfrey Christmas in Connecticut DVD Review Barbara Stanwyck Peter Godfrey Christmas in Connecticut DVD Review Barbara Stanwyck Peter Godfrey Christmas in Connecticut DVD Review Barbara Stanwyck Peter Godfrey's - Christmas in Connecticut - DVD Review Barbara Stanwyck Peter Godfrey Christmas in Connecticut DVD Review Barbara Stanwyck Peter Godfrey Christmas in Connecticut DVD Review Barbara Stanwyck Peter Godfrey Christmas in Connecticut DVD Review Barbara Stanwyck Peter Godfrey Christmas in Connecticut DVD Review Barbara Stanwyck Peter Godfrey Christmas in Connecticut DVD Review Barbara Stanwyck Peter Godfrey Christmas in Connecticut DVD Review Barbara Stanwyck Peter Godfrey Christmas in Connecticut DVD Review Barbara Stanwyck Peter Godfrey Christmas in Connecticut DVD Review Barbara Stanwyck Peter Godfrey's - Christmas in Connecticut - DVD Review Barbara Stanwyck Peter Godfrey Christmas in Connecticut DVD Review Barbara Stanwyck Peter Godfrey Christmas in Connecticut DVD Review Barbara Stanwyck Peter Godfrey Christmas in Connecticut DVD Review Barbara Stanwyck Peter Godfrey Christmas in Connecticut DVD Review Barbara Stanwyck Peter Godfrey Christmas in Connecticut DVD Review Barbara Stanwyck Peter Godfrey Christmas in Connecticut DVD Review Barbara Stanwyck Peter Godfrey Christmas in Connecticut DVD Review Barbara Stanwyck Peter Godfrey Christmas in Connecticut DVD Review Barbara Stanwyck