Review by Gary Tooze
Production:
Theatrical: Ram Ltd.
Video: Kino Lorber
Disc:
Region: 'A' (as verified by the Oppo Blu-ray player)
Runtime: 1:31:53.966
Disc Size: 22,534,184,627 bytes
Feature Size: 20,437,131,264 bytes
Video Bitrate: 25.81 Mbps
Chapters: 8
Case: Standard Blu-ray case
Release date: October 11th, 2016
Video:
Aspect ratio: 1.85:1
Resolution: 1080p / 23.976 fps
Video codec: MPEG-4 AVC Video
Audio:
D
TS-HD Master Audio English 1557 kbps 2.0 / 48 kHz / 1557 kbps / 16-bit (DTS Core: 2.0 / 48 kHz / 1509 kbps / 16-bit)
Commentaries:
Dolby Digital Audio English 192 kbps 2.0 / 48 kHz / 192 kbps
Dolby Digital Audio English 192 kbps 2.0 / 48 kHz / 192 kbps
Dolby Digital Audio English 192 kbps 2.0 / 48 kHz / 192 kbps
Subtitles:
None
Extras:
• Audio Commentary by Writer/Producer/Director Ted V. Mikels
• Optional RiffTrax Commentary by Mike Nelson, Kevin Murphy and Bill Corbett
• Audio Commentary by Horror Cinema Historian Chris Alexander
• Original Theatrical Trailer (Astro Zombies - 2:16, Beware the Blob (Son of Blob) - 1:45, The Incredible Two-Headed Transplant - 2:13, Deranged - 1:40)
Bitrate:
Description:
Newly Re-mastered in HD! A film that has it all… a mad astro-scientist (John Carradine,
House of the Long Shadows
) reviving corpses at his laboratory; two gore-crazed, solar-powered killer robot zombies; a bloody trail of girl-next-door victims; Chinese communist spies; deadly Mexican secret agents led by the insanely voluptuous Tura Satana (
Faster, Pussycat! Kill! Kill
!) and intrepid CIA agent Wendell Corey (
The Killer is Loose
) hot on their trail and trying to figure it all out! This cult favorite was written, produced and directed by cult legend, Ted Mikels (
One Shocking Moment
,
Blood Orgy of the She-Devils
) melds into a high-powered fusion the films of Ed Wood, Russ Meyer and George Romero with undead cannibal gore chills… hot-pants sexploitation thrills… '60's sci-fi mumbo-jumbo and Cold War espionage intrigue.
The Film:
A bizarre creature is running around loose murdering and mutilating women. The police try to investigate. Meanwhile, a mad scientist tries to explain his work to his mute assistant, who is intent on experiments of his own on a bikini-clad girl tied to a table. Meanwhile, spies led by Tura Satana's breasts (followed closely by Tura Satana) look for the scientist to get his secrets.

Though it has something of a cult reputation, let's face it; this one is wretched. This is not to say there's not a certain appeal to the movie. Tura Satana has a presence that is not soon forgotten, and there's some fun to be had with John Carradine and his assistant. The opening murder made a huge impression on me when the movie popped up on a my local Creature Feature, and the scene where an astro-zombie makes his getaway while holding a flashlight to his forehead is good for some laughs.
Excerpt from Fantastic Movie Musings and Ramblings (Dave Sindelar) located HERE

I am ashamed to say I had never heard of The Astro-Zombies (1968) until my husband stumbled across it one night. Wendell (Hic!) Corey? John Carradine? Tura Satana? I'm a fool for never having watched this movie!

Oh, this is a terrible movie, though. I felt downright depressed after watching Wendell try to get through his lines without slurring, and there's one moment in the film where an agent at the government organization Corey works at says he's been forced to investigate at bars so much he's about to turn into a lush. There is a lingering reaction shot on Corey that is so very, very uncomfortable. Corey died less than six months after this film was released, of alcoholic liver disease, at the age of 54.
Excerpt from She Blogged By Night [Stacia Kissick Jones] located HERE
Image : NOTE: The below Blu-ray captures were taken directly from the Blu-ray disc.
The single-layered Kino Lorber Blu-ray of The Astro-Zombies looks probably about as good as the film can in 1080P. Considering that the estimated budget for Astro Zombies was $37,000 - it looks surprisingly adept in HD. The source has some frame-specific marks and damage, but I noticed no noise - not even in the few night sequences. The source must have been in reasonable shape with decent density to produce such contrast. It's a little dull and colors drift creating a haze but despite all that this Blu-ray gave me a watchable, and pleasurable, viewing despite the imperfections and the film's bottom-of-the-barrel cinema status.
CLICK EACH BLU-RAY CAPTURE TO SEE ALL IMAGES IN FULL 1920X1080 RESOLUTION
1) Kino - Region 'A'- Blu-ray -

TOP

2

) Frame-specific damage BOTTOM
Audio :
Kino Lorber use a DTS-HD Master 2.0 channel track at 1557 kbps (16-bit) in the original English language. There are no demonstrative effects in the film - aside from some screaming and the score by Nicholas Carras - as Nico Karaski (Mikels' films The Doll Squad and Girl in Gold Boots amongst his credits.). It's unremarkable and on-par with the production. There are no subtitles offered and my Oppo has identified it as being a region 'A'-locked.
Extras :
Exactly what you need after this film experience, to put it all in perspective - three rewarding audio Commentaries - the first is by writer/producer/director Ted V. Mikels and is un-moderated and he discusses production short cuts with low budget tricks. It's fairly low-key and enjoyable. Kino include a "RiffTrax" with Mike Nelson, Kevin Murphy and Bill Corbett and it is amusing From a more serious standpoint a 3rd commentary is by Horror Cinema Historian Chris Alexander delving a little deeper into Mikels, some of the performers and the production roots. It's also worth a spin. Lastly are some trailers; Astro Zombies, Beware the Blob (Son of Blob), The Incredible Two-Headed Transplant and Deranged.
| | |
| --- | --- |
| | |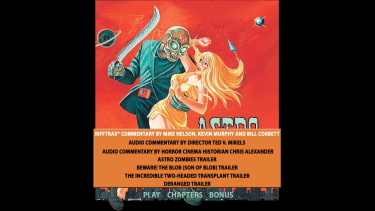 | | |
| --- | --- |
| | |
| | |
| --- | --- |
| | |
BOTTOM LINE:
Astro Zombies might have qualified for 'Grindhouse' labeling as the effects are so make-shift and exploitation a minor achievement in the effort. It's horrible but easily qualifies for "it's so bad - it's good" categorization. It's miserably sloppy and too easily mocked. I loved the gals in it and the male leads who wished they had never been involved. The Kino Lorber
Blu-ray
aims at a specific film-fan target and adds immense value with the commentaries
. If you are often repelled by Hollywood's gloss and over-production - Astro Zombies is a perfect 180 degree divergence. Ed Wood's oeuvre is an adept comparison. Personally, I enjoyed every minute and look for ward to indulging again with my buddies.
NOTE
: At the writing of this review it is 47% OFF at Amazon and at that price you may want this easily accessible in your library. To each his own.
Gary Tooze
September 26th, 2016