Review by Gary Tooze
Production:
Theatrical: FP Films
Video: Signal One Entertainment
Disc:
Region: FREE (as verified by the Oppo Blu-ray player)
Runtime: 1:35:57.501
Disc Size: 24,527,451,102 bytes
Feature Size: 20,955,989,568 bytes
Video Bitrate: 24.99 Mbps
Chapters: 10
Case: Standard Blu-ray case
Release date: February 29th, 2016
Video:
Aspect ratio: 1.85:1
Resolution:
1080P / 24 fps

Video codec: MPEG-4 AVC Video
Audio:
LPCM Audio English 1152 kbps 1.0 / 48 kHz / 1152 kbps / 24-bit
Commentary:
Dolby Digital Audio English 192 kbps 2.0 / 48 kHz / 192 kbps
Subtitles:
English (HoH), None
Extras:
• Audio commentary by C. Courtney Joyner
• Truth Be Told (2015, 19:55): new interview with award-winning actor Stacy Keach
• The Guardian Interview with Faye Dunaway (1980, 1:35:57, audio only): the star of Doc discusses her career with critic Alexander Walker
• Outside the System (2015, 24:33): new interview with celebrated editor Alan Heim
• All-new audio commentary with Western writer and cinema expert C. Courtney Joyner
• Lobby cards, posters and stills gallery
• Theatrical trailer (HD - 2:46)
• HoH subtitles on the feature and trailer
Bitrate:
Description: In 1881, Doc Holliday enters the 'No Name Saloon' and challenges a man to a game of poker. He bets his horse for the opponent's wife, the whore Katie Elder, and wins. From then on, Elder goes wherever Doc goes. When they arrive in Tombstone, Sheriff Wyatt Earp is standing as a candidate in the local election, but hostilities erupt and the Clanton family, a gang of outlaw cowboys, make their opposition felt. Doc soon joins forces with Earp and his brothers to take on the Clanton gang.

This gritty, revisionist take on the true story of the legendary gunfight at the OK Corral stars Stacy Keach as Doc Holliday and Faye Dunaway as Kate Elder, and features music by the legendary songwriter Jimmy Webb ( Wichita Lineman.)
The Film:
Frank Perry's "Doc" works very well just as a Western, no matter what its higher ambitions may be. But because it has the presumption to mess with the saga of Doc Holliday and Wyatt Earp, it is getting some knocks from the New York Critics. Doc and Wyatt were immortalized (for film buffs anyway) by John Ford's masterpiece "My Darling Clementine." In using the same characters it's almost as if Perry were a bad guy like Martin Rackin -- who had the gall to remake Ford's "Stagecoach."

Well, a remake is one thing (and a travesty in Rackin's case). But another look at characters in the public domain is something else again, and Perry's approach to those strange events so many years ago in Tombstone is altogether fascinating. It is also a good Western, by the by.

Its greatest strength is in the acting. Stacy Keach and Harris Yulin -- two New York actors who were last in the totally different kind of film "End of the Road" -- have such a quiet way of projecting the willingness to do violence that you realize, after a while, that most Western actors are overactors. There's a kind of private club of actors who have conspired to make Westerns: John Wayne, of course, and Lancaster, Eastwood, Douglas, Widmark, Mitchum and the rest.
Excerpt from Roger Ebert located HERE
Before the duelling biopics of "Tombstone" and "Wyatt Earp" in the 1990's, this 1971 effort had already decided to set the record straight about John "Doc" Holliday, Earp's best friend and participant in the gunfight at the OK Corral.

Just over an hour and a half, this film skips a lot of the epic western cliches and goes right into its meaty story. Doc Holliday buys prostitute Katie Elder (Faye Dunaway) from local bad boy Ike Clanton, and takes her to Tombstone, Arizona. He meets up with his best friend Wyatt Earp, played by Harris Yulin. Earp has political aspirations in the territory, and wants to control the law while Holliday would control the gambling. Elder and Holliday break up briefly, but then shack up on the edge of town, much to the chagrin of Earp's upstanding wife.
Excerpt from CharlesTatumsReviewArchive located HERE

Image : NOTE: The below Blu-ray captures were taken directly from the Blu-ray disc.
"Doc" gets an solid transfer to Blu-ray from Signal One in the UK. It is single-layered with a supportive bitrate for the 1.5 hour feature. With subtle but brilliant cinematography by Gerald Hirschfeld (Fail-Safe, The Car) we get some impressive visuals (notable in the desert-crossing sequence) the original 1.85:1 aspect ratio. The HD transfer produces consistent textures, realistic, earthy western, colors and adept contrast layering. I see no damage or scratches and only minor speckles. This looked very strong, IMO - an exceptionally good representation of the film.
CLICK EACH BLU-RAY CAPTURE TO SEE ALL IMAGES IN FULL 1920X1080 RESOLUTION
Audio :
Audio comes in a linear PCM 1.0 channel track at 1152 kbps. The typical western effects (winds, horses, guns etc.) are flat and carry some weight in lossless. The score is credited to acclaimed songwriter Jimmy Webb (his first feature) who's music you will hear in such films as Michael Mann's
Heat
, The Coen Brothers
Fargo
and the recent TV documentary
The Jinx: The Life and Deaths of Robert Durst
. There are optional English subtitles and my
Oppo
has identified it as being a region 'B'-locked.
Extras :
Signal One are certainly no slouch in the supplements department. This disc is stacked, starting with an excellent audio commentary by C. Courtney Joyner author of The Westerners: Interviews with Actors, Directors, Writers and Producers. He is also an award-winning writer of screenplays, with over 25 produced movies to his credit. So... he knows his stuff and gives some highly interesting discussion of Doc referencing many other westerns and Perry's films plus giving important historical context. One of my favorite commentaries so far this year. Truth Be Told is a new 20-minute interview with award-winning actor Stacy Keach as done by Robert Fischer of Fiction Factory and its revealing plus we get another from Fischer entitled Outside the System - also from 2015 - and it runs 25-minutes as an interesting interview with celebrated editor Alan Heim. These are expertly produced and add significant value to the package. There is also a 1 1/2 hour Guardian Interview with Faye Dunaway with critic Alexander Walker from 1980 (audio only) played to the film running. There are Lobby cards, posters and stills gallery and a theatrical trailer.
| | |
| --- | --- |
| | |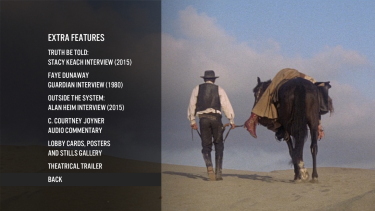 BOTTOM LINE:
Gunfight at the O.K. Corral is a fun myth that "Doc" attempts to set straight as a kind of anti-western. I am a big fan of Frank Perry films like The Swimmer (with Sydney Pollock), Man on a Swing and his first David and Lisa. This is a talented filmmaker and "Doc" is a film worth multiple revisitations. The Signal One Blu-ray is solid - pleasing a/v, and stacked with extras including the valuable commentary that many will appreciate.
Gary Tooze
February 20th, 2016