NOTE: The below Blu-ray captures were obtained directly from the Blu-ray disc.
ADDITION: Criterion Blu-ray - September 14': Criterion's transfer of the theatrical release version of the film is described as a "New 4K digital restoration". It is slightly less robust than the 20th Century Fox Blu-ray but I can't tell too much difference without extensively zooming-in. Even then it only appears to be consistency of grain and some very minor artifacts. But Criterion have included a high-definition presentation of the 103-minute prerelease version of the film! The ninety-seven minute theatrical release of My Darling Clementine was not director John Ford's first cut of the film. After screening Ford's version, producer Darryl F. Zanuck made changes to create snappier pacing and a more conventionally satisfying ending. Although it's believed that Ford's original cut no longer exists, this 103-minute pre-release version from July 1946 - three months before the film's Premier - represents an intermediate step between Ford's version and the final theatrical release. The differences between the two are outlined in the version comparison on this reviewed Blu-ray disc. So while the theatrical looks fabulous - the pre-release - also in 1080P- is far less robust and shows some speckles and marks. It is certainly watchable but seems darker and a bit more frail. We've compared 4 captures below to give you an idea.
Criterion, predictably, utilize a linear PCM in 1.0 mono. Still very flat but a bit of depth notable in effects and in the, classic western, score by Cyril J. Mockridge (Desk Set, The Ox-Bow Incident, The Dark Corner, Nightmare Alley) and the title theme (played and sung during the opening credits and at the end - and on the piano in the bar.) It sounds superb - not much difference from the Fox lossless. There are optional English subtitles and the Blu-ray disc is region 'A'-locked.
As already mentioned a new high-definition presentation of the 103-minute prerelease version of the film is considered an extra. With the theatrical we get a new audio commentary featuring John Ford biographer Joseph McBride (Searching for John Ford, John Ford - Cinema Two). He covers a lot of the history and the legend of the O.K. Corral and, later, talks of Ford and the production. It's very professional and filled with knowledge - easily superior to the Wyatt Earp III commentary from Fox. Included is a 40-minute comparison of the two versions by film preservationist Robert Gitt. This extensive piece outlines the many significant differences between the July 1946 pre-release version of My Darling Clementine and the film's final October 1946 theatrical release version. It was made in 2004. Criterion conduct a new, 15-minute, interview with western historian Andrew C. Isenberg (author of Wyatt Earp: A Vigilante Life) who delves into the myths about Wyatt Earp and the O.K. Corral that were fostered by films and the marshal himself. One of the gems in the extras is a new video essay by Ford scholar Tag Gallagher (author of John Ford: The Man and His Films), where he illuminates many motifs and themes of My Darling Clementine and connects it to other John Ford works. Another neat supplement is Banditís Wager, a, 14-minute, 1916 silent western short costarring Ford and directed by his brother, Francis Ford, featuring new music composed and performed by Donald Sosin. Francis stars as the titular bandit, Grace Cunard plays Nan and John, in a rare screen appearance, is Nan's brother. Criterion have included the audio Lux Radio Theatre adaptation from 1947 starring Henry Fonda and Cathy Downs reprising their roles from the film, and Richard Conte also stars. There are two NBC television reports from 1963 and 1975 about the history of Tombstone and Monument Valley. They run a total of 12-minutes. There is also a trailer and the package contains a liner notes booklet with an essay by critic David Jenkins.
With the extensive extras - this is, for me, one of the best releases of the year. the addition of the 'pre-release' version seems a 'must' now and certainly adds to the value as does the excellent McBride commentary, Tag's wonderful visual essay and the entire package. This has our highest recommendation!
***
ADDITION: Twentieth Century Fox Blu-ray - July 14':
I absolutely adore this film. Firstly, this Blu-ray is only the theatrical version (not the pre-release.) The European 1080P (I suspect this will be the same transfer, and maybe same disc available elsewhere) is quite dark - especially noticeable in the early part of the film which has some very dark sequences - in the rain. Some information is lost in the darkness, but it wouldn't surprise me if this was the same way theatrically and the SDs had some brightness boosting. The transfer is very robust - dual-layered with a high bitrate. Contrast has significantly more layers with exceptionally rich black levels - close to moiring. Sharpness shows vast improvements - notable in close-ups and the Blu-ray has more information on all four sides of the frame. Aside from what appeared to be anomalies (suggestions of waxiness) - it looked great. There is little-to-no damage or speckles. Without taking out the magnifying glass - this is highly pleasing.
The audio gives multiple foreign-language DUBs and a DTS-HD Master mono track at 817 kbps in the original English.
Extras include the commentary by Wyatt Earp III and Scott Eyman as found on the 2004 DVD (and the Ford Collection set) - and a trailer.
There was no way I wasn't owning this Blu-ray. Probably my favorite western... of all time. Strongly recommended!
***
ADDITION: Ford at Fox edition: Once again - not one of our ground-breaking comparisons. We can only reassure people that the version that came out in January 2004 (with the Sept 29th, 2003 VOB files date) is the exact same version(s) you are receiving in the Ford at Fox Collection and the Essential Ford Collection. It is the same dual-sided disc (dual-layered side pre-release and single-layered theatrical on the opposite side). It still has the good Wyatt Earp the third commentary. There really was no viable reason to update further as it was taken from and preserved by UCLA and MoMA. It was magnificent already.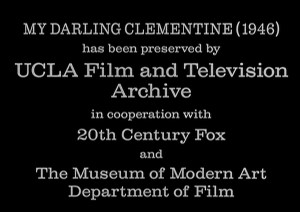 I should not that as I am comparing the one available in the Ford at Fox massive boxset I can't say with any certainty if any non-digital extras are supplied in the new single-disc version.
I can only say that it is the exact same disc. Same bitrate- same menus. (There may be a bell or whistle non-digital extra to justify that $2 more expensive price tag).
It should be commented that we can't endorse buying the single disc when for a little over double you can get the entire Essential Collection. Correspondingly we don't want to recommend that over the entire Ford at Fox collection - which is a must-own.
I relished the opportunity to watch this film, one of my favorite all-time westerns, yet again. It is marvelous.
****
This is not so much a comparison as a review of the Fox Disc. The Taiwan WBV DVD is certainly a bootleg, probably from laserdisc. It has a very high level of contrast saturation and is quite hazy. Lets forget it.
The Fox DVD has two versions (on opposite sides of the disc). Side A has a long cut which is a preview version described as being part-way between Ford's rejected cut (a half-hour longer) and Zanuck's final release version found on the flip side of the DVD. It is this shorter version that has the commentary from Wyatt Earp III. I see no difference in the two versions sound and image wise.
This is a great DVD, both for the dual content and the image quality. I can't say enough about this film, easily the greatest westerns ever made and this DVD has done it proud. Deep black levels and tight sharp picture quality with what appears to be a restored image ( hardly any scratches etc. ). I won't bore you with more accolades, just buy it now.

out of

.