Review by Gary Tooze
Production:
Theatrical: Universal International Pictures (UI)
Video: Criterion Collection Spine #750
Disc:
Region: 'A' (as verified by the Oppo Blu-ray player)
Runtime: 1:41:33.212
Disc Size: 42,882,653,863 bytes
Feature Size: 29,961,977,856 bytes
Video Bitrate: 34.98 Mbps
Chapters: 12
Case: Transparent Blu-ray case
Release date: March 17th, 2015
Video:
Aspect ratio: 1.33:1
Resolution: 1080p / 23.976 fps
Video codec: MPEG-4 AVC Video
Audio:
LPCM Audio English 1152 kbps 1.0 / 48 kHz / 1152 kbps / 24-bit
Commentary:
Dolby Digital Audio English 192 kbps 1.0 / 48 kHz / 192 kbps
Subtitles:
English (SDH), none

Extras:
• Audio commentary featuring film noir historians Alain Silver and James Ursini
• New interview with Imogen Sara Smith, author of In Lonely Places: Film Noir Beyond the City (19:58)
• Lux Radio Theatre adaptation of the film from 1947, featuring Robert Montgomery, Wanda Hendrix, and Thomas Gomez (59:32)
• PLUS: An essay by filmmaker and writer Michael Almereyda
Bitrate:
Description: Hollywood actor turned idiosyncratic auteur Robert Montgomery directs and stars in this striking crime drama based on a novel by Dorothy B. Hughes. He plays a tough-talking former GI who comes to a small New Mexico town to shake down a gangster who killed his best friend; things quickly turn nasty. Ride the Pink Horse features standout supporting performances by Fred Clark, Wanda Hendrix, and especially Thomas Gomez, who became the first Hispanic actor to receive an Academy Award nomination for his role here. With its relentless pace, expressive cinematography by the great Russell Metty, and punchy, clever script by Ben Hecht and Charles Lederer, this is an overlooked treasure from the heyday of 1940s film noir.
The Film:
Robert Montgomery directed and starred in this exotic film noir set during a New Mexico fiesta. Montgomery plays a secretive ex-GI who plans to extort money from a prominent gangster Fred Clark as retribution for the death of Montgomery's best friend. An FBI man Art Smith would like the government to get the incriminating information on the gangster that Montgomery is carrying. Trailed by the FBI agent, Montgomery takes refuge at an old carousel, where he meets a Mexican gamin Wanda Hendrix who refuses to leave his side. The girl is on hand when the gangster catches up with Montgomery and has him beaten. She nurses Montgomery back to health, but the would-be blackmailer is determined to confront the gangster again. This time, however, the FBI agent comes to the rescue. Ride the Pink Horse is a properly moody melodrama, containing one of the few truly good performances from eternal ingenue Wanda Hendrix. The film was remade for TV in 1964 as The Hanged Man.
Excerpt from B+N located HERE

Today, it's primarily devotees of the film noir cycle for whom the atmospheric and fascinating Robert Montgomery vehicle Ride the Pink Horse (1947) holds name recognition, and that's unfortunate. It stands as evidence of how genuinely effective its star/director could be on those too infrequent occasions when he stepped away from the brand of light farce to which he was so heavily typed and was allowed to create a memorable antihero or villain. The viewer also comes away with regret that Montgomery never got more than a handful of directing opportunities from Hollywood, as the narrative displays an imaginative and confident hand from start to fade-out.

In the film, Montgomery portrays Lucky Gagin, a bitter WWII vet who had nothing but a life of petty crime waiting home for him after V-J Day. The screenplay, a somewhat loose adaptation by Ben Hecht and Charles Lederer from the Dorothy B. Hughes novel, opens with him being deposited at the bus station of a dusty New Mexico city. What's brought him to town is the chance to confront Frank Hugo (Fred Clark), a vicious and semi-deaf crime lord with the disconcerting habit of receiving phone calls into a belt-mounted hearing aid. As it develops, Gagin's in possession of a canceled check that would tie Hugo to acts of war profiteering, and will only give it up for a price. Lucky's motives for squeezing Hugo are more than merely mercenary; the gangster had his best friend killed for attempting to run the same blackmail.
Excerpt from TCM located HERE

Image : NOTE: The below Blu-ray captures were taken directly from the Blu-ray disc.
Ride the Pink Horse looks very consistent on Blu-ray from Criterion. The image has some inherent softness but contrast is at Criterion's usual brilliant level. This is dual-layered with a max'ed-out bitrate and the source appears to be in decent shape with a clean, damage-free image. Shadow detail via Russell Metty's (Magnificent Obsession, All That Heaven Allows, Mr. Peabody and the Mermaid, Man Without a Star, Touch of Evil), cinematography with frequent depth of focus and 'subjective camera' is deliciously atmospheric. There may have been some slight warping but its is hardly noticeable and the1080P Blu-ray provides a very pleasing presentation. It is in the original 1.37:1 aspect ratio and detail has impressive moments in close-ups. They are a few examples of depth. I would say the contrast is the star of the HD image. This Blu-ray has no discernable flaws and supplies a very appreciated presentation.
CLICK EACH BLU-RAY CAPTURE TO SEE ALL IMAGES IN FULL 1920X1080 RESOLUTION
Audio :
Criterion stay faithful with a linear PCM 1.0 channel mono track at 1152 kbps. It is clear and receptive to the Frank Skinner's score (Magnificent Obsession, Midnight Lace, All That Heaven Allows, and The Naked City to name a few). It is predictably flat but consistent and clean showcasing some minor depth. There are optional English subtitles and m
y
Oppo
has identified it as being a region 'A' disc.
Extras :
We are treated to another par-excellent audio commentary featuring film noir historians Alain Silver and James Ursini who seem to know even the most minute detail of the production including Montgomery's intents, Metty's camera movement and comparisons to the, somewhat darker, Dorothy B. Hughes' novel. You could listen to this repeatedly (and I will) - so much information here. There is also a new, 20-minute, interview with Imogen Sara Smith, author of In Lonely Places: Film Noir Beyond the City conducted by Criterion in November 2014 where the author relates specifics about the Film Noir cycle including Ride the Pink Horse. I really enjoyed the hour-long audio-only Lux Radio Theatre adaptation of the film from 1947, featuring Robert Montgomery, Wanda Hendrix, and Thomas Gomez, In fact I listened to it before watching the film (a first!). The package contains a liner notes booklet with an essay by filmmaker and writer Michael Almereyda.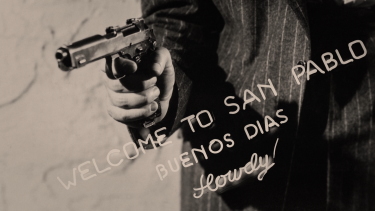 BOTTOM LINE:
I was so anxious to see this Noir. Ride the Pink Horse is all I was expecting... and more. I could revisit this repeatedly - especially with the valuable commentary. This is as rich a dark cinema effort as I have seen in years with so much under the surface. This Criterion Blu-ray package gets our very highest recommendation - Film Noir aficionado or not!
Gary Tooze
February 16th, 2015