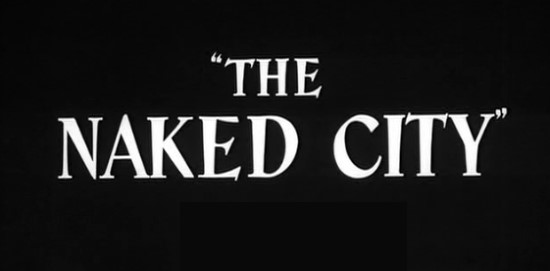 directed by Jules Dassin
USA 1948
"There are eight million stories in the Naked City," as the narrator immortally states at the close of this breathtakingly vivid film—and this is one of them. Master noir craftsman Jules Dassin and newspaperman-cum-producer Mark Hellinger's dazzling police procedural, The Naked City, was shot entirely on location in New York. As influenced by Italian neorealism as American crime fiction, this double Academy Award winner, The Naked City remains a benchmark for naturalism in noir, living and breathing in the promises and perils of the Big Apple, from its lowest depths to its highest skyscrapers.
***
Amid a semi-documentary portrait of New York and its people, Jean Dexter, attractive blonde model, is murdered in her apartment and homicide detectives Dan Muldoon and Jimmy Halloran investigate. Suspicion falls on various shifty characters who all prove to have some connection with a string of apartment burglaries. Then a burglar is found dead who once had an elusive partner named Willie... The climax is a very rapid manhunt sequence. All filmed on location.
Posters
| | | |
| --- | --- | --- |
| | | |
Theatrical Release: March 4th, 1948
Reviews More Reviews DVD Reviews

DVD Comparison:
Image Ent
ertainment - Region 0 - NTSC vs. Criterion - Region 1 - NTSC
(Image Entertainment - Region 0 - NTSC LEFT vs. Criterion - Region 1 - NTSC RIGHT)
DVD Box Cover

Distribution

Image Entertainment

Region 0 - NTSC

Criterion Collection - Spine # 380

Region 1 - NTSC

Runtime
1:35:51
1:35:57

Video

1.33:1 Original Aspect Ratio
Average Bitrate: 6.1 mb/s
NTSC 720x480 29.97 f/s

1.33:1 Original Aspect Ratio
Average Bitrate: 5.35 mb/s
NTSC 720x480 29.97 f/s

NOTE: The Vertical axis represents the bits transferred per second. The Horizontal is the time in minutes.

Bitrate : Image Entertainment

Bitrate: Criterion

Audio
English (Dolby Digital 2.0 Mono)
English (Dolby Digital 1.0)
Subtitles
None
English, None
Features
Release Information:
Studio: Image Entertainment

Aspect Ratio:
Original: 1.33:1

Edition Details:
• Theatrical Trailer (2:37 / 4:3)

DVD Release Date: June 29th, 1999
Keep case

Chapters 12

Release Information:
Studio: Criterion

Aspect Ratio:
Original: 1.33:1

Edition Details:
• Audio commentary by screenwriter Malvin Wald
• An analysis of the film's New York locations by Celluloid Skyline author James Sanders (26:03)
• Interview with NYU film professor Dana Polan (28:08)
• Footage of Jules Dassin from his 2004 appearance at the Los Angeles County Museum of Art (40:38)
• Stills gallery
• 14-page liner notes booklet essay by Luc Sante and production notes from producer Mark Hellinger to Dassin


DVD Release Date: March 20th, 2007
Transparent Keep Case

Chapters

25
Comments:

The comparison is fairly cut-and-dried - the, now out-of-print, Image Entertainment DVD is interlaced (see image below), shows frequent rounded corners and is very dark with highly visible damage marks (so dark that some background details are lost). The Image Ent. does show more information on all 4 sides, but with the rounded corners this is probably not meant to be shown theatrically. The Criterion transfer is again pictureboxed (see our description of 'pictureboxing' in our Kind Hearts and Coronets review). Criterion have included a black border around the edge of the frame to counter overscan on production television sets. It looks excellent with Criterion's meticulous restoration techniques - contrast is pristine. The subtitles and mono audio are again at their lofty standard.

In the commentary screenwriter Malvin Wald informs us, twice in the first 2 minutes alone, that The Naked City was the precursor the Quentin Tarantino's Pulp Fiction and later copied by TV shows like NYPD Blue and Dragnet. He makes comparisons to the O.J. Simpson trial. He talks quite slow and stilted, he narrates far too much, and I wouldn't say it is one of the better commentaries that I have heard from Criterion. He does relate some interesting facts such as the genesis of the film's title. I think I got more out of the 28 minute Dana Polan interview as he talks of the juxtaposed relationship of Film Noir to The Naked City and its supportive nature of normalcy and resistance to deviant behaviour. He talks briefly of the voyeuristic feel of many 40's films - peeking through windows as it were. James Sanders gives a great 26 minute talk on the film covering many production points with information on Mark Hellinger and many of the buildings used in the film. He is very knowledgeable and talks at quite a clip squeezing in many salient points - I hope Criterion bring him back for further supplements. There is a stills gallery and an artistic liner notes booklet with an essay by Luc Sante and production notes from producer Mark Hellinger to Dassin.

The Naked City has a lot of pioneering history associated with it and although I enjoyed this Criterion DVD but I think I prefer Brute Force as a straight Noir film (from Dassin) and I really look forward to that releases by Criterion.
---

DVD Menus

(Image Entertainment - Region 0 - NTSC LEFT vs. Criterion - Region 1 - NTSC RIGHT)
---
Screen Captures
(Image Entertainment - Region 0 - NTSC TOP vs. Criterion - Region 1 - NTSC BOTTOM)
Note: Only Criterion offers subtitles
---
(Image Entertainment - Region 0 - NTSC TOP vs. Criterion - Region 1 - NTSC BOTTOM)
NOTE: The Image Entertainment DVD is interlaced (non-progressive) as indicated by the 'combing'
---
(Image Entertainment - Region 0 - NTSC TOP vs. Criterion - Region 1 - NTSC BOTTOM)
---
(Image Entertainment - Region 0 - NTSC TOP vs. Criterion - Region 1 - NTSC BOTTOM)
---
(Image Entertainment - Region 0 - NTSC TOP vs. Criterion - Region 1 - NTSC BOTTOM)
---
(Image Entertainment - Region 0 - NTSC TOP vs. Criterion - Region 1 - NTSC BOTTOM)
---
(Image Entertainment - Region 0 - NTSC TOP vs. Criterion - Region 1 - NTSC BOTTOM)
---
(Image Entertainment - Region 0 - NTSC TOP vs. Criterion - Region 1 - NTSC BOTTOM)