NOTE: The below Blu-ray captures were taken directly from the Blu-ray disc.

ADDITION: Kino Blu-ray (July 2019): Kino's sub-label Redemption have transferred Jess Franco's Attack of the Robots (Cartes sur table) to Blu-ray. While only on a single-layered disc with a middling bitrate - the image quality is surprisingly pleasing. Black levels are deep and rich and contrast impressive. This is in the original 1.66:1 aspect ratio. The presentation, that starts with a Gaumont logo, is very clean with almost no speckles and detail and grain and duly supported. It looked strong on my system, in-motion.

NOTE: We have added 50 more large resolution Criterion Blu-ray captures for DVDBeaver Patrons HERE.

On their Blu-ray, Redemption offer linear PCM 2.0 channel mono tracks in both the original French (at 16-bit) and the English DUB (24-bit). The DUB is imperfect with some minor hiss now and again but it has a delightfully light score credited to Paul Misraki (Le Doulos, Atoll K, Bunuel's Death in the Garden, Godard's Alphaville, Jean-Pierre Melville's Le Doulos, Orson Welles's Mr. Arkadin) where the, repeated, main theme consistently reminded me of "On A Clear Day...". He uses a lounge-y sound at times - but it all suits the 'fun' and 'adventure' sides of the film. Redemption offer optional English subtitles on their Region 'A' Blu-ray.

Kino add another wonderful audio commentary by Tim Lucas (co-author of Obsession: The Films of Jess Franco) who discusses how certain scenes evoke James Bond, Godard, Dr. Goldfoot and even The Third Man among other references with cast links to Leone westerns and much more about Eddie Constantine. He describes that this was Franco's last feature film to be shot in black and white (and why it was shot in B+W - a camera trick for a robot skin-color-shift effect). It's at his usual impressive standard and he definitely helps appreciation of Attack of the Robots (Cartes sur table) noting many of Franco's subtle touches as well as observantly noting a scene that shows the name of one of the Producers, Serge Silberman, (as a missing character in a computer printout used in the film):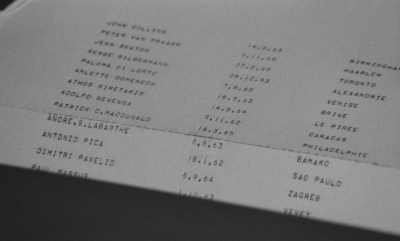 and another scene that identifies writer/director Franco, in a cameo, on the keyboard: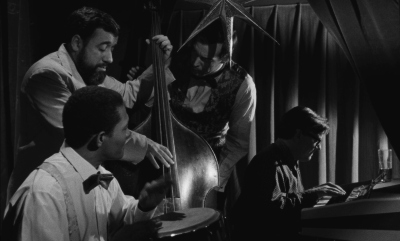 There is also a lengthy original theatrical trailer.
To be honest, I feel like most of the Jess Franco films I have seen have not been to my taste - frequently appearing to me with sophomoric production values. But Attack of the Robots (Cartes sur table) was great actually reminding me of the OSS117 series. This looks great and is a heap of fun. The Lucas commentary gives it further value. It's a film I am very happy to revisit on Blu-ray in the future. A not-so-subtle recommendation!