(Paul Verhoeven, 2000)
Sony
Review by Gary W. Tooze
Video codec: MPEG-4 AVC
Video resolution: 1080p
Aspect ratio: 1.85:1

Audio: English: Dolby Digital True 5.1, DUBs: French: Dolby Digital true 5.1, Spanish: Dolby Digital True 5.1

Subtitles: English, French, Spanish, Portuguese, Arabic, none (Bonus Features in optional French or Spanish - although it says 'Korean' on the box)
Supplements: 'Making of: Anatomy of a Thriller", "Fleshing Out Hollow Man": 15 Behind-the-Scenes, VFX 'picture-in-picture' comparisons

Disc: 50GB (dual-layered) Blu-ray Disc
Released: October 16th, 2007
Standard Blu-ray case
16 chapters
Product Description:
Sebastian Caine heads a top-secret research project to unlock the secret of invisibility. When the formula works successfully on animals, an ecstatic Caine recklessly disobeys orders and experiments on himself. Unfortunately, the dangerous gamble goes terribly wrong when the procedure cannot be reversed. Caine and his chief lieutenants Linda McKay and Matt Kensington, frantically attempt to counteract the effect. But the invisible Caine, fueled by latent megalomaniac tendencies, quickly becomes intoxicated with his newfound power. The laboratory becomes a house divided as the scientists realize their suddenly omnipotent leader perceives them as a threat to his very existence.
****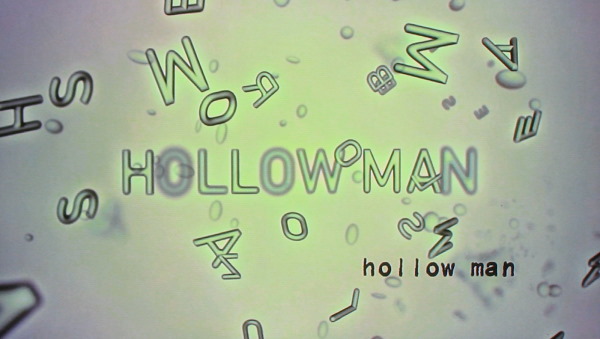 The Film:
Call it camp and you're letting yourself off easy. Call it social criticism and you're not doing justice to its ambivalent nature. Defending
Showgirls
as the best and most personal of Verhoeven's American films, Rivette stressed that it's every bit as disagreeable as the others: "It's about surviving in a world populated by human garbage, that's his philosophy." Early in
Hollow Man
there's a scene of foreboding in which a lab rat or mouse is deposited in its cage, and after it scampers across the floor it's crushed into a bloody mess between the jaws of an invisible ape. At the press screening I attended, a couple of my younger colleagues, clearly won over by this preview of coming attractions—presumably envisioning many more broken rodent bones and gallons of rodent blood—giggled with glee, or at least with an adolescent-male braggadocio, echoing the legions of adolescent males who tend to populate Verhoeven's pictures. Yet later in the movie, when an invisible human disposes of a dog in the lab in an equally brutal fashion, Verhoeven shows only a muddy solarized image on a video screen and immediately cuts away from it. This time there were no squeals or chortles from my colleagues. The promise of guts on the wall wasn't being kept; it's as if Verhoeven were turning the tables on some viewers' expectations, as if he were saying to them, as politely as he knew how, "You actually want to see a dog's guts get splattered? Fuck you, you Neanderthal ignoramuses. That's really disgusting." The comic-strip verve of his onslaught—goading us into behaving like assholes and then showing us what we're doing—parallels the feisty and fatal charm of Sharon Stone manipulating Michael Douglas in Basic Instinct.
Next to the corrosive social commentary of
Showgirls
and
Starship Troopers
or even the satirical undertones of
Total Recall
and
Basic Instinct
,
Hollow Man
doesn't look like much more than a straight-ahead SF action thriller, a genre exercise derived from an original script that's delivered with exquisite punch and polish. (If you don't want to know what some of the more predictable punches are, check out now.) It even has a mad scientist whose lab explodes at the end—as venerable a horror staple as one can imagine. And, as I've already noted, it has a prelude to sexual ravishment that turns out to be a dream—a cliche at least since Brian De Palma started using it repeatedly in the mid-70s. There's a passing suggestion that the Pentagon might commit more mischief with invisibility than the selfish hero, but that's about the sum of Verhoeven's overt social commentary, apart from what he has to say implicitly about movie spectators.
Moreover, if you expect this movie to have anything to do with T.S. Eliot's "
The Hollow Men
," the only corroboration you're likely to find is indirect. Yet this movie's eroticism as well as its violence, combined with the hyperrealism of its overall look—including its brilliant special effects, which specialize in making bodies materialize from the inside out, with guts and veins sprouting and spreading like gardens—make it as much a Verhoeven production as any of its predecessors. It too makes ethical and ideological observations, in this case mainly about the implications of being invisible—in particular the significance of being able to watch someone without being watched back, a capacity available to anyone who watches a movie. And watching movies, as I suggested in my review of Total Recall ten years ago, is what Verhoeven's movies are ultimately about.
Excerpt from Jonathan Rosenbaum's review at the Chicago Reader located HERE
Video:
Currently the popular compression in high-definitions this MPEG 4-AVC image is good... occasionally exceptional. It does exhibit, at times, the depth that fans crave who choose to adopt the new formats. Never as much 3-D -ish as we might like but it is there - colors look rich but skin tones are calm without visible boosting. I think it's better than the Superbit Deluxe that I own (which is actually $4 more!) - less artifacts and some of the science visual effects are more intensely impressive. Certain sequences kind of jump off the screen. I see there is a 2-disc SD 'Director's Cut' available for $5 less but I haven't seen it so can't comment but highly suspect this Blu-ray will champion it easily. I hope the captures below bare-out the visual quality.
NOTE: The Blu-ray box has many inaccuracies on it - ex. there is no Uncompressed PCM track option and there are more subtitle options than French and English (see list above and below) and there are no Korean subs on the extras.
Audio:
The Dolby Digital True 5.1 option does the job. It had some good body to it and there are many scenes that utilize it for strong effect. Powerful orchestra spikes infiltrate the audio track and punctuate the action sequences quite violently. There are optional English, French, Spanish, Portuguese or Arabic subtitles available on the feature and a choice of French or Spanish on the supplements.
Extras:
Some good featurettes that probably appear on the new SD as well - a 'Making of: Anatomy of a Thriller" runs 15 minutes and has input from cast and Verhoeven. "Fleshing Out Hollow Man" offers 15 Behind-the-Scenes featurettes and give a strong overview of the entire creation of Hollow Man and its effects. We have performers (who all seem to love Verhoeven) give detail on how they required support from crew since often they would be working with nothing at all - as the effects would be digitally put in later. Most of these shorts focus on the effects with the final one simply showing some computer graphics of a moving skeletal structure. It's actually very cool. There are also weak VFX 'picture-in-picture' comparisons giving samples of Bacon wearing the black or blue suit to eventually help simulate the invisibility of his character - the small screen shows how it looked in the film itself. None of these extras are in high-definition.
Menus
BOTTOM LINE: Despite appearing as if Sony put little in this (inaccuracies on the box) - for what you get - a dual-layered BRD with plenty of extras - the $19 price seems very acceptable. I doubt we will see this image getting any better. The film has more depth to it than most people will realize or appreciate. It has modern graphic violence an some sex/nudity - people have loved the 'Invisible Man' concept since it was first introduced - so there probably won't be too much middle ground on enjoying this Verhoeven offering. I did and I'm glad I re-watched it with the Blu-ray but this no classic - just a surface thriller, one-dimensional performances and some hidden satire that may give it some uniqueness.