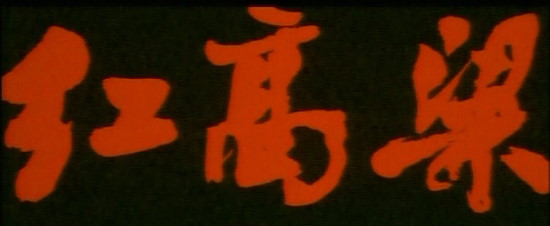 (aka 'Hong gao liang' or 'Red Sorghum')
The stuff of legend, Zhang Yimou's film satisfies both as straight folk tale and as a subversive tribute to the vitality and endurance of Chinese peasant culture. Set in a remote Northern province in the '20s and '30s, the story is narrated by a man who remembers the lives and times of his grandparents. A girl is waylaid and ravished in a field, en route to an arranged marriage with an elderly, leprous winemaker. He mysteriously dies, and her ravisher eventually lives with her so that together they may make the red sorghum wine. As the film develops, the tone shifts from light to dark, humour giving way to horror and sacrifice with the arrival of Japanese forces. Formerly a cameraman, Zhang fills the 'Scope screen with rich, sensuous images that illuminate and celebrate peasant life (waving sorghum fields, an eclipse of the sun), and uses actors, music and colour in a deeply expressive way. This, his debut as a director, confirms him as one of the finest and most versatile of China's 'Fifth Generation' film-makers.
Excerpt from TimeOut Film Guide located HERE
***
Celebrated Mainland filmmaker Zhang Yimou brings his inimitable touch to Red Sorghum, a sumptuous drama set during 1930s China, just prior to the Japanese occupation. Jiu'er (Gong Li) is a young bride arranged to marry the leprous owner of a sorghum winery. But the leper dies, and Jiu'er takes over the winery, along with her lover (Jiang Wen), a burly rogue with a natural, rough charisma. Their rural lives are filled with struggle and even joy, but the invasion of the Japanese brings tragedy and blood to their doorsteps. Told in glorious shades of red, Red Sorghum is quintessential Zhang Yimou, and uses setting, cinematography, and stunning imagery to create characters and mood that are both iconic and recognizable. Gong Li and Jiang Wen both turn in revelatory performances. As both an anti-war film and a portrait of pre-Communist Chinese life, Red Sorghum is a compelling, powerful achievement from a true master of cinema.
Posters
Theatrical Release: February 1988 - Berlin International Film Fesrtival
Reviews More Reviews DVD Reviews
DVD Review: XI AN DIAN YING - Region 0 - NTSC
DVD Box Cover

CLICK to order from:

Thinking of buying from YesAsia? CLICK HERE and use THIS UPDATED BEAVER PAGE to source their very best...

Distribution
XI AN DIAN YING - Region 0 - NTSC
Runtime
1:28:00
Video
2.35:1 Aspect Ratio
Average Bitrate: 5.25 mb/s
NTSC 720x480 29.97 f/s

NOTE: The Vertical axis represents the bits transferred per second. The Horizontal is the time in minutes.

Bitrate:

Audio
Mandarin (Dolby Digital 5.1)
Subtitles
English, Chinese (Traditional and simplified), None
Features

Release Information:
Studio: XI AN DIAN YING

Aspect Ratio:
Original Aspect Ratio 2.35:1

Edition Details:

• none

DVD Release Date: December 6th, 2005
Keep Case
Chapters: 12
Comments:

A frugal DVD production - to say the least, obviously from an analog source (flatline bitrate supports this), non-progressive and non-anamorphic. Combing is evident. The image is dark, colors bleed, but it is suitable for CRT viewing... especially since there is no English-friendly alternative existing (that I am aware).

Audio has a frequent background hiss. I've seen worse HK subtitle translation - it is not horrendous. Subtitles are optional. There are no extras. The DVD is single-layered.

We are, of course, are disappointed but will take what we can get. This is a film I have longed to see for years - hoping against hope for a decent digital release. Red Sorghum is Zhang's initial kick at the can and it is borderline masterpiece - great to see how his creative roots were formulating. Recommended ONLY to see the film.
---

DVD Menus
---
Subtitle Sample
Screen Captures
---
---
DVD Box Cover

CLICK to order from:

Thinking of buying from YesAsia? CLICK HERE and use THIS UPDATED BEAVER PAGE to source their very best...

Distribution
XI AN DIAN YING - Region 0 - NTSC