(also known as "Huozhe" or "Woot jeuk" - Hong Kong, Cantonese title)
directed by Zhang Yimou
Region 0 - NTSC
1.85:1 DVD by ERA Home Video, Rated: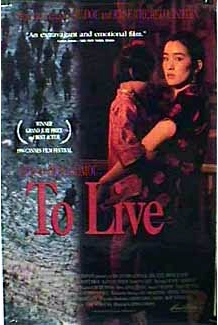 Technical Information
Release Information:
Theatrical Release Date: May, 1994
DVD Release Date: 3rd quarter 1998
Run Time: 2:06:36 minutes
Production Company: ERA Home Video
Package Type: Snap Case

Aspect Ratio(s):

Widescreen - 1.85:1

Discographic Information:

DVD Encoding: Region 0
Bit rate: 4.52 Mb/sec
Layers: Single
Available Audio Tracks: Mandarin (Dolby Digital 2.0 Surround)
Available subtitles: Traditional Chinese or English (removable).

Edition Details:

• Region 0 (not encoded) NTSC
Review Excerpts:
"A melodramatic story that is not the least bit melodramatic. Spanning 4 decades, Zhang Yimou's "To Live (aka Lifetimes) is an exploratory masterpiece that transcends its political inferences and rests heavily on it's real meaning; the importance of family. Yimou includes previous themes of survival, perseverance and the resilience of the human spirit also found in many of his other films, 'Not One Less', 'The Road Home' and 'The Story of Qui Ju'.
Not unlike Abbas Kirostami's films, the simplicity and elegance portray many hidden themes that hit with deep and lasting impact. Addiction, death, separation, birth, hardship, friendship, war, fortune are all explored with an adept level of un-cloying sentimental balance. A powerful script with excellent acting (Yimou's wife Gong Li and Ge You) makes this a near perfect film (

out of

)… but lackluster ERA DVD. The picture quality was slightly better than ERA's 'Raise the Red Lantern' (although the films colors not as vibrant, it was less fuzzy) but the subtitles were fraught with multiple spelling errors and dialogue inaccuracies (evidenced by my wife). I am also totally angered at the lack of sub-titles for the title cards. Although there are only a few they are extremely important to the story, but instead of translation we just see some Chinese characters on the screen. Arghhh!!
How 'Pulp Fiction' beat out this film at Cannes in 94' is beyond me. I'm equally perplexed by Ebert's 3 ½ / 4 rating. This film will easily move into my Top 10 Foreign language films of all time in my next update. I have never been disappointed by a Zhang Yimou film and this may actually end up being my favorite and he is quickly becoming my favorite director."
"The subtlety, potency, and majesty of his work are undeniable. Like 'Red Sorghum', 'Ju Dou', 'Raise the Red Lantern', 'The Story of Qui Ju', this film demonstrates a restless, courageous virtuosity; exhilarating and ingenious, it moves in ways that most films can't even imagine".
DVD Comments
ERA are also the owners of Zhang's "Raise the Red Lantern" (aka "To Live") and the DVD quality is similar.
How disappointing that such a masterpiece is treated in this fashion. A film of this stature and this is the only DVD version available? This appears to be another port from Laser Disc. It is kind of blurry but minimal edge enhancement. Unlike the "Raise the Red Lantern" DVD, these subtitles are removable. There is very little definition or contrast in the image. The sound is actually acceptable. There are no real Extras except 9 Chapters on this DVD. It is brighter than a VHS, but not as sharp. The big problem That I noticed was the lack of translation of title cards. Granted there are only 4 or 5 but to follow the story it is important to interpret there meaning How hard could this have been for them to translate? I am glad I bought it, just to see the film, but this is also screaming out for a top notch Criterion-style release.

out of

for at least being Widescreen.