| | |
| --- | --- |
| | S E A R C H D V D B e a v e r |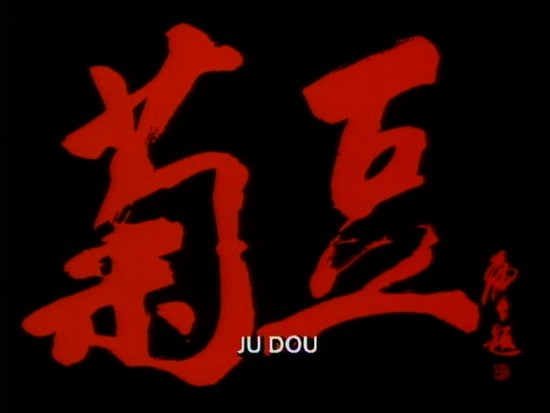 This early Zhang Yimou film quite expectantly has his color-infused emotional links, his political interpretations, it is steeped in melodrama along with other prime examples of his cinematic signature. This is the story of a mean, bitter old business owner and his stunning young bride (Gong Li). There are cruel sexual torments she is put through before her eventual defense by the husbands wholesome nephew (also employee). Love then blossoms in a passionate and illicit affair behind the old merchants back. Opening the door on Chinese culture (this time in the 1920's), interpretation, simplicity and drama - these are the foundation blocks of Zhang's films.

The budding romance and rejection of the older man are kept clandestine to the neighbors even to the extent of her bearing a child - a boy. Thought to be the bosses, but in actuality the noble nephew's progeny. The cinematography is exquisite and interestingly enough with the Technicolor company closing up shop on their wonderful 3-strip process, one plant still remained, purchased by the Chinese, where this film was put to celluloid production. It becomes almost a prerequisite as Zhang prefaces his later films with the same link of emotion to color. The brightness only exemplifies his metaphors, appearing, as a fresh faced director, a shade heavy-handed.

The twisted old man is representative of the stayed Maoist traditions of the past with his total dominance over his wife as a cultural acceptance and the bitter son is a symbol of the counter-revolution. Teetering a fine political line Zhang seems to remain neutral, or at least giving the pros and cons of both factions. He is just reporting as opposed to offering solutions and this is perhaps symptomatic of Asian culture - another telltale fingerprint of his films. Zhang is my one of my favorite directors showing the grandeur of a classic epic tale immersed in frank character studies. Truly Ju Dou is a masterpiece and for those discovering Zhang as an auteur, this viewing is the first piece of the larger puzzle - and it is easily identifiable once you are indoctrinated with his film style. To varying degrees I love this and all his films.

out of

Poster
Theatrical Release: September 7th, 1990 - Toronto Film Festival
Reviews More Reviews DVD Reviews
DVD Comparison:
Pioneer - Region 0 - NTSC vs. Razor - Region 0 - NTSC
(Pioneer - Region 0 - NTSC LEFT vs. Razor - Region 0 - NTSC RIGHT)
DVD Box Cover

Distribution
Pioneer Region 0 - NTSC
Razor - Region 1 - NTSC
Runtime
1:35:52
1:28:48
Video
1.33:1 cropped from 1.66:1
Average Bitrate: 4.76 mb/s
NTSC 720x480 29.97 f/s
1.59:1 cropped from 1.66:1
Average Bitrate: 6.81 mb/s
NTSC 720x480 29.97 f/s
Audio
Mandarin (Dolby Digital 2.0 Stereo)
Mandarin (Dolby Digital 2.0 Stereo), Mandarin (Dolby Digital 5.1)
Subtitles
English (non-removable)
English, Simplified Chinese, Traditional Chinese, none
Features
Release Information:
Studio: Pioneer Video

Aspect Ratio:
Full Screen - 1.33:1

Edition Details:

None



DVD Release Date: June 29, 1999
Keep Case
Chapters: 17
Release Information: Razor

Aspect Ratio:
Widescreen - 1.59:1

Edition Details:

Cast text screens (in Chinese and English)



DVD Release Date: February 14th, 2006
Keep Case
Chapters: 9
Comments:
Perhaps we shouldn't have been too hasty in our criticisms of the old Pioneer DVD. Aside the new Razor edition it looks positively brilliant. Colors in the Razor range from overly bright to washed out. It strives toward proper aspect ratio of 1.66 but falls far short with overly tight framing - something ain't right folks. I actually prefer the opening-up of the Pioneer image in comparison. Actually everything is wrong with this new Razor release. It is taken from a PAL source and is rife with combing and similar artifacts - also the print is filled with dirt, dust and scratches. Subtitles are very different in many spots (see example below) leaving me very unsure of the accuracy of either release. The Razor does win in one area - it has some extras - if you consider Cast bio text screens extra features. Frankly, this really sucks. Don't buy this, or the Razor 'Raise the Red Lantern' - it appears as though these guys are bandits. You can get better or equivalent editions for 1/3 the price in any Chinatown. I am totally disappointed!

****

This DVD was Out of Print for a very long time, but now many HK imports and VCDs exist. OOP certainly on the strength of the film itself, not this lackluster Pioneer DVD. The image is cropped (to what degree I am still investigating) and there are no Extras. The subs are forced, but the picture is not as bad as one might anticipate. It is clearer than other Pioneer DVDs (Cassavetes - I am referring to) and with the aforementioned 3 strip Technicolor - it is quite bright. I don't see a lot of digital processing - because they probably didn't do anything in the transfer - this is good. I don't want to get carried away - this is till a poor image, just not as terrible as I had anticipated. The sound is on par with the video quality, and I can only hope this is redone by someone soon. This film deserves it. out of
---



DVD Menus
(Pioneer - Region 0 - NTSC LEFT vs. Razor - Region 0 - NTSC RIGHT)
---
Subtitle Sample
(Pioneer - Region 0 - NTSC TOP vs. Razor - Region 0 - NTSC BOTTOM)
Screen Captures
(Pioneer - Region 0 - NTSC TOP vs. Razor - Region 0 - NTSC BOTTOM)
---
(Pioneer - Region 0 - NTSC TOP vs. Razor - Region 0 - NTSC BOTTOM)
---
(Pioneer - Region 0 - NTSC TOP vs. Razor - Region 0 - NTSC BOTTOM)
---
(Pioneer - Region 0 - NTSC TOP vs. Razor - Region 0 - NTSC BOTTOM)
---
(Pioneer - Region 0 - NTSC TOP vs. Razor - Region 0 - NTSC BOTTOM)
---
(Pioneer - Region 0 - NTSC TOP vs. Razor - Region 0 - NTSC BOTTOM)
---
| | | |
| --- | --- | --- |
| DVD Box Cover | | |
| Distribution | Pioneer Region 0 - NTSC | Razor - Region 1 - NTSC |
---