NOTE: The below Blu-ray captures were taken directly from the Blu-ray disc.

ADDITION: Sony Blu-ray (April 2023): Sony have transferred Oliver Hermanus' Living to Blu-ray. It is based on Akira Kurosawa's Ikiru: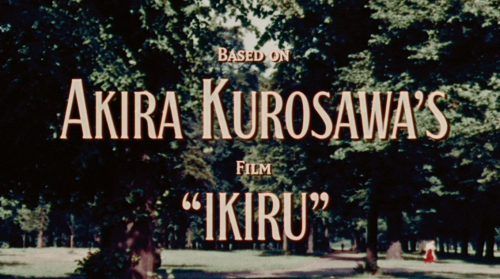 The image looks perfectly clean and tight as you might expect from a modern film. I appreciated the saturated opening title credits and the 1.48:1 aspect ratio. It is housed on a dual-layered Blu-ray disc with a max'ed out bitrate. There is some blue-ish leaning in the nighttime scenes.

NOTE: We have added 50 more large resolution Blu-ray captures (in lossless PNG format) for DVDBeaver Patrons HERE

On their Blu-ray, Sony use a DTS-HD Master 5.1 surround track (16-bit) in the original English language. Living has no demonstrative separations - a few in the bar scenes or the rain. The track's depth capabilities are not tested by Living's soundstage. The score is by the French pianist and composer Emilie Levienaise-Farrouch with additional music by Dvorák, Sibelius, Debussy etc. including two songs performed by Jackie Gleason! The audio is as flawless as the video transfer with the placid, but beautiful, score keeping a somber mood. Sony offer optional English and a handful of foreign-language subtitles on their Region FREE Blu-ray.

The Sony Blu-ray

offers one brief supplement; A Life Semi-Lived has video snippets from screenwriter Kazuo Ishihguro, director Oliver Hermanus, producer Stephen Woolley, and cast members Bill Nighy (Williams), Alex Sharp (Peter), and Aimee Lou Wood (Margaret.). There is a theatrical trailer and 2-minutes of 'previews'.

Oliver Hermanus' Living has a screenplay by Nobel Prize-winning novelist Kazuo Ishiguro, adapted from the 1952 Akira Kurosawa film Ikiru - which in turn was inspired by the 1886 Russian novella The Death of Ivan Ilyich by Leo Tolstoy. I REALLY enjoyed Living. It would be easy to look down your nose at a re-interpretation - but those familiar with Kurosawa's masterpiece will see, often subtle, homage and echoes throughout. It resonates the same universal themes.

The bureaucratic office with heaps of papers on every desk evokes Gilliam's Brazil. I was very impressed with Living. Sony's Blu-ray offers the film in stellar a/v, and bare-bones extras. A commentary would have been ideal. We strongly recommend seeing Living.