NOTE: The below Blu-ray captures were taken directly from the Blu-ray disc.

ADDITION: Indicator Blu-ray (April 2023): Indicator have transferred Don Siegel and Robert Totten's Death of a Gunfighter to Blu-ray. It is on a single-layered disc with a supportive bitrate. The 1080P looks strong with pleasing textures and depth. The image is clean with no compression on Andrew Jackson's cinematography with many dark scenes. I thought the image quality was flawless.

NOTE: We have added 46 more large resolution Blu-ray captures (in lossless PNG format) for DVDBeaver Patrons HERE

On their Blu-ray, Indicator use a linear PCM mono track (24-bit) in the original English language. Death of a Gunfighter has less aggression than you might expect from the title but when it comes though it carries effective depth. The original music was by Oliver Nelson, who did mostly TV work - The Six Million Dollar Man, Columbo, Night Gallery etc. plus the Burt Reynolds's film Skullduggery and notably in Death of a Gunfighter Lena Horne singing Sweet Apple Wine. It's quite a compelling score very clean in the lossless transfer. Indicator offer optional English (SDH) subtitles on their Region 'B' Blu-ray.

The Indicator Blu-ray

offers a new commentary by screenwriter and novelist C. Courtney Joyner (author of The Westerners: Interviews with Actors, Directors, Writers and Producers) and film historian Henry Parke (The Greatest Westerns Ever Made.) They discuss the incredibly complicated production history of Death of a Gunfighter with a very checkered, tangled past, how the title font was the same as Siegel's Coogan's Bluff, Andrew Jackson's cinematography, Widmark previously working with Siegel in Madigan, the strong supporting cast and, of course, the birth of the famous pseudonym 'Allen Smithee':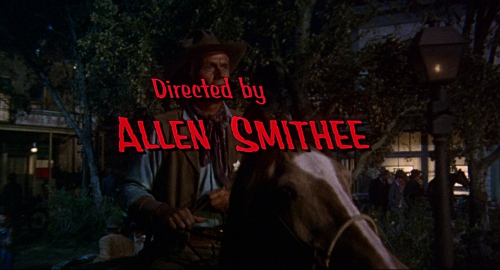 It's an excellent commentary on the film filled with observations and history. We also get 22-minutes of Neil Sinyard on Death of a Gunfighter - a new appreciation by the film historian plus 24-minutes of Richard Dyer on Lena Horne - a new video piece where the author of Stars considers the career of the actor, singer and activist. Exercise No. One from 1962 is a rare 10-minute short film based on the Ira Wolfert short story 'Off the Highway' and starring Richard Widmark, made by students of USC's Cinema Department under the supervision of Fred Zinnemann. Lastly, is an original theatrical trailer and Indicator's usual image gallery of promotional and publicity material. The package has a limited edition 40-page booklet featuring a new essay by Paul Duane, an archival interview with Lena Horne, an extract from Don Siegel's autobiography, an overview of contemporary critical responses, Michael Neyman on Exercise No. One, and full film credits.

Don Siegel and Robert Totten's Death of a Gunfighter is a far better western than has been given credit - mostly due to the 'Allen Smithee' pseudonym evolution. It's wonderfully character-driven with an impressive cast including Widmark, Lena Horne, Carroll O'Connor, Kent Smith, Jacqueline Scott, Dub Taylor, John Saxon, Royal Dano, Harry Carey Jr. etc. It's another fine western showing more traditional characters clashing with the modernization of the west. Subtleties show electricity present in the town. The local politicians seek to retire the Marshal (Widmark) as his effective aggression - that cleaned up the town - is no longer required. The Indicator Blu-ray

is at their impeccable high standard - superb a/v, new, edifying commentary - plus new supplements and a 40-page booklet! We strongly recommend this package for western genre fans and beyond.