NOTE: The below Blu-ray captures were taken directly from the Blu-ray disc.

ADDITION: Warner Archive Blu-ray (March 2023): Warner Archive have transferred Karl Freund's Mad Love to Blu-ray. In 2006, Warner released Mad Love on DVD as part of their Hollywood's Legends of Horror Collection, reviewed HERE. It includes Doctor X, The Devil-Doll, Mark of the Vampire, The Mask of Fu Manchu and The Return of Doctor X. The 1080P image has a max'ed out bitrate for the hour+ film. It looks very impressive - certainly much strong than the older SD transfer that has a 1/5th of the bitrate. We have compared two captures below. It has some consistent texture and layered contrast. It looked great on my system.

NOTE: We have added 64 more large resolution Blu-ray captures (in lossless PNG format) for DVDBeaver Patrons HERE

On their Blu-ray, Warner Archive use a DTS-HD Master dual-mono track (24-bit) in the original English language. Mad Love has aggressive moments that come authentically flat with modest depth. The score was by iconic Dimitri Tiomkin (Angel Face, Strangers on a Train, The Men, Only Angels Have Wings, Dial M For Murder, The Thing From Another World etc. etc.), sounding clean and heightening suspense in the lossless transfer. Warner Archive offer optional English (SDH) subtitles on their Region FREE Blu-ray.

The Warner Archive Blu-ray

offers the older commentary, also found on their Hollywood's Legends of Horror Collection, by Steve Haberman author of Chronicles of Terror. He repeats the pre-credit warning scene - almost identical to the one in Frankenstein - after we had just heard it but goes on to share many fascinating anecdotes of the cast and crew, cut scenes, with imitations of Lorre, reading reviews - how it bombed at the box office and that Karl Freund didn't direct another feature after Mad Love - instead expanding his credits as a cinematographer - plus plenty of spicy tidbits. It's filled with interesting details - a great commentary. There is also a theatrical trailer that starts with text that states Charlie Chaplin's statement that Peter Lorre is the greatest living actor!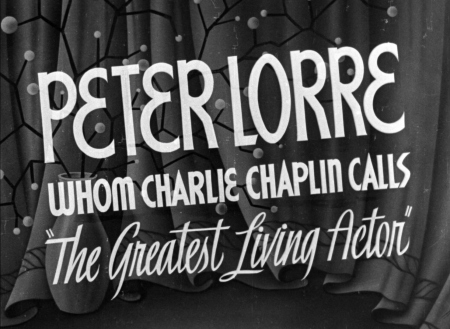 Karl Freund's Mad Love had Gregg Toland as one of the cinematographers and is strikingly shot - filled with telling close-ups, mirror shots and unique, inventive positioning. It has substantially gained critical appreciation after being panned in its day - and its certainly consider a 'cult classic' today. German-émigré film maker Karl Freund is best known for directing the 1932, Boris Karloff horror, The Mummy. He was cinematographer on Metropolis (1927), Dracula (1931) and many other films as well as 152 episodes of television's I Love Lucy. Mad Love is an adaptation of Maurice Renard's story "Les Mains D'Orlac" - also made in 1924 by Robert Wiene as "The Hands of Orlac" and in 1960 starring Mel Ferrer and Christopher Lee also known as Hands of the Strangler. Mad Love has creepy wax figures, execution by guillotine, evil transplanted hands and Lorre at his most maniacal - and what a brisk pace! I loved it. The Warner Archive Blu-ray

is a keeper. I thoroughly enjoyed my repeat viewing via this HD presentation. Very strongly recommended!