NOTE: The below Blu-ray captures were taken directly from the Blu-ray disc.

ADDITION: Criterion Blu-ray (June 2022): Criterion have transferred John Waters' Pink Flamingos to Blu-ray. It is cited as being from a "New 4K digital restoration, supervised and approved by director John Waters". It was shot on 16mm and hence is very thick and textured in 1080P. Colors are true and strong. The overall image is consistent and clean. This is the best it will look on digital. It can't be made to look any sharper - this is a strong replication of its theatrical roots from a miniscule budget 50 years ago.

NOTE: We have added 34 more large resolution Blu-ray captures (in lossless PNG format) for DVDBeaver Patrons HERE

On their Blu-ray, Criterion use a linear PCM mono track (24-bit) in the original English language. Pink Flamingos has audio subject to the production limitations but dialogue is audible. There is no 'official' score but plenty of eclectic 50s rock-and-roll kitsch classics and weird instrumentals - sourced from John Waters' record collection - including samplings with The Swag performed by Link Wray and His Ray Men, Jim Dandy by La Vern Baker, I'm Not A Juvenile Delinquent performed by Frankie Lymon and the Teenagers, The Girl Can't Help It sung by Little Richard, Ooh! Look-A There, Ain't She Pretty by Bill Haley and the Comets, Pink Champagne by The Tyrones, Surfin' Bird by The Trashmen and notably Patti Page's (How Much Is) That Doggie In the Window. The music sounds moody and rough - as per its roots. Criterion offer optional English (SDH) subtitles on their Region 'A' / 'B' Blu-ray.

The Criterion Blu-ray

offers two commentary tracks - both featuring director John Waters. The first one was recorded in 1997 and appeared on the Criterion Collection's laserdisc edition of the film;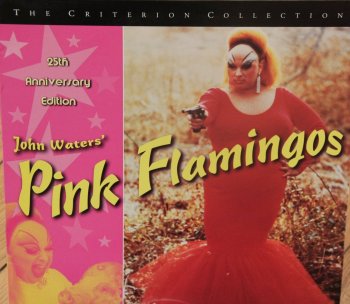 The second was recorded in 2001. He's always great to listen to and both still have immense value for those keen to probe deeper onto the details of production by the director, writer, producer, narrator, cinematographer, and editor. Criterion include Divine Trash - a ninety-seven-minute documentary was made by Steve Yaeger in 1998. It features interviews with director John Waters; Dreamland performers Mink Stole, Mary Vivian Pearce, Divine, David Lochary, Edith Massey, and Vincent Peranio; producer John Pierson; actor Steve Buscemi; filmmakers Jim Jarmusch, Herschel! Gordon Lewis, Paul Morrissey, and the Kuchar brothers; and others. The film won the Filmmakers Trophy for Best Documentary at the 1998 Sundance Film Festival. It focuses on the life of Baltimore filmmaker and John Waters including a 1972 interview with clips from his early films plus interviews with his family and ends up being a celebration of Divine (1945-1988). There is a new 1/2 hour conversation between filmmakers John Waters and Jim Jarmusch was recorded in Criterion's offices in 2022 where they talk about shoplifting, censorship, court cases, countercultural drag queen Divine being his Liz Taylor (in his crowd), Warhol telling Fellini to see Pink Flamingos , jealously over Lynch's and Jarmusch's hair... and much more. In celebration of the fiftieth anniversary of the release of Pink Flamingos, a 22-minute program features director John Waters visiting some of the production locations in the Baltimore area. There are about 1/4 hour's worth of deleted scenes, alternate takes, and on-set footage plus another 15-minutes of outtakes. Lastly, is a trailer and the package has liner notes with an essay by critic Howard Hampton and a piece by actor and author Cookie Mueller about the making of the film, from her 1990 book Walking Through Clear Water in a Pool Painted Black.

John Waters' Pink Flamingos is the first part of what Waters has described as his "Trash Trilogy", with Female Trouble (1974) and Desperate Living (1977). It was shot on a budget of only $10,000. It's famous for its grotesque, bizarre, and outrageously crude scenes. In 2021, the film was selected for preservation in the United States National Film Registry by the Library of Congress. Waters recast the film with children and rewrote the script to make it kid-friendly in a 2014 project, Kiddie Flamingos. It would have been a cool supplement here. The scripts for Pink Flamingos, Desperate Living and Flamingos Forever (that was never made) were published in John Waters' 1988 book Trash Trio: Three Screenplays. Criterion's 50th Anniversary Blu-ray

of John Waters' Pink Flamingos will make fans very pleased - a total celebration of the the work modestly referred to as "an exercise in poor taste" - an understatement, indeed with exhibitionism, voyeurism, sodomy, masturbation, rape, incest, murder, cannibalism, castration, foot fetishism, and eating dog sh*t. There is nothing like Pink Flamingos - before or after. Certainly recommended to the right crowd that might appreciate its elevation as pioneering abject art.