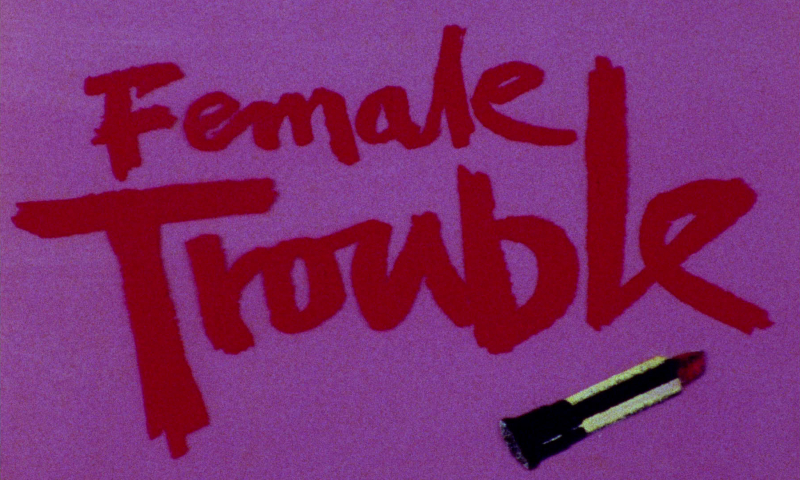 (aka "Rotten Mind, Rotten Face" )
directed by John Waters
USA 1974
Glamour has never been more grotesque than in Female Trouble, which injects the Hollywood melodrama with anarchic decadence. Divine, director John Waters' larger-than-life muse, engulfs the screen with charisma as Dawn Davenport—who progresses from a teenage nightmare hell-bent on getting cha-cha heels for Christmas to a fame monster whose egomaniacal impulses land her in the electric chair—in the ultimate expression of the film's lurid mantra, "Crime is beauty." Shot in Baltimore on 16 mm, with a cast drawn from Waters' beloved troupe of regulars, the Dreamlanders (including Mink Stole, David Lochary, Mary Vivian Pearce, Edith Massey, and Cookie Mueller), this film, the director's favorite of his work with Divine, comes to life through the tinsel-toned vision of production designer Vincent Peranio and costume designer/makeup artist Van Smith. An endlessly quotable fan favorite, Female Trouble offers up perverse pleasures that never fail to satisfy.

***

A riotously funny bad-taste epic from director John Waters, Baltimore's "Prince of Puke," this sick classic tells the depraved life story of obese criminal Dawn Davenport (Divine), from her bad-girl youth as a go-go dancer on Baltimore's infamous Block to her death in the electric chair. Mink Stole is terrific as Dawn's bratty daughter Taffy, conceived following a romp on a junkyard mattress with a fat derelict in soiled underpants (also played by Divine). Mary Vivian Pearce and David Lochary co-star as crazed owners of a beauty-parlor who are convinced that "crime equals beauty," and they take Dawn under their wings, forcing her to mainline liquid eyeliner to enhance her appeal. Edith Massey steals the film as Dawn's obsessive neighbor, Ida, who wants her nephew to be gay (because heterosexuals lead "sick and boring lives") and throws acid in Dawn's face when she marries him. A hilariously appalling film, Female Trouble is just as disgusting and far funnier than Waters' previous Pink Flamingos, if not as notorious.
Posters
Theatrical Release: 4 October 1974 (Baltimore, Maryland)
Reviews More Reviews DVD Reviews
Comparison:
New Line (The John Waters Collection, Volume 3) - Region 1 - NTSC vs. The Criterion Collection - Region 'A' - Blu-ray
Big thanks to Gregory Meshman and Colin Zavitz for the Screen Caps!
(New Line (The John Waters Collection, Volume 3) - Region 1 - NTSC - LEFT vs. The Criterion Collection - Region 'A' - Blu-ray - RIGHT)
Box Covers

Distribution

New Line

Region 1 - NTSC

The Criterion Collection - Spine #929
Region 'A' - Blu-ray
Runtime
1:37:30
1:37:58.414
Video

1.81:1 Original Aspect Ratio

16X9 enhanced
Average Bitrate: 5.64 mb/s
NTSC 720x480 29.97 f/s

Disc Size: 46,383,273,636 bytes

Feature Size: 27,716,997,120 bytes

Average Bitrate:

33.41 Mbps

Dual-layered Blu-ray MPEG-4 AVC Video

NOTE: The Vertical axis represents the bits transferred per second. The Horizontal is the time in minutes.

Bitrate:

New Line (The John Waters Collection, Volume 3)

Bitrate:

The Criterion Collection Blu-ray

Audio
English (Mono), English (Dolby Digital Stereo)

LPCM Audio English 1152 kbps 1.0 / 48 kHz / 1152 kbps / 24-bit
Commentary:

Dolby Digital Audio English 192 kbps 1.0 / 48 kHz / 192 kbps

Subtitles
English, None
English (SDH), None
Features
Release Information:
Studio: New Line

Aspect Ratio:
Widescreen anamorphic - 1.81:1

Edition Details:
• Director Commentary
• Theatrical Trailer (2:11)

DVD Release Date: October 2, 2001
2 discs in digipack

Chapters 24


Release Information:
Studio: Criterion

Disc Size: 46,383,273,636 bytes

Feature Size: 27,716,997,120 bytes

Average Bitrate:

33.41 Mbps

Dual-layered Blu-ray MPEG-4 AVC Video

Edition Details:


• Audio commentary from 2004 featuring Waters
• New conversation between Waters and critic Michael Musto
• New and archival interviews with cast and crew members Mink Stole, Pat Moran, Vincent Peranio, Susan Lowe, Mary Vivian Pearce, and more (32:34)
• Deleted scenes and alternate takes
• Rare on-set footage
• PLUS: An essay by film critic Ed Halter

Blu-ray Release Date: June 26th, 2018
Transparent Blu-ray case

Chapters: 13
Comments

NOTE: The below Blu-ray captures were taken directly from the Blu-ray disc.

ADDITION: Criterion - Region 'A' - Blu-ray (May 2018):

Criterion give the classic Female Trouble described as a "New 4K digital restoration, supervised by director John Waters". It is housed on a dual-layered Blu-ray disc with a very high bitrate. The 1080p image is quite an improvement over the previous DVD release being in the 1.66:1 aspect ratio (where the SD transfer was 1.81:1). Given the film's 16mm origins this 4K-restoration is most likely the best the film will look on a Blu-ray disc. The grungy Baltimore shots look appropriately grainy, gritty and grassroots.

Criterion give us an uncompressed PCM Audio Mono 1.0 track (24-bit) and it sounds like a faithful transfer of the original theatrical experience - Divine singing Female Trouble, some will recognize Gene Autry performing Jingle Bells or Blue Kat by Chuck Río & The Originals, Underwater by The Frogmen, Dig by Jimmy Drake (as Nervous Norvus), Bill Black's Combo's Yogi etc. Dialogue is clean and the levels seem right. Any issues would be due to the source material and not the transfer. Criterion add optional English (SDH) subtitles on their Region 'A'-locked Blu-ray disc.

Criterion include the 2004 audio commentary featuring director John Waters. Lady Devine runs 33-minutes. Presented by filmmaker and artist Anton Perich, the roundtable interview with director John Waters and his regular collaborators Divine, Mink Stole, and David Lochary excerpted here was conducted by columnist R. Couri Hay at Andy Warhol's Factory, and aired on Manhattan public-access television in 1975. Crime and Beauty runs 18-minutes and has interviews as outtakes from Jeffrey Schwarz's 2013 documentary I AM DIVINE, and features director John Waters; actors Susan Lowe, Mink Stole, George Figgs, and Mary Vivian Pearce; film critic Dennis Dermody; production designer Vincent Peranio; and production manager Pat Moran. There is 11-minutes of On-Set rare footage from the set of Female Trouble was shot by filmmaker Steve Yeager, who later made two documentaries about Divine and director John Waters, Divine Trash and In Bad Taste. Dreamlanders is a rare audio interview with costume designer and makeup artist Van Smith and was conducted by filmmaker Steve Yeager in 1974. There are also rare archival interviews with production manager Pat Moran, actor Mary Vivian Pearce, and costume designer and makeup artist Van Smith conducted by filmmaker Steve Yeager in 1974. Little Taffy is a 17-minute conversation between John Waters and actor Hilary Taylor took place in Baltimore in April 2018. John Waters and Dennis Lim runs 23-minutes and is a conversation between director John Waters and critic and programmer Dennis Lim filmed for the Criterion Collection in 2018. There are 1/4 hour's worth of Trims and Cut Scenes footage from work prints, film trims, and cut scenes from Female Trouble. Before now, the elements had been in director John Waters' attic for over forty years.

This film is a personal favorite of mine. Criterion have wisely chosen to release this film on Blu-ray with tons of extras, in addition to a wonderfully film-like 4K-restored transfer. Fair warning though, the sense of humor here is not for everyone. Female Trouble is in-your-face trash royalty, from a rarely shown region of America. Take out the comedy and its' closest cousin could arguably be Hooper's 'Texas Chain Saw Massacre', another masterpiece. I highly recommend this Blu-ray set

!

-Colin Zavitz
---
Menus / Extras
(New Line (The John Waters Collection, Volume 3) - Region 1 - NTSC

| | |
| --- | --- |
| | |
| | |
| | |
The Criterion Collection - Region 'A' - Blu-ray
| | |
| --- | --- |
| | |
| | |
| | |
| | |
| | |
| | |
| | |
| | |
---
CLICK EACH BLU-RAY CAPTURE TO SEE ALL IMAGES IN FULL 1920X1080 RESOLUTION
(New Line (The John Waters Collection, Volume 3) - Region 1 - NTSC - TOP vs. The Criterion Collection - Region 'A' - Blu-ray - BOTTOM)
Subtitle sample
---
(New Line (The John Waters Collection, Volume 3) - Region 1 - NTSC - TOP vs. The Criterion Collection - Region 'A' - Blu-ray - BOTTOM)
---
(New Line (The John Waters Collection, Volume 3) - Region 1 - NTSC - TOP vs. The Criterion Collection - Region 'A' - Blu-ray - BOTTOM)
---
(New Line (The John Waters Collection, Volume 3) - Region 1 - NTSC - TOP vs. The Criterion Collection - Region 'A' - Blu-ray - BOTTOM)
---
(New Line (The John Waters Collection, Volume 3) - Region 1 - NTSC - TOP vs. The Criterion Collection - Region 'A' - Blu-ray - BOTTOM)
---
(New Line (The John Waters Collection, Volume 3) - Region 1 - NTSC - TOP vs. The Criterion Collection - Region 'A' - Blu-ray - BOTTOM)
---
(New Line (The John Waters Collection, Volume 3) - Region 1 - NTSC - TOP vs. The Criterion Collection - Region 'A' - Blu-ray - BOTTOM)