NOTE: The below Blu-ray and 4K UHD captures were taken directly from the respective discs.

ADDITION: Disney - Region FREE - 4K UHD - (June 2019):

I will try not to get too into the weeds here, but here it goes.... 4K has approx 4x the pixels of 1080p (3840 pixels by 2160 as opposed to 1920*1080). When Toy Story was made (almost 25 years ago - can you believe it?) it was created with a set of 1,536 by 922 pixels.

This doesn't appear to be some simple nearest-neighbor-upscaled 4K type of situation (a common, on-the-fly but gets the job done kind of up-scaling algorithm found in many 4k tv's). In fact, some real effort seems to have taken place here with regards to the upconversion. Certain limitations that animators faced during the 5-odd years of production (1990-1995) are somewhat amplified with this new 4k HDR display on our modern day large screen TVs, though this is surely the best the film has looked to date.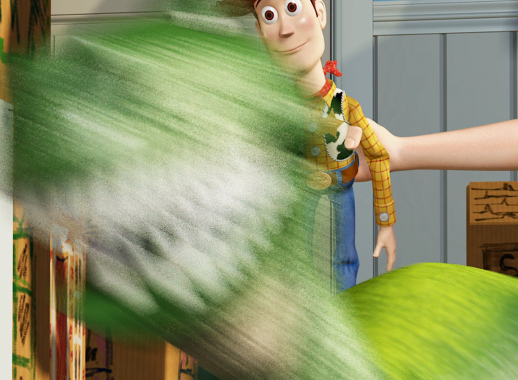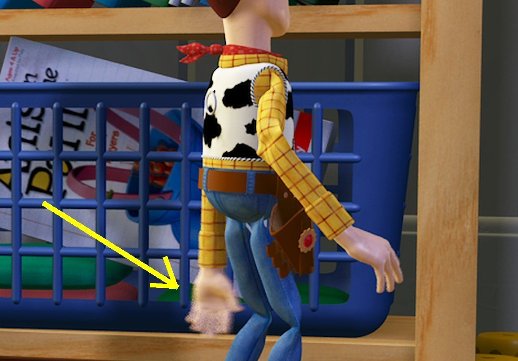 When characters are in motion there tends to be a blurry combing effect that is less-noticeable 'jaggies' and infrequent macro artifacts. One shot in particular had some obvious noise on the wooden headboard in the bedroom, without movement. Now, this is not a fault of the transfer but a function of the way this animated film was rendered almost 25-years ago. It definitely, looks superior to the last Blu-ray (brighter, richer) but doesn't have the dynamic look many might have anticipated from this format. On my system it is still, relatively, hypnotic with the bold, vibrant colors. Discerning viewers and those who project to larger screen may feel the image quality is compromised by the initial production limitations (that were 'state-of-the-art' - we've come a long way.)

One of the interesting things that this 4k UHD does is have different language options - presented through seamless branching depending on what language you choose. This is not just for the title sequence but also for a handful of other moments in the film that rely on text screens (signs, written notes etc.), another example is the magic 8-ball that will read out 4 different prediction translations corresponding to your language choice.
NOTE: This may have been similar to the earlier Blu-ray but I still think it's impressive.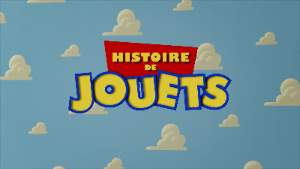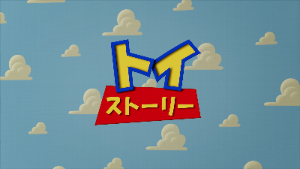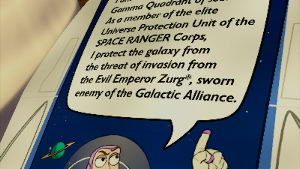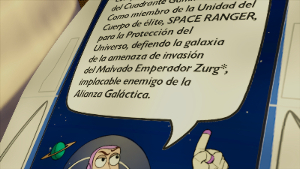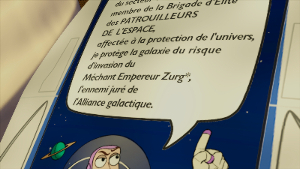 NOTE: 18 more full resolution (3840 X 2160) captures for Patrons HERE.

It is likely that the monitor you are seeing this review is not an HDR-compatible display (High Dynamic Range) where each pixel can be assigned with a wider and notably granular range of color and light. This is the first where our capture software if simulating the HDR (in a uniform manner) for standard monitors. This should make it easier for us to review more 4K UHD titles in the future.

We have reviewed the following 4K UHD packages to date:

Alien (software uniformly simulated HDR), 2001: A Space Odyssey (software uniformly simulated HDR), Schindler's List (simulated HDR), The Neon Demon (No HDR), Dawn of the Dead (No HDR), Saving Private Ryan (simulated HDR and 'raw' captures), Suspiria (No HDR), The Texas Chain Saw Massacre (No HDR), The Big Lebowski, and I Am Legend (simulated and 'raw' HDR captures).


As for the audio - we get an Atmos option as: "The audio presentation is mixed specifically for Dolby Atmos enabled receivers and speaker configurations to produce full, multidimensional sound without channel restrictions in the home - even overhead. Dolby Atmos is compatible with current generation Ultra HD players. Also select this option for other speaker configurations. For Dolby Atmos Playback, set your Ultra HD Blu-ray player to bitstream out and disable secondary audio."

For Atmos my system recognizes it as TrueHD 7.1, but from Wikipedia: "Because of limited bandwidth and lack of processing power, Atmos in home theaters is not a real-time mix rendered the same way as in cinemas. The substream is added to Dolby TrueHD or Dolby Digital Plus. This substream only represents a losslessly encoded fully object-based mix. This substream does not include all 128 objects separated. This is not a matrix-encoded channel, but a spatially-encoded digital channel. Atmos in home theaters can support 24.1.10 channel, but it is not an object-based real-time rendering. Filmmakers need to remix and render the TrueHD and Dolby Digital Plus soundtracks with Dolby Media Producer."

Toy Story now features a Dolby Atmos track and Dolby TrueHD 7.1. There are some startling moments in the film, where this new Atmos track really takes advantage of its newfound three dimensional space. To those with an Atmos setup, this is certainly worth checking out. Even the "You've Got a Friend in Me" via the droning nasal crooning of Randy Newman (nephew to the great film score icon Alfred Newman) sounds like a notable upgrade. The 4K Ultra HD sounds very crisp with subtle richness in the score. There are a few foreign-language DUBs and it has optional subtitles. As always 4K UHD discs are all Region Free.

The 4K Ultra HD package includes supplements and the previous Blu-ray with all of those extras (see below) - but nothing new

.

Despite the limitations in the video - certainly not the fault of the 4K Ultra HD transfer, the package still has value of the best digital presentation yet for your home theater of Toy Story.

***

ADDITION- Disney - Region FREE - Blu-ray March 2010:

Firstly, there is also a package of this film in a DVD Keep case

HERE

- for the exact same price. The edition I am reviewing is housed in a standard Blu-ray case (inside slip-case) - although I suspect content is exactly the same with both also including the second disc DVD.

When you put the disc in you select your language (English, French or Spanish) and then you are directed to the appropriate menus. The film language versions are seamlessly branched to bring onscreen signs/text

in relation to the language you have selected.

My first impressions were that, of the 900+ Blu-rays I own, Toy Story is quite possibly the most impressive looking and sounding. Visually, it looks absolutely magnificent without a pixel out of place. Colors are warmer and detail and depth seem unreal they are so precise. This will be one of my first choices to demo my system to friends. The dimensionality seems to have benefited the most in the move to 1080P resolution. As we have said in the past - digital animation is that it is essentially flawless - it should have none of the common deficiencies that we can find when transferring live-action film to high-definition digital - things like edge-enhancement or noise removal manipulation. Haze and blurriness are intentional effects to create the perception of motion. Out-of-focus experiences are simply created to make the true focal object more primary to our vision. By rendering digital animation to Blu-ray we should be able to obtain the highest accuracy of the original. This is a prime example and I'll wager it actually looks better than theatrical - dependant on your individual system. It is easily the absolute best I have ever seen the medium look on my plasma. Hopefully the screen captures will bear this out to some degree.

The DTS-HD Master 5.1 track at a responsive 4429 kbps takes no backseat to the perfection of the video. Right from the opening Disney logo, crispy bouncing effects around the room, to Randy Newman's nasal crooning to Rex's faux growl - it sound stunning at times. The pristine video may be demonstration but the audio IS reference with effects dynamically well separated and tight with exceptional range. There are optional subtitles and my Momitsu has identified it as being a region FREE disc playable on Blu-ray machines worldwide.

We get the same commentary but plenty of new, if short, featurettes in HD and an initial plug for the highly anticipated The Story: An Exclusive Sneak Peek at Toy Story 3 running 2-minutes. In the Buzz Lightyear Mission Logs: - Episode One: Blast Off – Buzz reports back about his adventure to the International Space Station. Paths to Pixar: Artists – In this series of shorts, Pixar artists talk about their career path and share advice to aspiring filmmakers and animators. Studio Stories: A series of amusing anecdotal shorts about life at Pixar. "John's Car" recounts how Toy Story director John Lasseter refused to stop driving his beat-up car even after the film's success. "Baby AJ" tells the hilarious story of how important Halloween is to the Pixar team and how one Pixar employee dressed up as the oversized baby from the short Tin Toy to win a prize. "Scooter Races" takes the audience on a rousing scooter race around the studio with John Lasseter and other employees. Buzz Takes Manhattan – is spectacular footage from Buzz Lightyear's premiere as a Macy's Thanksgiving Day Parade balloon running 2-minutes. Black Friday: The Toy Story You Never Saw – is described as the Toy Story filmmakers discuss the early cut of the film that very nearly shut down production entirely. There is also a "Maximize Your Home Theater" calibration test/reset for those interested. I was suspecting that the 2nd disc DVD would simply be the first disc from the last edition, but instead it is the exact same as the Blu-ray extras - with the feature, of course, being in SD.

This is the most beautiful looking and sounding disc I own. Here's the phenomenal thing - my two kids sat glued to the screen even after all these years - as did I! I can't wait for Toy Story 2 and The Incredibles but as it stands this Blu-ray gets our highest ever recommendation. I was blown away scene after scene. Buy with extreme confidence.

ON THE DVDs: The new edition is advertised as Remastered picture and sound including High Digital "Bit Rate" and DTS Audio. Personally, I found nothing wrong with the first issue and had I reviewed it I would have given an almost perfect score in most areas. The Anniversary releases indeed has improved in a few important areas, but for many the image and audio benefits will only be marginally felt (if at all). We made the assumption that the original single box release is the exact same edition as in the 2-pack (with Toy Story 2). Noted detail differences are here:


- The Anniversary issue is very minutely brighter and sharper, but noticeable only on extensive zooming-in (projection users will also notice if they look very closely). It is more vibrant for lack of a better word.

- to my ear the audio in the DTS track is superior and a little more dynamic.
- the new release has a commentary and extensive additions (see above listing)

- optional subtitles are still yellow, but more prominent in the new Anniversary edition.

We are still digging through and we will continue to post more as we discover details.