NOTE: The below Blu-ray captures were obtained directly from the Blu-ray disc.

This 4K Ultra HD has immediately been added to the TOP 100 Desert island Disc page, HERE.

ADDITION: Universal - Region FREE - Ultra HD (March 2019): Universal's 4K Ultra HD disc of Spielberg's "Schindler's List" is nothing short of breathtaking. The use of Dolby Vision (only available to TVs and players able to process this feature) amplifies the contrast and shows a wide spectrum of blacks and grays amidst fine grain. This is on a triple-layered Ultra HD disc (taking up 93+ Gig with over almost 90 Gig for the film itself!) The video bitrate is over double that of the Blu-ray, which was obviously inferior for showing a 3 1/4 hour film - occasionally showing minor compression artifacts if imperceptible on first generation HD TVs.

The Blu-ray of the film included in this set is the same as the previously released disc, save for a new Blu-ray of bonus features (some new, some old but now mostly in 1080p). I was personally very impressed by the power of Dolby Vision (or HDR to those without a Dolby Vision setup) on a Black & White film. Let it be known that the power of HDR to show a wider color gamut relies not only on color, but on light. The lighting (and lack thereof, only more impressive on our OLED TV, capable of near total darkness) in this film now shows a multitude of gradients within the set parameters of Black and White (and gray), all while maintaining the integrity of the original image. George Lucas' "Star Wars" revisionism this is not. Seeing is believing and I suggest that everyone check out this impeccable presentation.

"Schindler's List" is now given the Dolby Atmos treatment, and is it ever powerful. To those unaware, Atmos enabled receivers, speaker set-ups (with downward facing ceiling speakers), and even stereo headphones (creating a 360-sonic environment using some algorithimic wizardry) have the power of truly putting you in the middle of the action, so to speak. Though this spatial audio is used sometimes sparingly, it has the effect of creating an even greater sense of immersion than was previously available when the film premiered in 1993. Any prospective claims of revisionist tinkering should be immediately quashed upon hearing this new track, as it only subtly amplifies an already pristine sound. It really is something to behold. To those concerned, the film is also offered with either a Spanish or French 5.1 DTS Digital Surround track. As are all 4K UHD

Blu-rays, this disc is Region Free and there are options for either English SDH, Spanish or French subtitles.

Previous extras ("

About IWitnes

s", "

Behind the Shoah Foundation With Steven Spielberg

", and "

Voices From the List

") that were included on a bonus DVD are now thankfully included on a bonus Blu-ray, along with some new features. "

Schindler's List: 25 Years Late

r" is a 40-minute extra with the cast and director following a 2018 screening of the film at the Beacon Theatre. This discussion is moderated by critic, Janet Maslin. This is filled with recollections of the filming of "

Schindler's List

" as well as discussions of the film's importance. Also new is the 4-minute "

Let Their Testimonies Speak - Stronger Than Hate

" with Spielberg appearing amidst footage of the Charlottesville rally, showing the importance of people's voices to fight racism and bigotry now more than ever. Those previously mentioned extras also appear on this disc, though it should be noted that the featurette "V

oices From the List

" is only presented in 480i.

"

Schindler's List

" is an undeniable masterpiece. The film's

4K Ultra HD

is revelatory. Plain and simple; if you have a 4K setup (especially one with the option of Dolby Vision, HDR, and/or Dolby Atmos) you MUST pick up this set. The new extra features are well worth your time, and to have the previously available extras now in 1080p is an added bonus. I would urge everyone to see this set.

Colin Zavitz

NOTE:

DVDBeaver have over 5,000 Blu-ray reviews on this website and over 10,000 disc reviews in total. The problem with reviews that use screen captures are standardization of the methodology used to obtain them - and while we have recently made an adjustment to improve representation in this area - both un-standardized, un-calibrated, computer monitors and a variety of home theatre viewing systems become a factor. This makes comparisons all the more important since the images are all viewed on the same monitor and the differences are apparent.

4K Ultra HD

produces another significant issue - it is likely that the monitor you are seeing this review is

not

an HDR-compatible display (High Dynamic Range) where each pixel can be assigned with a wider and notably granular range of color and light.

We have reviewed the following

4K UHD packages to date:

2001: A Space Odyssey

(using the included

Blu-ray

to showcase the new restoration color difference),

The Neon Demon

(No HDR),

Dawn of the Dead

(No HDR),

Saving Private Ryan

(simulated HDR and 'raw' captures),

Suspiria

(No HDR),

The Texas Chain Saw Massacre

(No HDR),

The Big Lebowski

, and

I Am Legend

(simulated and 'raw' HDR captures).

Our adjustment is trying to

simulate the same strong color scheme - we cannot - but it is definitely closer than the 4K UHD captures as viewed on a standard computer monitor. We have included one 'raw' un-simulated' capture to show detail in the 3,840 by 2,160 resolution.

We are using an LG B6 65" 4K UHD HDR OLED TV display supporting both HDR & Dolby Vision: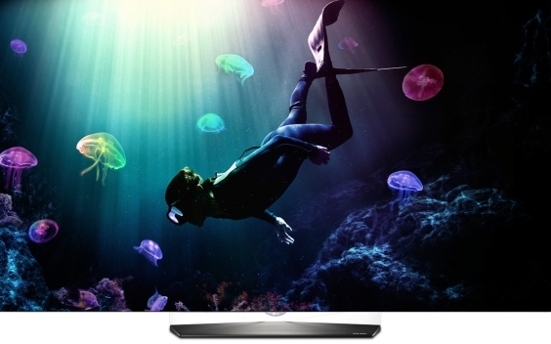 and an Oppo UDP-203 4K Ultra HD Blu-ray Disc Player with HDR & Dolby Vision (UHD, Blu-ray, 3D, DVD, DVD-Audio, SACD and CD).

But on your computer monitor we cannot due justice to the 4K Ultra HD image. After extensive attempts - we have come close. Before the world screams - our simulation captures are not standardized (for future reviews) and do not give a valid representation - yes, the 4K UHD is certainly superior to our simulation.
The captures we have taken are native resolution: 3,840 by 2,160 pixels which you can see when you click on them. The resolution in 4K movie theaters is marginally higher at 4,096 by 2,160 pixels. To appreciate the advancement mathematically it is 4X the number of pixels on a 1080p Blu-ray display, and almost 24X times the resolution of your old SD Sony Trinitron tube television (standard definition).
***
ADDITION: Universal - Region FREE -
Blu-ray (February 2013):
I think this is a very significant difference - the 1080P image (supervised by Spielberg) is dramatically superior to the SD - DVD. The multi-layered contrast brings up the detail and the overall HD image is brilliant. The 3+-hour film is transferred to a dual-layered disc with a decent, and supportive bitrate. This proves substantially more consistent (and artifact-free) than the DVDs.
The now-iconic John Williams' score sounds pristine via the competent DTS-HD Master 5.1 surround at 2363 kbps. Separations exist (Amon Goeth's sniper sequence) but nothing overwhelms. The audio is quite impressive and there are optional subtitles for the region FREE disc.
The
Blu-ray itself only contains the feature film. There are two DVDs in the package that have the film (divided as the 2004 DVDs) with the duplicate extras (minus the text screens) on the 2nd disc. We get the 1 1/4 hour "
Voices From the List
" featurette, the 11-minute "
Behind the Shoah Foundation With Steven Spielberg
" featurette and a new education piece entitled
About IWitness
running shy of 4-minutes.
This remains an extremely impacting film experience and, even upon repeat viewing, I never felt bothered by the length. I believe it is far more affecting on Blu-ray making it a must-have for many Home Theatre devotees.
***
ON THE DVD: The image - has strong contrast, but is slightly weaker than my expectation. Sharpness is there for the foreground but lacking and quite hazy everywhere else. I realize that this is the manner is which the film was shot, but I suspect something better could have been arranged in the transference to Digital Versatile Disc. The audio is correspondingly a bit on the 'less than perfect' side - dynamic at some times, but flat in others - I noted both tracks as having some very slight inconsistencies. This is still a great disc, don't get me wrong - just a shade less than I had desired. The Extras are informative and extremely well done. I can't really see too many overly picky reasons why someone wouldn't want this DVD, if they enjoyed the film.