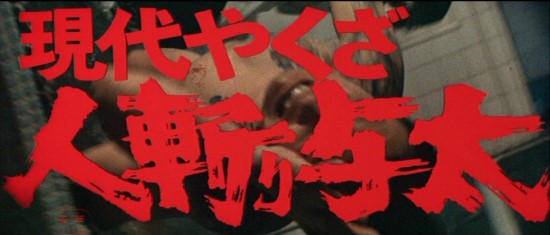 (aka 'Gendai yakuza: hito-kiri yota' or 'Street Mobster')
directed by Kinji Fukasaku
Japan 1972
In the tradition of Takeshi Kitano, Sergio Leone, and George Romero, Japanese action director Kinji Fukasaku (Battle Royale I and II, The Yakuza Papers) brings to life Street Mobster, the story of a violent killer who will stop at nothing to satisfy his lust for blood.

Released from prison, gangster Isamu Okita plans to start his own gang and begins a reign of terror using beatings, prostitution, stabbings, and murders to fight his way to the top of the gangland world. Street Mobster is a look into the dark realm of Japan's criminal underworld, where anything can be had for a price.
Poster
Theatrical Release: May 6th, 1972
Reviews More Reviews DVD Reviews
DVD Review: Home Vision - Region 1 - NTSC
DVD Box Cover

CLICK to order from:

Distribution
Home Vision Entertainment - Region 1 - NTSC
Runtime
1:27:39
Video
2.35:1 Original Aspect Ratio
Average Bitrate: 7.7 mb/s
NTSC 720x480 29.97 f/s

NOTE: The Vertical axis represents the bits transferred per second. The Horizontal is the time in minutes.

Bitrate:

Audio
Japanese (Dolby Digital 1.0)
Subtitles
English, None
Features

Release Information:
Studio: Home Vision Entertainment

Aspect Ratio:
Original aspect Ratio 2.35:1

Edition Details:

• Interviews with former yakuza
• Original theatrical trailers
• Kinji Fukasaku filmography

DVD Release Date: September 7th, 2004
Keep Case
Chapters: 17
| | |
| --- | --- |
| Comments: | This is image is slightly superior to "Graveyard of Honor" - in that it is tight the frame edge. It still has that forgivable heavy and slightly soft appearance but color and contrast again seem deft. Efficient subtitles and original audio plus a very interesting extra feature in the cloaked interview with a former Yakuza, if only to further the mystique of the films guarded appeal. Genre specific viewing, but it does have another niche cultural draw of sorts. out of |
---



DVD Menus
---
Subtitle Sample
Screen Captures
---
---
Recommended Reading (CLICK COVERS or TITLES for more information)
The Midnight Eye Guide to New Japanese Film
by Tom Mes and Jasper Sharp
Eros Plus Massacre: An Introduction to the Japanese New Wave Cinema (Midland Book, Mb 469)
by David Desser

Kon Ichikawa (Cinematheque Ontario Monographs)

by James Quandt, Cinematheque Ontario

Shohei Imamura (Cinematheque Ontario Monographs, No. 1)
by James Quandt
Silver Screen Samurai: The Best of Japan's Samurai Movie Posters
by Na
The Films of Akira Kurosawa by Donald Ritchie
The Yakuza Movie Book : A Guide to Japanese Gangster Films
by Mark Schilling
Japanese Movie Posters: Yakuza, Monster, Pink, and Horror
by Chuck Stephens, Tetsuya Masuda, Kairakutei Black
A Hundred Years of Japanese Film by Donald Richie
Check out more in "The Library"
---
DVD Box Cover

CLICK to order from:

Distribution
Home Vision Entertainment - Region 1 - NTSC
---






Kinji Fukasaku Gendai yakuza: hito-kiri yota Street Mobster DVD Review Kinji Fukasaku Gendai yakuza: hito-kiri yota Street Mobster DVD Review Kinji Fukasaku Gendai yakuza: hito-kiri yota Street Mobster DVD Review Kinji Fukasaku Gendai yakuza: hito-kiri yota Street Mobster DVD Review Kinji Fukasaku Gendai yakuza: hito-kiri yota Street Mobster DVD Review Kinji Fukasaku Gendai yakuza: hito-kiri yota Street Mobster DVD Review Kinji Fukasaku Gendai yakuza: hito-kiri yota Street Mobster DVD Review Kinji Fukasaku Gendai yakuza: hito-kiri yota Street Mobster DVD Review Kinji Fukasaku Gendai yakuza: hito-kiri yota Street Mobster DVD Review Kinji Fukasaku Gendai yakuza: hito-kiri yota Street Mobster DVD Review Kinji Fukasaku Gendai yakuza: hito-kiri yota Street Mobster DVD Review Kinji Fukasaku Gendai yakuza: hito-kiri yota Street Mobster DVD Review Kinji Fukasaku Gendai yakuza: hito-kiri yota Street Mobster DVD Review Kinji Fukasaku Gendai yakuza: hito-kiri yota Street Mobster DVD Review Kinji Fukasaku Gendai yakuza: hito-kiri yota Street Mobster DVD Review Kinji Fukasaku Gendai yakuza: hito-kiri yota Street Mobster DVD Review Kinji Fukasaku Gendai yakuza: hito-kiri yota Street Mobster DVD Review Kinji Fukasaku Gendai yakuza: hito-kiri yota Street Mobster DVD Review Kinji Fukasaku Gendai yakuza: hito-kiri yota Street Mobster DVD Review Kinji Fukasaku Gendai yakuza: hito-kiri yota Street Mobster DVD Review Kinji Fukasaku Gendai yakuza: hito-kiri yota Street Mobster DVD Review Kinji Fukasaku Gendai yakuza: hito-kiri yota Street Mobster DVD Review Kinji Fukasaku Gendai yakuza: hito-kiri yota Street Mobster DVD Review Kinji Fukasaku Gendai yakuza: hito-kiri yota Street Mobster DVD Review Kinji Fukasaku Gendai yakuza: hito-kiri yota Street Mobster DVD Review Kinji Fukasaku Gendai yakuza: hito-kiri yota Street Mobster DVD Review Kinji Fukasaku Gendai yakuza: hito-kiri yota Street Mobster DVD Review Kinji Fukasaku Gendai yakuza: hito-kiri yota Street Mobster DVD Review Kinji Fukasaku Gendai yakuza: hito-kiri yota Street Mobster DVD Review Kinji Fukasaku Gendai yakuza: hito-kiri yota Street Mobster DVD Review Kinji Fukasaku Gendai yakuza: hito-kiri yota Street Mobster DVD Review Kinji Fukasaku Gendai yakuza: hito-kiri yota Street Mobster DVD Review Kinji Fukasaku Gendai yakuza: hito-kiri yota Street Mobster DVD Review Kinji Fukasaku Gendai yakuza: hito-kiri yota Street Mobster DVD Review Kinji Fukasaku Gendai yakuza: hito-kiri yota Street Mobster DVD Review Kinji Fukasaku Gendai yakuza: hito-kiri yota Street Mobster DVD Review Kinji Fukasaku Gendai yakuza: hito-kiri yota Street Mobster DVD Review Kinji Fukasaku Gendai yakuza: hito-kiri yota Street Mobster DVD Review Kinji Fukasaku Gendai yakuza: hito-kiri yota Street Mobster DVD Review Kinji Fukasaku Gendai yakuza: hito-kiri yota Street Mobster DVD Review Kinji Fukasaku Gendai yakuza: hito-kiri yota Street Mobster DVD Review Kinji Fukasaku Gendai yakuza: hito-kiri yota Street Mobster DVD Review Kinji Fukasaku Gendai yakuza: hito-kiri yota Street Mobster DVD Review Kinji Fukasaku Gendai yakuza: hito-kiri yota Street Mobster DVD Review Kinji Fukasaku Gendai yakuza: hito-kiri yota Street Mobster DVD Review Kinji Fukasaku Gendai yakuza: hito-kiri yota Street Mobster DVD Review Kinji Fukasaku Gendai yakuza: hito-kiri yota Street Mobster DVD Review Kinji Fukasaku Gendai yakuza: hito-kiri yota Street Mobster DVD Review Kinji Fukasaku Gendai yakuza: hito-kiri yota Street Mobster DVD Review Kinji Fukasaku Gendai yakuza: hito-kiri yota Street Mobster DVD Review Kinji Fukasaku Gendai yakuza: hito-kiri yota Street Mobster DVD Review Kinji Fukasaku Gendai yakuza: hito-kiri yota Street Mobster DVD Review Kinji Fukasaku Gendai yakuza: hito-kiri yota Street Mobster DVD Review Kinji Fukasaku Gendai yakuza: hito-kiri yota Street Mobster DVD Review Kinji Fukasaku Gendai yakuza: hito-kiri yota Street Mobster DVD Review Kinji Fukasaku Gendai yakuza: hito-kiri yota Street Mobster DVD Review Kinji Fukasaku Gendai yakuza: hito-kiri yota Street Mobster DVD Review Kinji Fukasaku Gendai yakuza: hito-kiri yota Street Mobster DVD Review Kinji Fukasaku Gendai yakuza: hito-kiri yota Street Mobster DVD Review Kinji Fukasaku Gendai yakuza: hito-kiri yota Street Mobster DVD Review Kinji Fukasaku Gendai yakuza: hito-kiri yota Street Mobster DVD Review Kinji Fukasaku Gendai yakuza: hito-kiri yota Street Mobster DVD Review Kinji Fukasaku Gendai yakuza: hito-kiri yota Street Mobster DVD Review Kinji Fukasaku Gendai yakuza: hito-kiri yota Street Mobster DVD Review Kinji Fukasaku Gendai yakuza: hito-kiri yota Street Mobster DVD Review Kinji Fukasaku Gendai yakuza: hito-kiri yota Street Mobster DVD Review Kinji Fukasaku Gendai yakuza: hito-kiri yota Street Mobster DVD Review Kinji Fukasaku Gendai yakuza: hito-kiri yota Street Mobster DVD Review Kinji Fukasaku Gendai yakuza: hito-kiri yota Street Mobster DVD Review Kinji Fukasaku Gendai yakuza: hito-kiri yota Street Mobster DVD Review Kinji Fukasaku Gendai yakuza: hito-kiri yota Street Mobster DVD Review Kinji Fukasaku Gendai yakuza: hito-kiri yota Street Mobster DVD Review Kinji Fukasaku Gendai yakuza: hito-kiri yota Street Mobster DVD Review Kinji Fukasaku Gendai yakuza: hito-kiri yota Street Mobster DVD Review Kinji Fukasaku Gendai yakuza: hito-kiri yota Street Mobster DVD Review Kinji Fukasaku Gendai yakuza: hito-kiri yota Street Mobster DVD Review Kinji Fukasaku Gendai yakuza: hito-kiri yota Street Mobster DVD Review Kinji Fukasaku Gendai yakuza: hito-kiri yota Street Mobster DVD Review Kinji Fukasaku Gendai yakuza: hito-kiri yota Street Mobster DVD Review Kinji Fukasaku Gendai yakuza: hito-kiri yota Street Mobster DVD Review Kinji Fukasaku Gendai yakuza: hito-kiri yota Street Mobster DVD Review Kinji Fukasaku Gendai yakuza: hito-kiri yota Street Mobster DVD Review Kinji Fukasaku Gendai yakuza: hito-kiri yota Street Mobster DVD Review Kinji Fukasaku Gendai yakuza: hito-kiri yota Street Mobster DVD Review Kinji Fukasaku Gendai yakuza: hito-kiri yota Street Mobster DVD Review Kinji Fukasaku Gendai yakuza: hito-kiri yota Street Mobster DVD Review Kinji Fukasaku Gendai yakuza: hito-kiri yota Street Mobster DVD Review Kinji Fukasaku Gendai yakuza: hito-kiri yota Street Mobster DVD Review Kinji Fukasaku Gendai yakuza: hito-kiri yota Street Mobster DVD Review Kinji Fukasaku Gendai yakuza: hito-kiri yota Street Mobster DVD Review Kinji Fukasaku Gendai yakuza: hito-kiri yota Street Mobster DVD Review Kinji Fukasaku Gendai yakuza: hito-kiri yota Street Mobster DVD Review Kinji Fukasaku Gendai yakuza: hito-kiri yota Street Mobster DVD Review Kinji Fukasaku Gendai yakuza: hito-kiri yota Street Mobster DVD Review Kinji Fukasaku Gendai yakuza: hito-kiri yota Street Mobster DVD Review Kinji Fukasaku Gendai yakuza: hito-kiri yota Street Mobster DVD Review