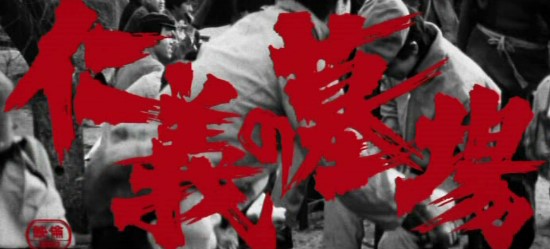 (aka 'Jingi no hakaba' or 'Graveyard of Honor')
directed by Kinji Fukasaku
Japan 1975
Action director Kinji Fukasaku (Battle Royale, Tora! Tora! Tora!) created one of his most unusual yakuza films with Graveyard of Honor, a highly stylized account of the life of Rikio Ishikawa, a strong arm man who works for one of Japan's biggest crime families. In one brutal scene after another, Fukasaku documents the downward spiral of a sociopathic thug who will do anything to survive in Japan's decadent underworld of drugs, murder for hire, and prostitution. Graveyard of Honor is a brutal and unsparing look at the modern Japanese yakuza—men who live without a code of honor.
Poster
Theatrical Release: February 15th, 1975
Reviews More Reviews DVD Reviews
DVD Review: Home Vision - Region 1 - NTSC
DVD Box Cover

CLICK to order from:

Distribution
Home Vision Entertainment - Region 1 - NTSC
Runtime
1:33:30
Video
2.23:1 Original Aspect Ratio
Average Bitrate: 5.56 mb/s
NTSC 720x480 29.97 f/s

NOTE: The Vertical axis represents the bits transferred per second. The Horizontal is the time in minutes.

Bitrate:

Audio
Japanese (Dolby Digital 1.0)
Subtitles
English, None
Features

Release Information:
Studio: Home Vision Entertainment

Aspect Ratio:
Original aspect Ratio 2.23:1

Edition Details:

• A Portrait of Rage, a 20-minute video essay
• On The Set with Fukashaku, an interview with assistant director Kenichi Oguri
• 4-page liner notes with essay by Tom Mes of Midnight Eye website
• Original theatrical trailers
• Director filmography

DVD Release Date: September 7th, 2004
Keep Case
Chapters: 19
| | |
| --- | --- |
| Comments: | Another good job by Home Vision - a good, but not perfect image. Contrast and colors seem excellent, but it is slightly soft in spots and there is a black border framing the film prohibiting full horizontal resolution. Considering the film to be 30 years old though, and the clandestine nature of its existence - it is more than acceptable and the new wave of Fukasaku fans should be 'honored' themselves. Subtitles are, as always, perfect from HVE and they really went the extra mile digging up those Bonus features, which really add to the detail of this fine package. Monaural original audio and this is as well presented as the film has ever appeared for home entertainment.out of |
---
---
Subtitle Sample
Screen Captures
---
DONATIONS Keep DVDBeaver alive and advertisement free:
Mail cheques, money orders, cash to: or CLICK PayPal logo to donate!
Gary Tooze

Mississauga, Ontario,

CANADA
Thank You!
Kinji Fukasaku's Graveyard of Honor - Home Vision - Region 1- NTSC DVD Review Kinji Fukasaku Jingi no hakaba Graveyard of Honor DVD Review Kinji Fukasaku Jingi no hakaba Graveyard of Honor DVD Review Kinji Fukasaku Jingi no hakaba Graveyard of Honor DVD Review Kinji Fukasaku Jingi no hakaba Graveyard of Honor DVD Review Kinji Fukasaku Jingi no hakaba Graveyard of Honor DVD Review Kinji Fukasaku Jingi no hakaba Graveyard of Honor DVD Review Kinji Fukasaku Jingi no hakaba Graveyard of Honor DVD Review Kinji Fukasaku Jingi no hakaba Graveyard of Honor DVD Review Kinji Fukasaku Jingi no hakaba Graveyard of Honor DVD Review Kinji Fukasaku Jingi no hakaba Graveyard of Honor DVD Review Kinji Fukasaku Jingi no hakaba Graveyard of Honor DVD Review Kinji Fukasaku Jingi no hakaba Graveyard of Honor DVD Review Kinji Fukasaku Jingi no hakaba Graveyard of Honor DVD Review Kinji Fukasaku's Graveyard of Honor - Home Vision - Region 1- NTSC DVD Review Kinji Fukasaku Jingi no hakaba Graveyard of Honor DVD Review Kinji Fukasaku Jingi no hakaba Graveyard of Honor DVD Review Kinji Fukasaku Jingi no hakaba Graveyard of Honor DVD Review Kinji Fukasaku Jingi no hakaba Graveyard of Honor DVD Review Kinji Fukasaku Jingi no hakaba Graveyard of Honor DVD Review Kinji Fukasaku Jingi no hakaba Graveyard of Honor DVD Review Kinji Fukasaku Jingi no hakaba Graveyard of Honor DVD Review Kinji Fukasaku Jingi no hakaba Graveyard of Honor DVD Review Kinji Fukasaku Jingi no hakaba Graveyard of Honor DVD Review Kinji Fukasaku Jingi no hakaba Graveyard of Honor DVD Review Kinji Fukasaku Jingi no hakaba Graveyard of Honor DVD Review Kinji Fukasaku Jingi no hakaba Graveyard of Honor DVD Review Kinji Fukasaku Jingi no hakaba Graveyard of Honor DVD Review Kinji Fukasaku's Graveyard of Honor - Home Vision - Region 1- NTSC DVD Review Kinji Fukasaku Jingi no hakaba Graveyard of Honor DVD Review Kinji Fukasaku Jingi no hakaba Graveyard of Honor DVD Review Kinji Fukasaku Jingi no hakaba Graveyard of Honor DVD Review Kinji Fukasaku Jingi no hakaba Graveyard of Honor DVD Review Kinji Fukasaku Jingi no hakaba Graveyard of Honor DVD Review Kinji Fukasaku Jingi no hakaba Graveyard of Honor DVD Review Kinji Fukasaku Jingi no hakaba Graveyard of Honor DVD Review Kinji Fukasaku Jingi no hakaba Graveyard of Honor DVD Review Kinji Fukasaku Jingi no hakaba Graveyard of Honor DVD Review Kinji Fukasaku Jingi no hakaba Graveyard of Honor DVD Review Kinji Fukasaku Jingi no hakaba Graveyard of Honor DVD Review Kinji Fukasaku Jingi no hakaba Graveyard of Honor DVD Review Kinji Fukasaku Jingi no hakaba Graveyard of Honor DVD Review Kinji Fukasaku's Graveyard of Honor - Home Vision - Region 1- NTSC DVD Review Kinji Fukasaku Jingi no hakaba Graveyard of Honor DVD Review Kinji Fukasaku Jingi no hakaba Graveyard of Honor DVD Review Kinji Fukasaku Jingi no hakaba Graveyard of Honor DVD Review Kinji Fukasaku Jingi no hakaba Graveyard of Honor DVD Review Kinji Fukasaku Jingi no hakaba Graveyard of Honor DVD Review Kinji Fukasaku Jingi no hakaba Graveyard of Honor DVD Review Kinji Fukasaku Jingi no hakaba Graveyard of Honor DVD Review Kinji Fukasaku Jingi no hakaba Graveyard of Honor DVD Review Kinji Fukasaku Jingi no hakaba Graveyard of Honor DVD Review Kinji Fukasaku Jingi no hakaba Graveyard of Honor DVD Review Kinji Fukasaku Jingi no hakaba Graveyard of Honor DVD Review Kinji Fukasaku Jingi no hakaba Graveyard of Honor DVD Review Kinji Fukasaku Jingi no hakaba Graveyard of Honor DVD Review Kinji Fukasaku's Graveyard of Honor - Home Vision - Region 1- NTSC DVD Review Kinji Fukasaku Jingi no hakaba Graveyard of Honor DVD Review Kinji Fukasaku Jingi no hakaba Graveyard of Honor DVD Review Kinji Fukasaku Jingi no hakaba Graveyard of Honor DVD Review Kinji Fukasaku Jingi no hakaba Graveyard of Honor DVD Review Kinji Fukasaku Jingi no hakaba Graveyard of Honor DVD Review Kinji Fukasaku Jingi no hakaba Graveyard of Honor DVD Review Kinji Fukasaku Jingi no hakaba Graveyard of Honor DVD Review Kinji Fukasaku Jingi no hakaba Graveyard of Honor DVD Review Kinji Fukasaku Jingi no hakaba Graveyard of Honor DVD Review Kinji Fukasaku Jingi no hakaba Graveyard of Honor DVD Review Kinji Fukasaku Jingi no hakaba Graveyard of Honor DVD Review Kinji Fukasaku Jingi no hakaba Graveyard of Honor DVD Review Kinji Fukasaku Jingi no hakaba Graveyard of Honor DVD Review Kinji Fukasaku's Graveyard of Honor - Home Vision - Region 1- NTSC DVD Review Kinji Fukasaku Jingi no hakaba Graveyard of Honor DVD Review Kinji Fukasaku Jingi no hakaba Graveyard of Honor DVD Review Kinji Fukasaku Jingi no hakaba Graveyard of Honor DVD Review Kinji Fukasaku Jingi no hakaba Graveyard of Honor DVD Review Kinji Fukasaku Jingi no hakaba Graveyard of Honor DVD Review Kinji Fukasaku Jingi no hakaba Graveyard of Honor DVD Review Kinji Fukasaku Jingi no hakaba Graveyard of Honor DVD Review Kinji Fukasaku Jingi no hakaba Graveyard of Honor DVD Review Kinji Fukasaku Jingi no hakaba Graveyard of Honor DVD Review Kinji Fukasaku Jingi no hakaba Graveyard of Honor DVD Review Kinji Fukasaku Jingi no hakaba Graveyard of Honor DVD Review Kinji Fukasaku Jingi no hakaba Graveyard of Honor DVD Review Kinji Fukasaku Jingi no hakaba Graveyard of Honor DVD Review Kinji Fukasaku's Graveyard of Honor - Home Vision - Region 1- NTSC DVD Review Kinji Fukasaku Jingi no hakaba Graveyard of Honor DVD Review Kinji Fukasaku Jingi no hakaba Graveyard of Honor DVD Review Kinji Fukasaku Jingi no hakaba Graveyard of Honor DVD Review Kinji Fukasaku Jingi no hakaba Graveyard of Honor DVD Review Kinji Fukasaku Jingi no hakaba Graveyard of Honor DVD Review Kinji Fukasaku Jingi no hakaba Graveyard of Honor DVD Review Kinji Fukasaku Jingi no hakaba Graveyard of Honor DVD Review Kinji Fukasaku Jingi no hakaba Graveyard of Honor DVD Review Kinji Fukasaku Jingi no hakaba Graveyard of Honor DVD Review Kinji Fukasaku Jingi no hakaba Graveyard of Honor DVD Review Kinji Fukasaku Jingi no hakaba Graveyard of Honor DVD Review Kinji Fukasaku Jingi no hakaba Graveyard of Honor DVD Review Kinji Fukasaku Jingi no hakaba Graveyard of Honor DVD Review Kinji Fukasaku's Graveyard of Honor - Home Vision - Region 1- NTSC DVD Review Kinji Fukasaku Jingi no hakaba Graveyard of Honor DVD Review Kinji Fukasaku Jingi no hakaba Graveyard of Honor DVD Review Kinji Fukasaku Jingi no hakaba Graveyard of Honor DVD Review Kinji Fukasaku Jingi no hakaba Graveyard of Honor DVD Review Kinji Fukasaku Jingi no hakaba Graveyard of Honor DVD Review Kinji Fukasaku Jingi no hakaba Graveyard of Honor DVD Review Kinji Fukasaku Jingi no hakaba Graveyard of Honor DVD Review Kinji Fukasaku Jingi no hakaba Graveyard of Honor DVD Review Kinji Fukasaku Jingi no hakaba Graveyard of Honor DVD Review Kinji Fukasaku Jingi no hakaba Graveyard of Honor DVD Review Kinji Fukasaku Jingi no hakaba Graveyard of Honor DVD Review Kinji Fukasaku Jingi no hakaba Graveyard of Honor DVD Review Kinji Fukasaku Jingi no hakaba Graveyard of Honor DVD Review