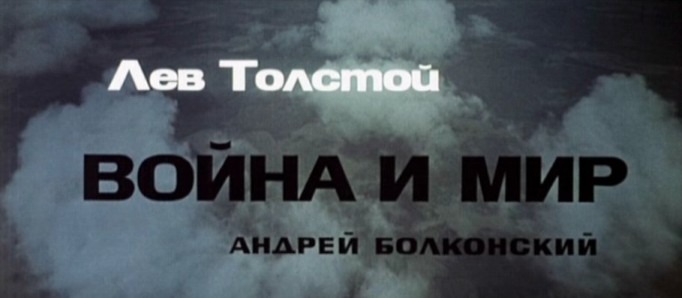 ( aka 'War and Peace', "Voina I Mir" )
directed by Sergei Bondarchuk
Soviet Union 1967
"This gigantic motion picture epic, based on the novel of the same name by the great Russian writer Leo Tolstoy, has won worldwide critical acclaim. For the shooting of the film's battle scenes, such as the Battle of Borodino or the 1812 Moscow fire, a regular army was mustered into service, as well as a specially created cavalry regiment. Over 12,000 soldiers participated as extras in the crowd scenes. More than 35,000 costumes were made for the production.
The details of 19th-century Russia's everyday life, the period costumes, society and its traditions, the psychological characteristics and the heroism of the people, the glory of Russian arms – all this attracts the viewer not less than the love story of the delightful Natasha Rostova and the Prince Andrei Bolkonsky."
DVD REVIEW: Ruscico Region 0 - NTSC (with PAL speed-up)
All screenshots courtesy of Ashirg. Thanks Gregory!
DVD Box Cover

Click the logos to order from:

5 Disc Box Set Package

Distribution

Studio: Mosfilm

Runtime
Approx. 403 minutes ( 6 hours 43 minutes )
Video
2.30:1.00 Letterboxed WideScreen / anamorphic
Average Bitrate: See below for 4 film discs
NTSC 720x480 29.97 f/s
Audio
Russian, English, French (Dolby Digital 5.1 )
Subtitles

Russian, English, French, German, Dutch, Portuguese, Spanish, Italian, Swedish, Greek, Japanese, Chinese,

Arabic, Herbew, None

Features
Release Information:
Studio: Mosfilm / through RusCiCo ( Russian Cinema Council )


Aspect Ratio(s):
Widescreen anamorphic - 2.30:1


Region 0

Comments:

The picture is hit and miss. This is the best the film looked on video, but there's many instances of grain and specs. I have previously seen the film (really poor quality) on Russian TV, so this DVD is a revelation. Even for a production of such a large scale there were numerous technical difficulties with film stock. The director of photography recalls this in an interview on the fifth disc where he also talks about the restoration. Shakhnazarov, who produced the restoration of about 80 films of Mosfilm studio, notes that when they started restoration of 'War and Peace', they couldn't find the negatives. The sound, restored from mono to 5.1 is also very clear, with some directional effects added. out of Gregory Meshman

DVD Release Date: 2nd Quarter 2003
Keep Case
Chapters: Disc 1- 22, Disc 2 -13, Disc 3 - 13, Disc 4 - 20
---
The DVDs
Details and Screen Captures
---
Disc 1
Details

Time 2:19:55

Bitrate 7.11 mps

Chapters: 22

Extras:
Materials on Alexander I, 19th-century manor houses;
Cast & crew photos and filmographies.
---
Details

Time 1:33:06

Bitrate 9.14 mps

Chapters: 13

Sketches of the sets;
Materials on national-lideration;
Cast & crew photos and filmographies.
Details

Time 1:17:39

Bitrate 9.14 mps

Chapters: 13

Scetches of the sets;
Materials on amusements and celebrations in 19th century Russian countryside, M.I. Kutuzov, Russian classicism;
Cast & crew photos and filmographies.
Details

Time 1:32:09

Bitrate 9.13 mps

Chapters: 20

Sketches of the sets;
Materials on Empire style;
Cast & crew photos and filmographies.
Disc 5:

Cast & crew interviews
Interview with the President of Mosfilm Studio K. Shakhnazarov
Documentary films about Sergei Bondarchuk and Leo Tolstoy
"Making of…"
Photo album
---