ADDITION: Classicflix DVD (April 2020): Classicflix, part of their 'Silver Series", have transferred all five PRC - Producers Releasing Corporation (aka "Poverty Row") Michael Shayne 'B' mysteries. They all star Hugh Beaumont as our milk-drinking 'gumshoe' - to DVD.
Thee are cool short detective yarns - each running just over an hour.
Michael "Mike" Shayne is a fictional private detective character created during the late 1930s by writer Brett Halliday, a pseudonym of Davis Dresser. 4-5 years prior to these film releases, Lloyd Nolan played the detective onscreen in the early 40s - and after Hugh Beaumont, both Jeff Chandler and Wally Maher portrayed the detective on radio and Richard Denning on television. The 'pulp' novels were notable for being reproduced with salacious covers: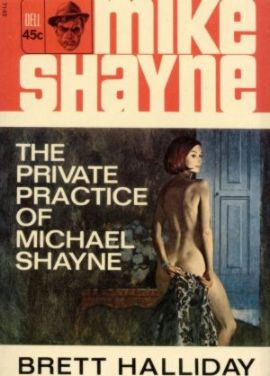 Back to the 2019 Classicflix DVD release. Unfortunately, packing over 5 hours onto one lone DVD - albeit dual-layered - the image quality suffers. Despite the included supplement indicating some restoration - it is not extensive and there is plenty of light to moderate damage, speckles - and frequent cue-blips throughout the frame (see samples below). 20th Century Fox (2 double-sided-discs) release of The Michael Shayne, Private Detective Collection Vol. 1 (reviewed HERE) is vastly superior in terms of a/v. While this is not at the poor level of, say, Alpha Video levels - it still exhibits some notable weaknesses. Frankly, I wasn't bothered too much - I just wanted to see them - the audio weaknesses are a bit more noticeable - but I also suspect I am spoiled by 1080P Blu-ray and lossless audio.

Classicflix offer no optional subtitles on their Region 1 - NTSC DVD.

The Classicflix DVD

offers a brief split-screen restoration comparison video. Meh.

I don't mean to sound too harsh on this DVD - I, honestly enjoyed the five 'B' mystery films although they aren't as 'hard boiled' as one might hope. There is some murder and a significant gunfight.

I've always been a big Hugh Beaumont fan (from many Noir supporting roles - The Blue Dahlia, Railroaded, Danger Zone, etc. to the Universal horror The Mole People to Leave it to Beaver). Anyway - now you know what to expect (or not to expect) - less a/v-picky fans of these vintage-era detective 'B' motion pictures might wish to pick this up.