Review by Gary Tooze
Production:
Theatrical: Universal Pictures
Video:
Olive Films
Disc:
Region: 'A' (as verified by the Oppo Blu-ray player)
Runtime: 1:56:30.525
Disc Size: 42,960,482,895 bytes
Feature Size: 35,567,849,472 bytes
Video Bitrate: 35.00 Mbps
Chapters: 9
Case: Standard Blu-ray case inside cardboard slipcase
Release date: November 28th, 2017
Video:
Aspect ratio: 1.85:1
Resolution: 1080p / 23.976 fps
Video codec: MPEG-4 AVC Video
Audio:
DTS-HD Master Audio English 1828 kbps 2.0 / 48 kHz / 1828 kbps / 24-bit (DTS Core: 2.0 /
48 kHz / 1509 kbps / 24-bit)
Commentary:
DTS-HD Master Audio English 1558 kbps 2.0 / 48 kHz / 1558 kbps / 24-bit (DTS Core: 2.0 /
48 kHz / 1509 kbps / 24-bit)

Subtitles:
• English (SDH), None
Extras:
•
Audio commentary by film historian David Del Valle

•
"Unfinished Business: Cary Grant's Search for Fatherhood and His Oscar" – with Marc Eliot, author of Cary Grant: A Biography (18:12)

•
"My Father" – internet pioneer Ted Nelson discusses director Ralph Nelson
(11:26)
•
Universal Newsreel footage featuring Leslie Caron
(2:32)
•
Essay by Village Voice critic Bilge Ebiri
(4:02)
limited edition pressing of 3,500 units
Bitrate:
Description:
In what would be his second-to-last film appearance, screen legend Cary Grant (Operation Petticoat) is paired with the enchanting Leslie Caron (Gigi) in Father Goose, and the battle of the sexes has never been as funny or as romantic.

When boozy beachcomber Walter Eckland (Grant) is blackmailed into service as a lookout by the Allied Forces during World War II, little does he realize that his idyllic island getaway will soon become a haven for seven schoolgirls and their prim and proper teacher. Rescued by Eckland from a nearby island following an enemy attack, Catherine Freneau (Caron) and her seven mischievous charges will turn the life of the grumpy, whiskey-soaked Eckland on its ear. Adding to the fun is Trevor Howard (The Third Man) as Commander Frank Houghton, the proverbial thorn in Eckland's side.

Father Goose, directed by Ralph Nelson (Lilies of the Field) from an Academy AwardŽ winning screenplay by Peter Stone, Frank Tarloff and S.H. Barnett, was photographed by Academy Award winner Charles Lang Jr. (A Farewell to Arms) and features a score by Cy Coleman (Sweet Charity), which includes the Father Goose theme song, "Pass Me By."
***
On an island in the South Seas, Walter Eckland (Cary Grant) lives a quiet life. That changes when he's persuaded to serve as a lookout for the Allies, watching for enemy ships. Eckland, whose main interest is drinking, proves bad at his job and is sent to fetch a replacement from another island. Instead he finds a stranded teacher, Catherine (Leslie Caron), and her pupils. After Eckland brings the group to his island, romantic sparks fly between the prim schoolmistress and the slovenly loner.
The Film:
Suave, dapper Cary Grant, who had wanted for some time to play against type, had considered taking on the role of the aging poker player in The Cincinnati Kid (1965) that was eventually played by Edward G. Robinson. Instead Grant settled on Universal's Father Goose (1964) for his change of image, playing what screenwriter Peter Stone described as "a drunk, disgusting, irascible, misanthropic character." Grant himself elaborated: "I was a bum. I was all broken down, in jeans and a beard. It was me. After dressing so carefully for my films for so many years, I wanted to do the opposite."

The film is set during World War II on a remote South Sea Island, where Grant's character is coerced into becoming a lookout for the Australian Navy and taking on a pretty teacher (Leslie Caron) and her seven young female charges. Stone, who rewrote a script by Frank Tarloff (from a story by S. H. Barnett called A Place of Dragons), did not meet his fellow writer until the 1965 Academy Awards, when the team won Oscars for Best Original Screenplay. In his acceptance speech Stone said, "I want to thank Cary Grant, who keeps winning these things for other people." The movie also was nominated for Best Sound and Film Editing. Although ignored by Oscar, the film's theme song, "Pass Me By," with music by Cy Coleman and lyrics by Carolyn Leigh, became a hit for Peggy Lee. Coleman has said that he based the song's tempo on Grant's jaunty walk.
Excerpt from TCM located HERE
Playing against his sophisticated image, Cary Grant is Walter Eckland, a drunken beach bum who sits out WWII on a South Seas island until he is coerced by an Australian naval officer (Trevor Howard) into monitoring Japanese air activity. When Eckland travels to a nearby island to rescue another plane watcher, he finds the observer dead, but schoolteacher Catherine Freneau (Leslie Caron) and her seven young female charges are very much alive after being marooned when their plane went down. They return with Eckland and clean up his act while he and Freneau fall in love. Danger looms, however, as the Japanese forces close in.
Excerpt from TVGuide located HERE

Image : NOTE: The below Blu-ray captures were taken directly from the Blu-ray disc.
Father Goose gets an upgrade to Blu-ray from Olive Films 'Signature' label. They originally released it on Blu-ray in a bare-bones edition HERE in 2013. This 2017 edition is described as a 'New Restoration from 4K Scan of Original Camera Negative'. This is dual-layered with a max'ed out bitrate. It looks decent - probably advancing upon the earlier 1080P with richer deeper colors. Like Operation Petticoat it has not had a film-level clean-up - just a superior Blu-ray itransfer to the original BD release.
CLICK EACH BLU-RAY CAPTURE TO SEE ALL IMAGES IN FULL 1920X1080 RESOLUTION
Audio :
Audio is transferred to a DTS-HD Master 2.0 channel track at 1828 kbps (24-bit). There are effects with the boat, fire etc. The score is credited to Cy Coleman with Cary Grant frequently whistling Pass Me By and some will recognize Oh Promise Me played on accordion over the radio during the wedding scene. It is all pretty unremarkable but clean and clear with some depth. There are optional English (SDH) subtitles and m
y
Oppo
has identified it as being a region 'A'-locked.

Extras :
We get a very good audio commentary by film historian David Del Valle who delves deeply into the production and Cary Grant often reading passages from books by Dyan Cannon and comments from others on the making of Father Goose - as well as details of Cary Grant's being the producer, his interaction with the children, filming in Jamaica etc. Excellent. "Unfinished Business: Cary Grant's Search for Fatherhood and His Oscar" spends 19-minute with Marc Eliot, author of Cary Grant: A Biography and he provide interesting information. "My Father" has internet pioneer Ted Nelson discussing director Ralph Nelson for about a dozen minutes. There is Universal Newsreel footage featuring Leslie Caron and a text essay in digital by Village Voice critic Bilge Ebiri. Like Operation Petticoat this is a limited edition pressing of 3,500 units.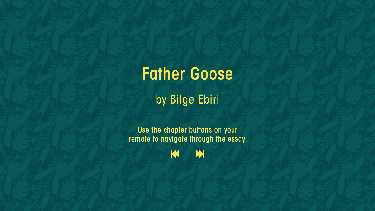 BOTTOM LINE:
Father Goose is another fun 60's film and has Grant's special comedic timing, double takes, blank stares etc. Certainly above average entertainment. The Del Valle commentary and extras certainly helped with the appreciation! The Blu-ray is another 'Olive Signature' upgrade and fans of Cary Grant should be pleased with the result. A complete package for sure.
Gary Tooze
November 25th, 2017