NOTE: The below Blu-ray captures were taken directly from the Blu-ray disc.
ADDITION: (July 2019) Kino - Region 'A' - Blu-ray: Chan-wook Park's twisted take on the vampire mythos, "Thirst" comes to Region 'A' Blu-ray from Kino Lorber. This disc is a dual-layered disc with a high bitrate. Showing only an iota more information on the left and right side of the frame, and slightly warmer flesh-tones, this is a very similar release to the previous 2010 Tartan disc. What is worrying here are the amount of digital artifacts and edge enhancement on display, most obvious when back-lit by oddly overexposed lighting. Many shots seem to sadly feature lots of aliasing and shimmering (see example in our zoomed-in capture and click to expand).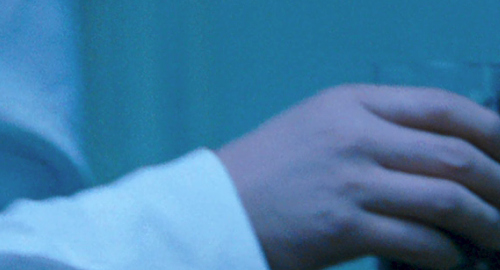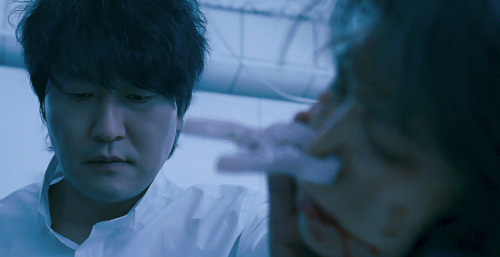 This is interesting since the film was apparently shot on film, then transferred to a 2K digital intermediate for visual effects work, before being transferred back to film. Whatever source this is sourced from (as well as the prior Blu-ray) seems to be a digital master, or at least a poor transfer back to film, digital warts and all. That is not necessarily a death knell (or should I say stake through the heart) for the film, as the strange and frequent digitization that pops up has a somewhat (probably un-intentional) off-putting and creepy effect that matches the tone of the film. And the film itself is paramount, what a gloriously twisted and intelligent take on the various mythologies we've seen a hundred times.

There is a 5.1 DTS-HD Master audio track on this Kino release, similar to the Tartan, only sadly this time in only 16-bit. There is also the option of watching the film in 2.0 lossless DTS-HD. The score from Yeong-wook Jo is still as effective as ever, though it is a shame that we don't get an uncompressed audio track. There are optional English subtitles on this Region 'A' Blu-ray from Kino Lorber.

The main attraction here is an all new commentary by New-York based journalist and author, Bryan Reesman. Reesman opens up by talking about this film within the context of what he refers to as the new-wave of Asian Horror. "Thirst" came in on the tail end of this wave of films, and Reesman wrote a piece for MovieMaker magazine on this trend in 2005. The author is clearly well-versed in the genre and while going into specifics at times, the track is anything but dry. Well worth a listen for fans of the film, or Chan-wook Park in particular. The film's trailer is also on the disc, as are trailers for other Kino releases ("A Girl Walks Home Alone at Night", "Brick", and "Hannibal").

Chan-wook Park is a director of such talent that the faults of this Kino disc, however egregious, fall by the wayside as you get enveloped in the story. Until a better Blu-ray transfer comes along, this will have to suffice. To fans that had the previous Blu-ray, I don't see any reason to upgrade, aside from an exceptional brand new commentary track from Bryan Reesman that, for many, may be worth it.

Colin Zavitz

***

ADDITION: (July 2017) Palisades Tartan - Region 'B' - Blu-ray:

Thirst is a very visual film and the presentation is certainly advanced by the higher resolution image. Detail heightens and there is frequent depth. It looks significantly superior in-motion.

Palisades Tartan use a very robust DTS-HD Master track at 3144 kbps (24-bit) and it sounds very intense. The film has plenty of aggressive effects and the score, credited to Yeong-wook Jo (The Handmaiden, J.S.A.: Joint Security Area, Public Enemy, I'm a Cyborg, But That's OK, Old Boy, Thirst), adds further to the ominous thrills. This is a power track. Unlike the Universal, the Blu-ray has optional English subtitles and the disc is coded region 'B'.

Extras consist of a translated 1/4 hour Chan-wook Park interview by Jessica Mellor discussing his previous work and the popularity of Thirst. There is also 13-minutes of an edited Masterclass at NFTS with students asking questions. Lastly, is a trailer.

I revisited Thirst after many years and it still holds up well - an excellently realized horror with a romantic element. I loved the 'Priest' angle and there are some terrific sequences in the film. The Blu-ray is the way to go - very reasonably priced now and carrying plenty of value - absolutely recommended!

***

ON THE DVD: Focus Film / Universal have given us a reasonably strong progressive and anamorphic transfer to this dual-layered DVD. For SD quality the image is quite striking - strong detail and bright colors. There are few artifacts and noise is minimal. For this particular format the visual appearance is impressive.

Audio is a reasonably aggressive 5.1 track with a lot of boisterous effect sounds springing form corners of the room with a decent punch. We get a bit spoiled with lossless HD - but this Dolby track seems to hold its own - and then some - if not exhibiting the demonstrative range and depth of its superior cousin.

Regarding the subtitles - I couldn't remove the English no matter what I did - even through the menu - and the French or Spanish (if chosen) appear at the top of the frame in a larger font. It's not a huge issue but it seems an odd authoring glitch or the source print already had them fixed.

There are no extras at all which seems a bit disappointing considering the director's building reputation and following. I don't know if a commentary would be warranted but some form of 'making of..' or better yet - interviews.

For Chan-wook Park fans - this is another of his films that will get under your skin and stay there with some notable dark humor present. There is both sexual activity and violence so the R-rating is earned. Fans of the genre will definitely appreciate this one - recommended!