(Park Chan-wook, 2003)
Tartan Home Video (2-disc)
Review by Gary W. Tooze
1.85:1 1080p - 50 GB dual-layered and one standard DVD9 (dual-layered) - MPEG 4 AVC
1:59:44
Audio: Korean DTS HD Master Audio Digital Surround 7.1, Korean Dolby Digital-Ex 5.1 Surround, Korean Dolby Digital 2.0 Stereo, DUBs: English Dolby Digital 5.1 Surround, English Dolby Digital 2.O Stereo
Subtitles: English, none
Extras:
• Audio commentary by Park Chan-wook
• Audio commentary by Park Chan-wook and Jeong Jeong-hun
• Audio commentary by Park Chan-wook and selected Cast
• Trailer
• Disc 2:
• Flash (22:57)
• The Cast Remembers (10:58)
• Production Design (13:14)
• CGI featurette (7:10)
• The Music Score (16:50)
• Le Grand Prix at Cannes (8:51)
• Exclusive interview with Park by Mark Salisbury (22:13)
• 11 Interviews with director, writer, cast and crew (41:20)
• 10 Deleted Scenes with optional audio commentary by Park (24:17)

Released: November 6th, 2007
Blu-ray case
14 chapters
Product Description:
Oh Dae-su is an ordinary Seoul businessman with wife and little daughter who. After a drunken night on the town, is abducted and locked up in a strange and private "prison." No one will tell him why he's there and who his jailer is. His fury builds to a single-minded focus of revenge. 15 years later, he is unexpectedly freed, given a new suit, a cell-phone and 5 days to discover the mysterious enemy who had him imprisoned. Seeking vengeance on all those involved, he soon finds that his enemy's tortures are just beginning.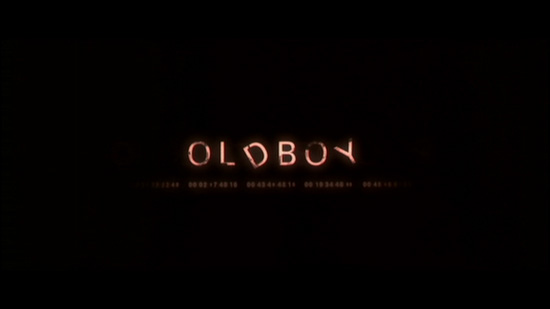 Oh Dae-su is an ordinary man, who one day is kidnapped and imprisoned in a hotel room for 15 years, then one day, just as sudden as he was kidnapped, is released, with new clothes, money and a cell phone. Thus begins Oh Dae-su's search for an explanation, for who was behind it and for revenge. But this is just the second part of the plan, the kidnapper has for Oh Dae-su.

Winner of the Grand Prix de Jury in Cannes, "Oldboy" is Park's today most complex and cruel film. Where all his films study cause and effect, "Oldboy" is a Kafka-ian ping pong game.

Park has always created extremely fascinating visuals, and here, as the book is based upon a comic book, he goes over the edge, literary adapts comic compositions to the screen in terms of mise-en-scene, and creating his to date most visual film, which has to be seen on the big screen to be experienced at full force.

Interesting is Park's directorial choices. He did chose a very popular comic and did cast the two most popular actors in Korea, but never altered his auteurist signature nor his leitmotif. As such, one can see this as an attempt to create an auteurist blockbuster.

Be advised to ignore the rave from Tarantino about this film, as it reduces the quality of the film. Instead, sit back and enjoy one of Korea's greatest filmmakers taking you on a roller coaster ride. Park is not everyman's taste, but an acquired taste, which ones you get the hang of it, never can let go again.
Video:
While I've never been keen on the film - I was interested to see a BRD by Tartan. I don't know positively, but suspect this might be their first 'kick at the can'. This is probably one of their biggest sellers in SD (compared HERE) so it would seem expected that it might reach high-definition one day if the company was to venture into this new format production.
As the film incorporates a number of cinematographic techniques it is hard to critique the image quality with any assurance. I did not see this theatrically and can make no comparisons excepting to the SD DVD(s) of the film that I own. The wild swings from adeptly contrasted and detailed visuals to an intensely grainy appearance with intentional blurriness are all exemplified by the blu-ray MPEG 4 AVC compression. Everything tends to look more so - colors are brighter, detail is superior but not extravagantly so and the grainy sequences look like they have been projected on a thick carpet (it reminded me of Eyes Wide Shut on hi-def in that regard). I can't be positive, but I did note what seemed to be a flaw when the titles credits were shown - there was a bluish sheen infiltrating the image on the right hand side of the screen. This doesn't appear again throughout the film
. Again, it may have been intentional and not picked up fully on SD. Digital noise is far less on the BRD than the SD(s) and although noticeable at times is unusual if not distracting upon the narrative. Overall, the image has some consistently strong moments but never reproduces the 3D depth that we come to associate with exceptional high-definition. Saying that though it does look very strong and I hope the captures below bear that out to some degree.
Screen Captures
Subtitle Sample
Intense grainy look... (intentional)
Audio:
I never remember the audio in SD sounding this good. It actually eclipses the strong image. Typical of Tartan there are a number of state-of-the-art options including Korean DTS HD Master Audio Digital Surround 7.1, Korean Dolby Digital-Ex 5.1 Surround, Korean Dolby Digital 2.0 Stereo, DUBs: English Dolby Digital 5.1 Surround, English Dolby Digital 2.O Stereo. I didn't test all but the DTS was up to the challenge of the films track. It wrestled it to the ground and presented it with the utmost fervor. Thumbs up indeed!
Optional English, subtitles (see above) in a white font with black border support the dialogue. Only thing is they are definitely a bit small but the white is bright enough to easily distinguish dialogue.

Extras:
Taken from both the PAL and NTSC SD DVDs the extras the film is accompanied by three audio commentaries. Best of these is the solo Park commentary, where he discusses the film itself, next is the director / cinematographer commentary, which notes upon the technical aspects, and finally the director / cast commentary, which is very chatty and sort of "lets say something". There are also 10 deleted scenes with optional Park commentary.

On disc 2 (Standard Definition disc) we first have 48-minutes of production of production featurettes. In general can be said, that the more specific the topic is, the better they are. Next comes interviews, where the main interview is a by Tartan for the SD DVD made 22 minute interview with Park, and 10 deleted scenes with optional audio commentary by Park. Also included is the Le Grand Prix at Cannes footage (8:51).
Menus
Disc 2
BOTTOM LINE: I have some trouble believing that the supplements on the standard-def disc 2 couldn't have fit on the main BRD with the feature film but certainly the expanse of supplements (even though they are from the previous SDs) is a worthy touch.
The film? - well, I've never warmed to it totally (does anyone actually 'warm' to this film?) but enjoyed it more watching this new BRD than ever before - especially appreciating the music and audio. Zealous fans of the film may wish to indulge in this DVD that for the most part seems to project the most accurate theatrical appearance of the movie with all its intentional obtuse visual expressions. So I guess that's a thumbs-up!