Review by Gary Tooze
Production:
Theatrical: Frisco Productions Limited
Video: Severin Films
Disc:
Region: 'A' (as verified by the Oppo Blu-ray player)
Theatrical Runtime: 1:17:46.662 / Video Runtime: 1:27:05.386
Disc Size: 48,562,004,136 bytes
Theatrical Feature Size: 19,801,393,152 bytes
Video Feature Size: 21,895,391,232 bytes
Video Bitrate: 30.00 Mbps
Chapters: 8 / 8
Case: Standard Blu-ray case
Release date: May 30th, 2017
Video:
Aspect ratio: 1.78:1
Resolution: 1080p / 23.976 fps
Video codec: MPEG-4 AVC Video
Audio:
Theatrical:
DTS-HD Master Audio English 1994 kbps 2.0 / 48 kHz / 1994 kbps / 24-bit (DTS Core: 2.0 / 48 kHz / 1509 kbps / 24-bit)
Dolby Digital Audio English 192 kbps 2.0 / 48 kHz / 192 kbps
Video Version:
DTS-HD Master Audio English 1621 kbps 2.0 / 48 kHz / 1621 kbps / 16-bit (DTS Core: 2.0 / 48 kHz / 1509 kbps / 16-bit)
Dolby Digital Audio English 192 kbps 2.0 / 48 kHz / 192 kbps
Subtitles:
English, None (on theatrical only)
Extras:
•
Monster Kid: interview With Writer / Producer Frank R. Saletri's Sister, June Kirk (19:02)

•
Archive News Broadcast On The Murder Of Writer / producer Frank R. Saletri (6:17)

•
Producers / Directors / Actors Ken Osborne And Robert Dix Remember Writer / Producer Frank R. Saletri (6:36)

•
Bill Created Blackenstein: interview With creature designer Bill Munns (9:13)

•
Theatrical Trailer (3:24)
Bitrate:
1) Severin (theatrical) - Region FREE - Blu-ray - TOP
2) Severin (Video release) - Region FREE - Blu-ray - BOTTOM
Description: You may have heard of this infamous Blaxploitation/Horror hybrid, but the real story is even more bizarre: In 1973, criminal-lawyer-turned-wannabe-monster-movie-mogul Frank R. Saletri wrote and produced this grindhouse hit about a Black soldier mortally wounded in Vietnam transformed into a rampaging monster by an L.A. mad scientist. Almost a decade later, Seletri himself would be murdered gangland-style in a crime that remains debated and unsolved to this day. John Hart (TV's "The Lone Ranger"), 40s Hollywood starlet Andrea King (THE BEAST WITH FIVE FINGERS) and even former mob moll/stripper Liz Renay (DESPERATE LIVING) star in this jaw-dropper directed by William A. Levey (THE HAPPY HOOKER GOES TO WASHINGTON), now restored with all-new Special Features that spotlight the entire twisted saga!
The Film:
This re-telling of the Hollywood version of "Frankenstein" (not to be confused with Mary Shelley's version) is the story of Eddie Turner (Joe De Sue in his only film role), a Vietnam veteran who lost his arms and legs when he stepped on a land mine. When he is returned to a U.S. hospital his fiancÚ, Dr. Winifred Walker (the lovely Ivory Stone, also in her only film role), seeks the assistance of a renowned physician who is experimenting with organ transplants. She pays a visit to this doctor, Dr. Stein (John Hart, better known to many of us as The Lone Ranger for season 3 and part of season 4 of the TV series) and learns that he has indeed been able to successfully attach new limbs to patients by using special injections of DNA and RNA on a daily basis to keep the new limbs animated and growing. Some of his early experiments resulted in some deformity as a side effect, but he has now solved that problem. Dr. Stein agrees to take Eddie on as a new patient, with Winifred assisting in the procedure.
Excerpt from BadMovieReview located HERE
The film features one "Dr. Stein," who's using his "DNA formula" to help a black man regenerate his limbs, which were blown off in combat. To give you an example of how utterly wrong BLACKENSTEIN gets everything, we are informed early on that Dr. Stein won the Nobel Peace Prize for his work in medicine. Repeat: The Nobel Peace Prize.

In any case, Dr. Stein manages to work wonders in his retro-mad-scientist lab (e.g., lots of electro-whatevers making zap noises): His patient gets his arms and legs back--and becomes...Blackenstein!
Excerpt from eFilmCritic located HERE

Image : NOTE: The below Blu-ray captures were taken directly from the Blu-ray disc.
The auspicious title, Blackenstein, arrives on Blu-ray from Severin Films offering both the 78 minute Theatrical release version and the 87-minute Video release version of the film in separate (non-seamlessly-branched) transfers. This dual-layered Blu-ray, with very high bitrate, in 1080P resolution, can't overcome the poor quality of the source materials. While the, shorter, theatrical version has some inconsistencies, the 'Video' release version has even more and starts with this screen: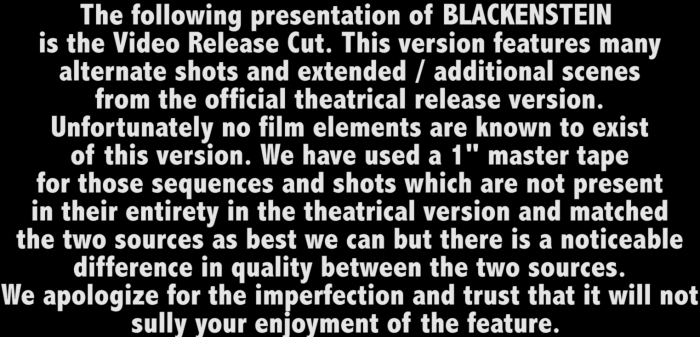 We've compared three captures below of the two version and, for the most part, the image quality is the same, but - as you can see in the third set of captures - the 'Video' version has some more noticeable artifact weaknesses. To be fair, a glossy, pristine, image quality wouldn't, at all, suit the film presentation and the fluctuations seem both appropriate and fitting to the production, which may have even had these anomalies originally. For the majority of the film, the quality is acceptable and occasionally pleasing with reasonable colors, impressive detail and some depth exported in the 1.78:1 aspect ratio.
CLICK EACH BLU-RAY CAPTURE TO SEE ALL IMAGES IN FULL 1920X1080 RESOLUTION
1) Severin (theatrical) - Region FREE - Blu-ray - TOP
2) Severin (Video release) - Region FREE - Blu-ray - BOTTOM
1) Severin (theatrical) - Region FREE - Blu-ray - TOP
2) Severin (Video release) - Region FREE - Blu-ray - BOTTOM
1) Severin (theatrical) - Region FREE - Blu-ray - TOP
2) Severin (Video release) - Region FREE - Blu-ray - BOTTOM
Audio :
DTS-Master 2.0 channel - 24-bit for the theatrical and 16-bit of the video version. The score is credited to Cardella Di Milo (an actress in The Human Tornado and Dolemite), who wrote and performed I Can't Find No One to Love Me in Blackenstein, and Lou Frohman, who also composed for The Slime People. Some viewers may recognize Mozart's Divertimento No. 17, K. 334, v. Menuetto played during the dinner scene with Dr. Walker and Dr. Stein, in the first dozen minutes. There is a nightclub sequences with a comedian and a musical performance that sounds a bit ripe - even in the lossless. There are optional English subtitles for the theatrical version and my Oppo has identified it as being a region FREE - playable worldwide.
Extras :
Severin add some supplements. Monster Kid is a 19-minute interview with writer / producer Frank R. Saletri's sister, June Kirk discussing her brother, his work and, unsolved, murder. There is also an archive news broadcast on Saletri's murder by a single gunshot wound to the head in his Hollywood Hills home. It runs over 6-minutes. There is another 8-minutes with Ken Osborne and Robert Dix remembering Saletri and 9-minutes of a piece entitled Bill Created Blackenstein talking with creature designer Bill Munns. Lastly, is a theatrical trailer.
BOTTOM LINE:
Blackenstein is a cool, stolen, concept for Blaxploitation but a less-effectual production. Saletri allegedly directed a 1975 feature film, with an equally intriguing title "Black the Ripper", although it remains a mystery as to whether or not it was ever actually completed. Blackenstein has enough of the genre/era appeal to intrigue and I liked Ivory Stone, although I wonder what ever happened to her. This Blu-ray package is targeted to a very specific group - and they shouldn't be without Blackenstein in their collection. Needless to say, if you have too many expectations, based on the curious title, you
may be let down... but part of the charisma is the film's low budget and imperfections. Nice to have both versions available on the
Blu-ray
and the extras also add value. Strangely, recommended!
Gary Tooze
May 17th, 2017