Review by Gary Tooze
Production:
Theatrical: Comedian International
Video: Vinegar Syndrome
Disc:
Region: FREE! (as verified by the Oppo Blu-ray player)
Runtime: 1:36:17.897
Disc Size: 48,781,691,836 bytes
Feature Size: 27,558,951,744 bytes
Video Bitrate: 34.98 Mbps
Chapters: 5
Case: Transparent Blu-ray case
Release date: May 31st, 2016
Video:
Aspect ratio: 1.85:1
Resolution: 1080p / 23.976 fps
Video codec: MPEG-4 AVC Video
Audio:
D
TS-HD Master Audio English 1104 kbps 1.0 / 48 kHz / 1104 kbps / 24-bit (DTS Core: 1.0 / 48 kHz / 768 kbps / 24-bit)
Commentary:
Dolby Digital Audio English 192 kbps 1.0 / 48 kHz / 192 kbps / DN -4dB
Subtitles:
English (SDH), None
Extras:
•
"I, Dolemite II" making-of documentary (17:46)
•
Soundtrack
•
Radio Spot
•
"Der Bastard" - German dubbed version (1:24:34)
•
Commentary track w/ Rudy Ray Moore's biographer, Mark Jason Murray and co-star Jimmy Lynch
•
Audio interview w/ director Cliff Roquemore and martial arts champion Howard Johnson
•
Original theatrical trailers for both DOLEMITE (2:55) & THE HUMAN TORNADO (2:54)
•
Original cover artwork by Jay Shaw
•
Reversible cover artwork
• Second disc DVD
Bitrate:
Description: Dolemite (Rudy Ray Moore) is back and badder than ever in The Human Tornado! After being run out of town by a racist sheriff, Dolemite returns to LA only to discover that Queen Bee's (Lady Reed) club has been taken over by the mafia. On top of that they have also kidnapped two of Queen Bee's top girls! With the law hot on his tail, Dolemite rounds up the toughest Kung-Fu fighting badasses in Southern California to take on the mob, culminating in one of the craziest surprise endings in blaxploitation film history!
Wilder and more over the top than its predecessor, The Human Tornado is a non-stop assault on the senses, combining comedy, action, horror, and jaw dropping weirdness, featuring supporting performances from Ernie Hudson, Jimmy Lynch and world karate champion Howard Jackson. Vinegar Syndrome proudly presents The Human Tornado on Blu-ray, restored from original 35mm vault elements!
The Film:
In this violent comedy, the sequel to Dolemite, the rotund rapster must hit the road for California after an Anglo sheriff finds him fooling around with his wife. Once there he gets involved with a sexy, hard-living madame and her flock of kung fu fighting females who are fighting a ruthless local gangster. The fugitive gets a few licks in too, unfortunately, just as he is about to celebrate his victory he is shot by the angry sheriff. Fortunately, the Human Tornado is not easily killed as he was wearing a bullet proof vest.
Excerpt from Barnes & Noble located HERE
The Human Tornado is more cartoonish and straight-up crazy than Dolemite was, but it's not quite as mind-blowingly awesome as the original. I think the movie's main flaw is that it's heavily padded with way too many musical performances and scenes of Dolemite doing his nightclub act. All of this shit slows the beginning of the movie down and it takes a while to regain its footing.

Despite that, The Human Tornado offers a generous helping of awesomeness. It's got a bunch of fast-motion Kung Fu fights, a terrific theme song, and plenty of WTF imagery. (There's a bizarre fantasy sequence where a white woman imagines three black bodybuilders coming out of a toy box.) And of course, it has Moore kicking ass and saying funny rhymes. My favorite: "He caught me with his wife now he wants to take my life! He thinks he's bad! He's got no class! I'll rock this shotgun up his muthafuckin' ass!"

Before They Were Famous Alert: Look for a pre-Ghostbuster Ernie Hudson as part of Dolemite's entourage.
Excerpt from TheVideoVacuum located HERE
Image : NOTE: The below Blu-ray captures were taken directly from the Blu-ray disc.
The Human Tornado comes to Blu-ray from Vinegar Syndrome looking a little stronger than their Dolemite from earlier this year. Generally I'd the say the quality is impressive considering the film's low budget and age. This is dual-layered with a max'ed out bitrate and is surely as good as the film will ever look on digital. There isn't much damage. They include "Der Bastard" - German dubbed version - which is fun, along with the 1.85:1. This 1080P Blu-ray image is very competently transferred and occasionally shows depth and colors are brighter than I would have thought.
CLICK EACH BLU-RAY CAPTURE TO SEE ALL IMAGES IN FULL 1920X1080 RESOLUTION
Audio :
The film's audio is transferred in a DTS-HD Master 1.0 channel mono track at 1104 kbps (24-bit). It's predictably flat and the film has minimal effects. The funk-leaning score is by Arthur Wright (Dolemite also on his resume). It does pack some depth (24-bit) and, again, probably sounds as good as the film ever will. There are optional English (SDH) subtitles.
My
Oppo
has identified it as being a region FREE disc playable on
Blu-ray
machines worldwide.
Extras :
Vinegar Syndrome include a historical commentary track by Rudy Ray Moore's biographer, Mark Jason Murray and co-star Jimmy Lynch. There is a continuation of the documentary from Dolemite entitled "I, Dolemite II" with some making-of aspects of the film and it runs over of 17-minutes. As well as get the aforementioned "Der Bastard" - German dubbed version of The Human Tornado. I found it quite amusing. There is an audio interview w/ director Cliff Roquemore and martial arts champion Howard Johnson, as well as Radio Spots and access to the soundtrack. There are trailers for both Dolemite and The Human Tornado. The original cover art is by Jay Shaw and includes reversibility in the transparent keep case. A second disc, DVD, is included.
| | |
| --- | --- |
| | |
| | |
| --- | --- |
| | |
| | |
| --- | --- |
| | |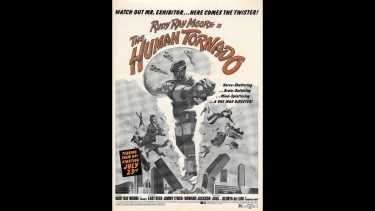 BOTTOM LINE:
Like Dolemite, The Human Tornado is less-polished, and actually uncomfortably more violent than the first entry, exporting a raw feel unlike some of the Pam Grier-centric Blaxploitation films we've covered (Black Mama, White Mama, Sheba, Baby, Foxy Brown, Coffy, Blacula etc. eventually mocked in films like Black Dynamite) - but it carries some of the same less tangible appeal with the inferior yet charismatic production values. The Vinegar Syndrome Blu-ray follows in the vein of their Dolemite package. It's all at once funny, nostalgic and defining its own sub-genre. It's narrow audience but those keen will be very pleased with the experience.
Gary Tooze
May 29th, 2016