Review by Gary Tooze
Production:
Theatrical: Milestone Film & Video
Video: Milestone Films
Disc:
Region: FREE (as verified by the Oppo Blu-ray player)
Runtime: 2:08:22.416
Disc Size: 38,121,966,748 bytes
Feature Size: 37,305,569,280 bytes
Video Bitrate: 34.90 Mbps
Chapters: 14
Case: Standard Blu-ray case
Release date: March 7th, 2017
Video:
Aspect ratio: 1.33:1
Resolution: 1080p / 23.976 fps
Video codec: MPEG-4 AVC Video
Audio:
DTS-HD Master Audio English 1608 kbps 5.1 / 48 kHz / 1608 kbps / 16-bit (DTS Core: 5.1 / 48 kHz / 1509 kbps / 16-bit)
Subtitles:
• English, French, German, Spanish, and Portuguese, None
Extras:
• The Street Scene: A Lost Scene Reconstruction from the Film Outtakes (6:09)
• What if E's eyes were closed? Audio Recordings of Beckett, Kaufman, Rosset and Schneider (6:43, with English captioning)
• Buster Keaton and Film: James Karen in Conversation (41:51)
• Memories of Samuel Beckett: An Afternoon with James Knowlson (8:00)
• Jean Schneider: Memories of Alan Schneider (11:01)
• Jeannette Seaver: Beckett and Godot (4:13)
• Photographing Film Photographing Beckett: Steve Schapiro and I.C. Rapoport in conversation (6:41)
• Photo Gallery The Music of Notfilm: Downloadable MP3 Recordings by Mihály Víg
Bitrate:
Description: NOTFILM is Ross Lipman's acclaimed kino-essay on the making and meaning of FILM by Samuel Beckett. Unlike any other film for its in-depth, mesmerizing analysis of one short film, it has been acclaimed by critics and audiences everywhere. Lipman's obsession with FILM began when, as a teenaged cinephile, he first learned that Irish Nobel Prize-winning playwright Samuel Beckett had written a short that starred silent film genius Buster Keaton. Decades later, Lipman, now an accomplished film restorationist, jumped at the chance to preserve Film and to meet and talk with the extraordinary man who produced it, maverick publisher and First Amendment champion Barney Rosset. During a visit to Rosset's NYC loft, Lipman asked if there was any extra footage from the 1964 shoot. The reels that he discovered under the sink in the publisher s kitchen started Lipman on the long road from Film to Notfilm. For more than seven years he traveled the world interviewing friends, family, and collaborators including Beckett s biographer James Knowlson, film historian Kevin Brownlow, actress Billie Whitelaw, Keaton s friend (and actor in Film) James Karen, and writer Leonard Maltin who visited the set as a star-struck 14-year-old Buster fan. Lipman s long fascination and tireless efforts have resulted in Notfilm, a film exploration that is mesmerizing, entertaining and timeless.
The Film:
A thoughtful, incisive meditation on its decades-old events, "Notfilm" is gossipy and philosophical by turn, joining microscopic analysis of the filmmakers' lofty intentions with juicy morsels of information about exactly what happened when theory met practice on the steamy summer streets of New York City where "Film" was shot.

Though Beckett, Keaton and "Film's" director Alan Schneider were long dead when Lipman began his work, and producer Barney Rosset in precarious health, the director found ingenious ways around those gaps.

Not only did he interview people with unlikely connections to "Film" — the great cinematographer Haskell Wexler turned out to be Rosset's childhood friend, historian Kevin Brownlow had talked to both Beckett and Keaton about the project, critic-historian Leonard Maltin visited the "Film" set as a mere lad of 13 — Lipman also made a major archival discovery.
Excerpt from LATimes located HERE
The confluence of Keaton and Beckett, two of the greatest theatrical geniuses of the 20th century, should have given rise to something more estimable than this pretentious, high-flown art thing, but despite that, the film – or should I say Film – has its undeniable fascinations.

Ross Lipman, the much-admired film preservationist making his directing debut, would certainly agree. His seven years of painstaking detective work investigating the history of how "Film" was made has paid off in his own film "Notfilm." He may share some of the same philosophical pretensions as Beckett and Schneider, but how else could he have justified devoting so much time to such an enterprise? And he's smart enough to include naysayers into the mix, including Keaton himself, to balance out all the metaphysical hoo-ha. When Keaton, after seeing the finished film, was asked to comment, he said, "I was confused when I shot it and I'm still confused." Amen to that.
Excerpt from CSMonitor located HERE

Image : NOTE: The below Blu-ray captures were taken directly from the Blu-ray disc.
Notfilm looks excellent on Blu-ray from Milestone Films. This is dual-layered with a max'ed out bitrate for the 2-hour film. It's filled with old clips that, obviously, vary in image quality but many are very impressive in contrast and detail. The more modern interviews are all black and white maintaining a continuity with the vintage film sequences. The Blu-ray can't be criticized for the visuals and I was mesmerized by the appearance - infusing memorable clip after clip of important past cinema. I thought it looked fabulous.
CLICK EACH BLU-RAY CAPTURE TO SEE ALL IMAGES IN FULL 1920X1080 RESOLUTION
Audio :
Milestone use a DTS-HD Master 5.1 surround at 1608 kbps (16-bit). It is mostly narration, interviews and a contemplative score by Mihály Vig ( Béla Tarr's The Turin Horse, The Man from London, Werckmeister Harmonies) that sounds excellent in lossless
. the piecs used are available to listen via the menu of to download as
MP3s.
We are offered
English, French, German, Spanish, and Portuguese subtitle options and m
y
Oppo
has identified it as being a region FREE disc playable on
Blu-ray
machines worldwide.

Extras :
Milestone add a second, single-layered, Blu-ray disc of supplements. The Street Scene: A Lost Scene Reconstruction from the Film Outtakes runs for over 6-minutes. What if E's eyes were closed? includes almost 7-minutes of audio recordings of Beckett, Kaufman, Rosset and Schneider - to a blank screen with optional English subtitles. Buster Keaton and Film: has James Karen in conversation for shy of 3/4 of an hour and it's excellent and informative. Memories of Samuel Beckett spends an afternoon with James Knowlson running 8-minutes. Jean Schneider shares memories of Alan Schneider for over 11-minutes. Jeannette Seaver: Beckett and Godot runs 4-minutes and there is a 7-minute piece on Photographing Film Photographing Beckett with Steve Schapiro and I.C. Rapoport in conversation plus a Gallery The Music of Notfilm both available from the menu or downloadable MP3 Recordings by Mihály Víg from the root folder of the disc.
| | |
| --- | --- |
| | |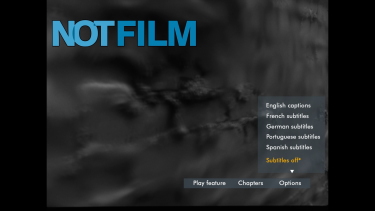 | | |
| --- | --- |
| | |
| | |
| --- | --- |
| | |
| | |
| --- | --- |
| | |
| | |
| --- | --- |
| | |
| | |
| --- | --- |
| | |
| | |
| --- | --- |
| | |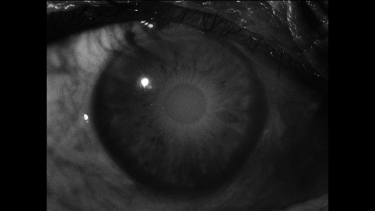 BOTTOM LINE:
Notfilm is brilliant. It's a film loaded with research and becomes an engrossing, fascinating treatise on a highly interesting topic. Tailor-made for serious and casual film fans. I really enjoyed my viewing. The Milestone Blu-ray package is equally impressive with the second disc of supplements and bringing this clandestine film to 1080P and film aficionados. I am very appreciative and this gets our highest recommendation! Buy and enjoy!
Gary Tooze
March 18th, 2017