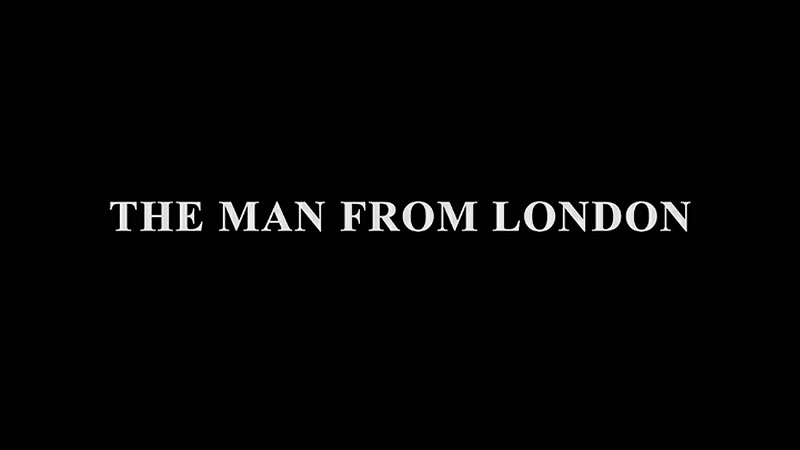 (aka "A londoni férfi" )


France | Germany | Hungary 2007
Maloin leads a simple life without prospects at the edge of the infinite sea; he barely notices the world around him, has already accepted the slow and inevitable deterioration of life around him and his all but complete loneliness.

When he becomes a witness to a murder, his life takes a sudden turn. He comes face to face with issues of morality, sin, punishment, the line between innocence and complicity in a crime, and this state of scepsis leads him to the ontological question of the meaning and worth of existence.

The film is about desire, man's indestructible longing for a life of freedom and happiness, about illusions never to be realised – about things that give all of us energy to continue living, to go to sleep and get up day after day... Maloin's story is ours – all of those who doubt and are able to question our humdrum existence.
Poster
Theatrical Release: France 23 May 2007 (Cannes Film Festival)
Reviews More Reviews DVD Reviews
DVD Comparison:
Artificial Eye - Region 0 - PAL vs. Paradox - Region 1 - NTSC
Big thanks to Per-Olof Strandberg for the AE Review!
Artificial Eye - Region 0 - PAL LEFT vs. Paradox - Region 1 - NTSC RIGHT
DVD Box Cover

Distribution

Artificial Eye

Region 0 - PAL

Paradox

Region 1 - NTSC

Runtime
2:13:26 (4% PAL speedup)
2:18:55
Video

1:1.66 Original Aspect Ratio

16X9 enhanced
PAL 720x576 25.00 f/s

1:1.66 Original Aspect Ratio

16X9 enhanced
Average Bitrate: 6.29 mb/s
NTSC 720x480 29.97 f/s

Bitrate: Paradox
Audio
English; French (Dolby Digital 2.0)
English; French (Dolby Digital 2.0)
Subtitles
English (only on the French parts), None
English (only for the French)
Features
Release Information:
Studio: Artificial Eye

Aspect Ratio:
Widescreen anamorphic - 1:1.66

Edition Details:
• Interview (16:01)

DVD Release Date: 6 April 2009
Transparent keep-case

Chapters 12

Release Information:
Studio: Paradox

Aspect Ratio:
Widescreen anamorphic - 1:1.66

Edition Details:
• None

DVD Release Date: August 24th, 2010


Standard keep-case

Chapters 16
Comments

ADDITION: Paradox (Canada) - Region 1 - NTSC: Being a Canadian-only release (so far) this Paradox edition (logos for 'E1 Entertainment' abound) passed under our radar. But the comparison story is a short one. This IS from an NTSC source - see running times - anamorphic, correct 1.66, and dual-layered - taking up 6.81 Gig of the disc. You would have to have a pretty discerning system to notice any strong image quality differences. The Paradox seems a shade blockier with some artefacts in darker sequences but it generally gives a good presentation. Although it claims the English subtitles are removable - they are burned-in and there are no extras. But here is the kicker - at the writing of this review the Artificial Eye DVD is less than 1/3rd the cost. It seems big price to pay for those sensitive to PAL speedup - and you'd miss out on the Tarr interview. We, obviously, recommend the Artificial-Eye - go for it.

ON THE UK DVD: Artificial-Eye gives THE MAN FROM LONDON an anamorphic transfer in its OAR 1:1.66 (black borders on the both sides) on a Dual Layered disc (occupying 6.72 Gb of size ) in PAL standard. The disc is region free, even though the back sleeve claims it's region 2.

There are certain artists that doesn't make compromises in their vision. Béla Tarr's THE MAN FROM LONDON is made for cinema, and should bee seen there. The transfer to digital media is full of limitations. This disc doesn't look its best even on a projector. The dark image with monochrome contrasts are hard to handle. The DVD looked far better on a bright TV display, that could handle the low level lighting. On the other hand, the rhythm of the film benefits from a bigger screen.

Most probably this disc is the best the film can look on SD. The image is mostly sharp, and it looks good especially on the daylight and bright indoor scenes. On a projector there appears a lot of film grain, that sometimes looks more like digital artifacts (See large capture # 3). Also many of the dark scenes has been brightened, so that there are at least some information left on the image (see # 4). Those who haven't the possibility to see this in a cinema shouldn't be afraid to buy the disc. I'm sure you get a better option only if the film appears on Blu-ray one day.

The only audio option is in Dolby Digital 2.0 (even tough Artificial-Eyes web sites claims there is a DD 5.1 mix). The sound is flawless, occasionally exporting a strong bass response.

There are only optional English subtitle for the French dialogue. The English dialog comes without subtitles.

On the extra material there is a interview with Béla Tarr(16:01)
---

DVD Menus
Artificial Eye - Region 0 - PAL LEFT vs. Paradox - Region 1 - NTSC RIGHT
| | |
| --- | --- |
| | |
| | |
| | |
| | |
---
Screen Captures
Artificial Eye - Region 0 - PAL TOP vs. Paradox - Region 1 - NTSC BOTTOM
Subtitle sample
---
Artificial Eye - Region 0 - PAL TOP vs. Paradox - Region 1 - NTSC BOTTOM
---
Artificial Eye - Region 0 - PAL TOP vs. Paradox - Region 1 - NTSC BOTTOM
---
Artificial Eye - Region 0 - PAL TOP vs. Paradox - Region 1 - NTSC BOTTOM
---
Artificial Eye - Region 0 - PAL TOP vs. Paradox - Region 1 - NTSC BOTTOM
---
Artificial Eye - Region 0 - PAL TOP vs. Paradox - Region 1 - NTSC BOTTOM
---
Artificial Eye - Region 0 - PAL TOP vs. Paradox - Region 1 - NTSC BOTTOM
---
DVD Box Cover

Distribution

Artificial Eye

Region 0 - PAL

Paradox

Region 1 - NTSC