Review by Gary Tooze
Production:
Theatrical: Figaro
Video: Twilight Time
Disc:
Region: FREE (as verified by the Oppo Blu-ray player)
Runtime: 2:02:04.108
Disc Size: 33,973,140,048 bytes
Feature Size: 32,712,671,232 bytes
Video Bitrate: 30.03 Mbps
Chapters: 24
Case: Transparent Blu-ray case
Release date: November, 2016
Video:
Aspect ratio: 1.85:1
Resolution: 1080p / 23.976 fps
Video codec: MPEG-4 AVC Video
Audio:
DTS-HD Master Audio English 1800 kbps 2.0 / 48 kHz / 1800 kbps / 24-bit (DTS Core: 2.0 / 48 kHz / 1509 kbps / 24-bit)
Isolated Score:
DTS-HD Master Audio English 1842 kbps 2.0 / 48 kHz / 1842 kbps / 24-bit (DTS Core: 2.0 / 48 kHz / 1509 kbps / 24-bit)
Subtitles:
• English (SDH), None
Extras:
•
Isolated Score Track with Audio Commentary Segment by Robert Wise Associate Mike Matessino

•
Original Theatrical Trailer (2:20)
• Liner notes by Julie Kirgo
Limited to 3,000 Copies!
Bitrate:
Description: I Want to Live! (1958) tells the brutal true story of a brazen bad girl (Susan Hayward, who won an Academy AwardŽ for her performance) who is implicated in murder and sent to death row, where she awaits the ghastly inevitable while a journalist (Simon Oakland) wages a campaign to save her life. The singular Robert Wise directs with almost unbearable, utterly brilliant tension. Highlighted by a jazz score from Johnny Mandel, available on this Twilight Time release as an isolated track.
The Film:
This film tells the riveting true story of brazen bad girl Barbara Graham (Susan Hayward, in an Academy Award-winning performance), a perpetual offender who tries to go straight but is sent to death row after being implicated in a murder. When journalist Ed Montgomery (Simon Oakland), whose initial newspaper articles on Barbara's crime played up her recklessness, becomes convinced that she may be innocent, he begins a desperate campaign to save her from the gas chamber
Excerpt from MRQE located HERE
One of the great anti-capital punishment movies, this is based on the life and death of Barbara Graham. At one time or another, Graham was convicted of prostitution, perjury, forgery, and finally murder. Basing their screenplay on contemporary newspaper files and her own letters, Nelson Gidding and Don Mankiewicz make no bones about Graham's anti-social tendencies, but conclude that she was probably innocent of the last charge. Wise paces the film so that the last half-hour, taking us into the gas chamber, is incredibly powerful, and Hayward won an Oscar for her unforgettable performance. The jazz score is by Johnny Mandel.
Excerpt from TimeOut located HERE

Image : NOTE: The below Blu-ray captures were taken directly from the Blu-ray disc.
I Want To Live! comes to Twilight Time Blu-ray in a dual-layered, 1080P transfer with their usual high bitrate. The black and white visuals are well-layered and there is some very consistent and gorgeous texture. It looks clean and consistent in-motion with no damage or speckles. I see no evidence of manipulation or noise and thee is some nice depth. This Blu-ray gives a fine presentation in the original 1.85:1 aspect ratio - probably as good as it will ever get for this film.
CLICK EACH BLU-RAY CAPTURE TO SEE ALL IMAGES IN FULL 1920X1080 RESOLUTION
Audio :
The DTS-HD Master 2.0 channel track at 1800 kbps (24-bit) sounds clean with a few richer moments in pushing the film's modest effects for modest depth. But benefitting most is Johnny Mandel's (Pretty Poison, Point Blank, Deathtrap, M*A*S*H, That Cold Day in the Park, Heaven with a Gun etc.) lively jazz score balanced nicely via the lossless rendering. There are optional English subtitles (SDH - sample above) and m
y
Oppo
has identified it as being a region FREE.

Extras :
Twilight Time include their usual isolated score track that includes an audio commentary segment by writer, film historian and preservationist Mike Matessino. There is also an original theatrical trailer. The package has some liner notes by Julie Kirgo and is limited to 3,000 copies.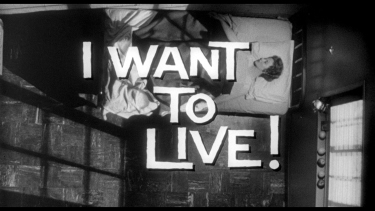 BOTTOM LINE:
I Want To Live! is an unusual, often over-the-top, film. I recall seeing a satire of it - maybe Second City? - that pokes fun at Hayward's... excessively glib portrayal and the film's heavy-handedness. It remains a highly interesting film if you buy into the envelope-pushed impressions ("No Dice!"). I liked it - with an occasional chuckle at I Want To Live!'s poetic license characterizations and lack of restraint. The Twilight Time Blu-ray provides a very good a/v transfer and further value with the isolated score - partial commentary - and liner notes. It's a great package of a rare, unbridled - documentary-like bio-expose - and a fascinating look at the penal system's, one time, end-game procedural nonsense - certainly recommended!
Gary Tooze
November 28th, 2016