Review by Gary Tooze
Production:
Theatrical: Tango Film
Video: Criterion Collection Spine #851
Disc:
Region: 'A' (as verified by the Oppo Blu-ray player)
Runtime: 2:04:10.484
Disc Size: 46,851,848,160 bytes
Feature Size: 36,931,762,176 bytes
Video Bitrate: 35.52 Mbps
Chapters: 20
Case: Transparent Blu-ray case
Release date: January 17th, 2017
Video:
Aspect ratio: 1.37:1
Resolution: 1080p / 23.976 fps
Video codec: MPEG-4 AVC Video
Audio:
LPCM Audio German 1152 kbps 1.0 / 48 kHz / 1152 kbps / 24-bit
Subtitles:
English, none
Extras:

• New interview with actor Harry Baer (16:56)
• New interview with filmmaker Ira Sachs (12:29)
• Excerpt from a 1975 interview with director Rainer Werner Fassbinder (5:09)
• Excerpts from a 1981 interview with composer Peer Raben (2:50)
• Trailer (3:16)
• PLUS: An essay by film critic Michael Koresky
Bitrate:
Description: A lottery win leads not to financial and emotional freedom but to social captivity, in this wildly cynical classic about love and exploitation by Rainer Werner Fassbinder. Casting himself against type, the director plays a suggestible working-class innocent who lets himself be taken advantage of by his bourgeois new boyfriend and his circle of materialistic friends, leading to the kind of resonant misery that only Fassbinder could create. Fox and His Friends is unsparing social commentary, an amusingly pitiless and groundbreaking if controversial depiction of a gay community in 1970s West Germany.
***
In this dark examination of love and money, Fox (Rainer Werner Fassbinder) is a young, gay member of the German working class. When he meets the older and dapper Max, who has upper-class roots, Fox thinks he may have found someone to help him out, but Max refuses to do so. However, this changes when Fox wins big on the lottery, and Max becomes friendlier and helps to reinvent Fox. But, in fact, Max and his friends are slyly trying to swindle him out of his new fortune
.
The Film:
Once again, Fassbinder plays the outsider, but this time he is the protagonist; Franz Biberkopf (nicknamed 'Fox') is the star attraction of the carnival, a young man who makes his living pretending to be a disembodied head, of which the crowd can ask any questions it likes. It's a powerful (if somewhat obvious) metaphor for the character's subsequent journey, where he becomes a dislocated presence on whom the other characters project their own hang-ups and anxieties.

His circus career is brought to an abrupt end when the sideshow owner Max (Karlheinz Böhm) is jailed for embezzlement and fix is forced to stay with his alcoholic sister Hedwig (Christiane Maybach). Already on the fringes of Munich's gay scene, he meets a series of well-heeled businessmen wishing to keep their preferences discreet. Among them is Eugen (Peter Chatel), a cultured aesthete with a boring day job at his father's struggling printing firm.
Excerpt from EyeForFilm located HERE
As usual with Fassbinder, Fox and His Friends proceeds with disarming directness – but at two hours the pacing of this "fist-fight for freedom" (the original German title) is relatively languid, so we have plenty of time to watch the precise gradations of Fox's decline. This is partly due to the fact that the director, after devoting a long sequence to Fox's pursuit of a lottery ticket (scraping together funds; hunting down the a kiosk just before it closes, etc), doesn't include the expected scene in which Fox learns of his win. Instead, he prefers to show, in excruciating detail, how Fox is embarrassed and cruelly patronised by his snooty pals' high-society ways, and also to precisely itemise every deutschmark that changes hands – at times it seems like the actors are working not from script but from ouble-entry balance-sheets.

The cumulative result is at once grittily realistic and oddly dreamlike, as if we're floating in one of Fox's escapist fantasies – a place where even the most opulent chandelier ends up being hung on far too low a ceiling, so that the inhabitants of this luxurious chamber are in constant danger of knocking themselves out cold.
Excerpt from JigsawLounge located HERE

Image : NOTE: The below Blu-ray captures were taken directly from the Blu-ray disc.
Fox and His Friends is transferred to Blu-ray from Criterion and is cited as a "New 4K digital restoration, undertaken by the Rainer Werner Fassbinder Foundation". It resides on a dual-layered Blu-ray, with max'ed out bitrate, reproducing a very strong 1080P presentation that has a shade of teal leaning. There is no real damage or speckles and colors are exported with an appealing brightness. The 1.37:1 visuals are a rich, an impressive representation - with texture and deep black levels.
CLICK EACH BLU-RAY CAPTURE TO SEE ALL IMAGES IN FULL 1920X1080 RESOLUTION
Audio :
Typically flat,
linear PCM mono track at 1152 kbps (24-bit) in the original German language. Dialogue can sound a bit scattered at times but I presume this to be inherent of intentional. The score is by
Peer Raben (
Tenderness of the Wolves,
Fassbinder's
Despair
,
Berlin Alexanderplatz
,
The Marriage of Maria Braun
,
In a Year with 13 Moons.
)
It consistently supports the film with a light 'joie de vivre' expression via the uncompressed. Some may pick up on Leonard Cohen's Bird On A Wire, Elvis Presley's One Night and Georges Moustaki's Rue des Fossés Saint-Jacques and Le Métèque. There are optional English subtitles and m
y
Oppo
has identified it as being a region 'A' disc.
Extras :
Supplements provide a new, 17-minute, interview with actor Harry Baer recorded by Criterion in Berlin in September 2016. There is also a Criterion-produced 13-minute interview with filmmaker Ira Sachs (Love Is Strange, Keep the Lights On) also recorded in late 2016. Included are 5-minutes worth of excerpts from a 1975 interview - from French TV - Pour Le Cinema - with director Rainer Werner Fassbinder discussing the connection between Fox and His Friends' commentary on class and homosexuality and his decision to play the lead role. It is in French and German with English subtitles. There are also some excerpts from a 1981 interview - an episode of the French television series Cinemania exploring Rainer Werner Fassbinder's impact on German cinema, composer Peer Raben briefly discusses his long-term collaboration with the filmmaker and how Fassbinder's love for cabaret music determined the sound of Fox and His Friends score. There is a theatrical trailer and the package has a liner notes booklet with an essay by film critic Michael Koresky.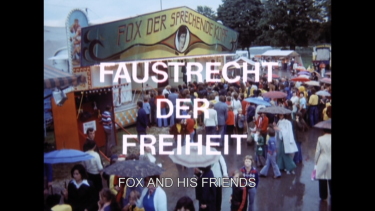 BOTTOM LINE:
What impressed me about Fox and His Friends - more socially-challenging cinema from Fassbinder - were the large number of interesting shots from legendary cinematographer Michael Ballhaus (The Bitter Tears of Petra von Kant, The Last Temptation of Christ, The Fabulous Baker Boys, Despair, After Hours etc.) - it makes the more dour parts of the film... beautiful. This Blu-ray package is another strong one from Criterion. For Fassbinder fans - it's a must own in 1080P and the rest can continue to marvel at his enigmatic cinema looking and sounding top-notch.
Gary Tooze
December 14th, 2016