NOTE: The below Blu-ray captures were taken directly from the Blu-ray disc.
ADDITION: Kino Lorber Blu-ray (April 2020): Kino have transferred Joseph Losey's Secret Ceremony to Region 'A' Blu-ray. The image colors, detail, contrast are all extremely comparable to the Indicator Blu-ray - also on a dual-layered disc with a max'ed out bitrate. But there is a slight framing difference with the UK rendering showing less information than the Kino. I don't know why but have identified it more easily in this animated gif: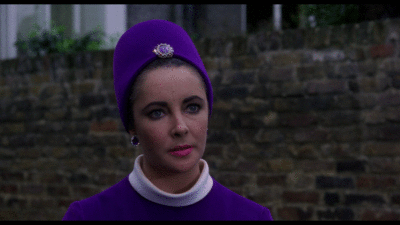 On their Blu-ray, Kino use a DTS-HD Master 2.0 channel track (but only 16-bit) in the original English language. It takes a small step behind the UK editions but the Richard Rodney Bennett score (Billy Liar Figures in a Landscape Far From the Madding Crowd, The Witches, Equus, The Man Who Could Cheat Death) still sounds full with a highly appealing and fitting haunting quality. Kino offer optional English subtitles on their Region 'A' Blu-ray.

The Kino Blu-ray includes a new audio commentary by film historian Tim Lucas who appropriately describes Secret Ceremony as 'strange and beguiling'. Quarantine is not so bad if you are privy to two Lucas commentaries in the same week! He shares details of Debenham House (or Peacock House) in London where the exteriors were filmed. He discusses Richard Rodney Bennett's score and also identifies that a belch onscreen was also in the novel. His 'degrees of separation' on the cast and crew spread far, but are always interesting with occasional anecdotal minutia. It is the type of commentary I would need to listen to multiple times to soak in all of the information. It's a brilliant dissertation on the film sprinkled with snippets of analysis and detailed descriptions of scenes - pretty much a perfect commentary, imo. There are also some trailers including one (in SD) for the film.

I don't consider the slight image discrepancies a deal-breaker by any stretch, but the Tim Lucas commentary would justify a double-dip as far as I am concerned. Losey's film gets better each time I indulge in it and with the included analysis only advances my appreciation. Region 'A'ers now have access to a Blu-ray with a stacked commentary. Absolutely recommended!

***

ADDITION: Indicator Blu-ray (October 2019): Indicator have transferred Joseph Losey's Secret Ceremony to Blu-ray. It shows much more information in the frame than the older DVD. Colors, contrast, grain support are demonstratively superior in 1080P that has 7X the bitrate of the PAL sped-up SD transfer. No contest - the very textured Blu-ray image is lush, rich and very film-like.

On their Blu-ray, Indicator use a linear PCM mono track (24-bit) in the original English language. It is another advancement in the film's audio and subtly mysterious score by Richard Rodney Bennett's (Figures in a Landscape Far From the Madding Crowd, The Witches, Equus, Billy Liar, The Man Who Could Cheat Death), sounding a bit deeper with more consistent dialogue. Indicator offer optional English (SDH) subtitles on their Region 'B' Blu-ray.

Indicator include a new audio commentary with authors and critics Dean Brandum and Alexandra Heller-Nicholas both Australian 'Losey-ologists' and they give a great analysis seeing rituals, repetition, power structure, role-playing and comparisons to Boom and The Servant. It is excellent and they really advanced my appreciation of Secret Ceremony from simply over-the-top pretentious camp. There is a 1/4 hour archival Interview with Joseph Losey from 1969 represented as an extract from the French television programme Cinéma critique, featuring the celebrated director promoting the release of Secret Ceremony and an appreciation by critic Michel Mourlet. The Beholder's Share is a new 25-minute interview with Gavrik Losey, son of Joseph Losey. Losey fans will love the inclusion of 18-minutes worth of the TV version's additional scenes that represent a unique epilogue and prologue produced for US television screenings, with Robert Douglas and Michael Strong. Included is an original theatrical trailer plus a 'TFH' Larry Karaszewski trailer commentary from 2015 where he gives a short critical appreciation. There is an extensive image gallery of promotional and publicity material and the extensive package contains a limited edition exclusive 40-page booklet with a new essay by Neil Sinyard, an archival location report, Joseph Losey on Secret Ceremony, a look at the source novella, an overview of contemporary reviews, and film credits.

Indicator keep hitting it out of the park.

I was not crazy about Secret Ceremony when I saw it on DVD but all the Joseph Losey's detail revealed in the commentary and extensive supplements make this Blu-ray essential - a very strong recommendation!