Review by Gary Tooze
Production:
Theatrical: Rusconi Film
Video: Eureka - Masters of Cinema - Spine #1
48
Disc:
Region: 'B'-locked (as verified by the Oppo Blu-ray player)
Runtime: 2:01:17.561
Disc Size: 44,963,229,596 bytes
Feature Size: 38,230,083,456 bytes
Video Bitrate: 35.41 Mbps
Chapters: 8
Case: Standard Blu-ray case
Release date: August 15th, 2016
Video:
Aspect ratio: 2.35:1
Resolution: 1080p / 23.976 fps
Video codec: MPEG-4 AVC Video
Audio:
LPCM Audio English 2304 kbps 2.0 / 48 kHz / 2304 kbps / 24-bit
LPCM Audio Italian 2304 kbps 2.0 / 48 kHz / 2304 kbps / 24-bit
Subtitles:
English (SDH), none
Extras:
• Interview with critic and screenwriter Alessandro Bencivenni (9:33)
• Luchino Visconti: The Quest for the Impossible (56:32)
• Trailer (3:43)

• PLUS: Booklet featuring a new essay by Pasquale Iannone
DVD included
Bitrate:
Description:
Eleven years after
The Leopard
, the revered Italian maestro Luchino Visconti reteamed with the iconic Burt Lancaster on the lavish Conversation Piece [Gruppo di famiglia in un interno].
A retired American professor (Lancaster) lives a solitary and luxurious life in a house in Rome. His world takes an unexpected turn when he is forced to rent part of his house to a countess and her companions: a lover, a daughter and the daughter's boyfriend. Forced into interaction with the unruly younger group, the professor's growing fascination begins to stir the possibilities of a life he had previously kept at arm's length.
A sumptuous, grandly enjoyable chamber drama with a wry sense of humour, Conversation Piece features an international ensemble cast including Helmut Berger, Silvana Mangano and Stefano Patrizi (with uncredited cameos by Claudia Cardinale and Dominique Sanda). The Masters of Cinema Series is proud to present Visconti's penultimate film in a new dual-format edition from a brand new 2K restoration.
The Film:
David Thomson has called Luchino Visconti's penultimate feature (1974) a "maudlin portrait" of the director's homosexual relationship with actor Helmut Berger; that may well be the case, but the film is at least as revealing in Visconti's conflicted response to his aristocratic roots. A retired American professor (Burt Lancaster) is hustled into renting an apartment on the top floor of his Roman palazzo to a haughty marchesa (Silvana Mangano); she promptly hands it over to her airy, bisexual lover (Berger), who scandalizes the professor with his sexual escapades (one involving the marchesa's daughter and her lover). Visconti rolls out some heavy left-wing proselytizing in the last half hour, but what really hits like a hammer is Lancaster's realization that these awful people are the only family he's got.
Excerpt from Jonathan Rosenbaum at the Chicago Reader located HERE
The film continues to explore concerns that occupied Mr. Visconti in both "The Leopard" and in his later, much less successful screen adaptation of "Death in Venice." The barbarians, the forces that represent social and political change and that acknowledge their physical passions, are attacking a citadel of the intellect, a place where reason has reigned at the cost of any possibility of love or commitment. It's one of Mr. Visconti's more dubious propositions that a person of taste and intelligence must always sleep alone in sterile splendor.

In "Conversation Piece" the citadel is the handsome old Roman palazzo owned by the Professor (Burt Lancaster), an aging, American-born, Romanbred art historian who devotes his life to his books, his paintings by Old Masters, and his stereo recordings of Mozart. His life is turned upside down when his house is invaded by the real world as represented by a rich, pushy, overdressed marquesa, played by Silvana Mangano, the wife of a Fascist industrialist, her teen-age daughter (Claudia Marsani), her young German lover (Helmut Berger) and her daughter's lover (Stefano Patrizi).
Excerpt from the NY Times located HERE

Image : NOTE: The below Blu-ray captures were taken directly from the Blu-ray disc.
Conversation Piece comes to Blu-ray from The Masters of Cinema group in the UK after being first released by both Raro and Gaumont (France). Unlike those this is cited as a "1080p transfer of the film from a brand new 2K restoration" and is dual-layered with a max'ed out bitrate. While not looking exceptional - it does offer an authentic representation - looking film-like - heavy with texture - in the original 2.35:1 aspect ratio. It's fairly flat but has a rich contrast and is consistent. This Blu-ray offers a valued HD presentation. Dynamically imperfect but pleasing.
CLICK EACH BLU-RAY CAPTURE TO SEE ALL IMAGES IN FULL 1920X1080 RESOLUTION
Audio :
We are given the option of an Italian audio track or English - both in linear PCM (24-bit).
Conversation Piece
was shot in English, dubbed in Italian, and subtitled back into English for its theatrical run. Viewers will appreciate the option. The score by Franco Mannino (Visconti's
L'innocente
, John Huston's
Beat the Devil
, and Riccardo Freda's
Murder Obsession
) buoys the narrative and the audio sounds clean with some richness.
There are optional English subtitles and m
y
Oppo
has identified it as being a region 'B'-locked.

Extras :
Masters of Cinema include some extras - a ten-minute, archival, interview with critic and screenwriter Alessandro Bencivenni and an almost hour-long documentary on the film - originally produced by Gaumont (France) and found on their Blu-ray edition. It offers interviews with Renata Franceschi, Helmut Berger and Stefano Patrizi, writer/director Jean-Claude Missiaen and others involved in the production. Plenty of detail and there are optional English subtitles. We also get a trailer and a liner notes booklet featuring a new essay by Pasquale Iannone. The Dual-Format edition includes a DVD.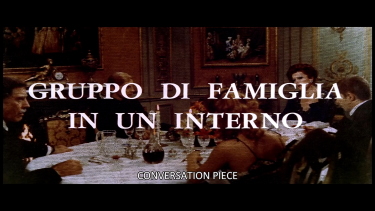 BOTTOM LINE:
Conversation Piece is a such an interesting film - and Lancaster gives another impressive performance. It's a rather disturbing mediation on solitude, bourgeoisie privilege and confronting reality. There is so much in this layered narrative. What a fabulous choice for MoC to release on Blu-ray. In its own superb and precise manner - the 1080P presentation is authentic and the package with extensive booklet, documentary, interview etc. makes a valued purchase - essential for Visconti fans. Very strongly recommended!
Gary Tooze
August 18th, 2016