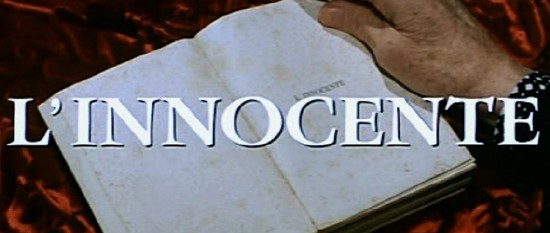 directed by Luchino Visconti
Italy 1976
Tullio (Giancarlo Giannini in a role meant for Alain Delon) is bored with his modest wife Giulianna (Laura Antonelli, VENUS IN FURS) and carries on an affair with wealthy widow Teresa (Jennifer O'Neill). When scandalized Giuliana takes a lover in young poet Filippo (Marc Porel, O'Neill's co-star in the following year's THE PSYCHIC/SETTE NOTE IN NERO), Tullio becomes jealous. When Giuliana then becomes pregnant, Tullio demonstrates the double standard of male and female infidelity and punishes her. Massimo Girotti (the male lead of Visconti's first film OSSESSIONE) co-stars along with CONVERSATION PIECE alumni Philippe Hersent and Elvira Cortese.

Visconti's last film (he died during the editing phase), L'INNOCENTE is as opulent as THE LEOPARD (a film it draws comparison to due to the period setting) with ravishing production values (all of the Visconti regulars are behind the camera from Pasqualino de Santis as cinematographer, production designer Marco Garbuglia, costume designer Piero Tosi, editor Ruggero Mastroianni, and composer Franco Mannino along with his long time screenwriting collaborators Suso Cecchi D'Amico and Enrico Medioli) and its attention not only to period detail but to the hypocritical social conventions of the day. The result is not a complete success (there are times when the languid pacing drags and this study of Italian masculinity and moral hypocrisy really feels more like a lavish soap opera than cinematic melodrama) but it is difficult to dismiss the last work of a director like Visconti.
Posters
Theatrical Release: May 14th, 1976 - Cannes Film Festival, France
DVD Comparison:
Koch Lorber - Region 1 - NTSC vs. Nouveau Entertainment Ltd - Region 2 - PAL
Big thanks to Eric Cotenas and Per-Olof Strandberg for the Screen Caps!
(Koch Lorber - Region 1 - NTSC - LEFT vs. Nouveau Entertainment Ltd - Region 2 - PAL - RIGHT)
DVD Box Covers

Distribution

Koch Lorber

Region 1 - NTSC

Nouveau Entertainment Ltd
Region 2 - PAL
Runtime
2:08:40
2:03:27 (4% PAL speedup)
Video

2.36:1 Original Aspect Ratio

16X9 enhanced
Average Bitrate: 5.55 mb/s
NTSC 720x480 29.97 f/s

2.33:1 Original Aspect Ratio
Average Bitrate: mb/s
PAL 720x576 25.00 f/s

NOTE: The Vertical axis represents the bits transferred per second. The Horizontal is the time in minutes.

Bitrate:

Koch Lorber

Bitrate:

Nouveau Entertainment Ltd

NO BIT RATE AVAILABLE

Audio
Italian (Dolby Digital 2.0 mono)

Italian (Dolby Digital 2.0 mono)

Subtitles
English, none
English (burnt-in)
Features
Release Information:
Studio: Koch Lorber

Aspect Ratio:
Widescreen anamorphic - 2.36:1

Edition Details:
• Interview with Suso Cecchi D'Amico (1:08:55)

DVD Release Date: March 10, 2009
Amaray

Chapters 16

Release Information:
Studio: Nouveau Entertainment Ltd

Aspect Ratio:
Widescreen letterboxed - 2.33:1

Edition Details:
• Photo Gallery


DVD Release Date: September 24, 2007
Amaray

Chapters 16
Comments

Originally announced in the early DVD days of Fox Lorber, Koch Lorber's disc runs longer than the UK disc suggesting it is not a PAL-NTSC transfer and the picture quality is certainly an improvement but the results still leave something to be desired. The image is a tad soft (pleasingly so in some shots like the beautiful closing one under the credits but many long shots suffer from lack of detail - and the costume and production designers put a lot of in the image) and the color saturation is not always consistent from scene to scene (and sometimes individual shots seem more faded or softer as if they came from another source). The image is brighter but only slightly more detailed than the 4:3 letterbox UK disc. While the film is dual-layered, it is also interlaced (though as noted above, it does not seem to be a PAL-NTSC transfer as ghosting is always evident). The Koch Lorber has optional subtitles while the 4:3 letterbox UK disc had burnt-in subtitles and the matting moved upwards on the screen to keep the subs out of the picture. The Australian R4 disc is anamorphic and has a choice of yellow or white subtitles but image quality is reportedly also poor. At the moment, this is probably the best the film can look.

While the UK disc only offered a still gallery, Koch Lorber's disc offers a 1+ hour interview with Visconti screenwriting collaborator Suso Cecchi D'Amico conducted by Carlo Lizzani in Italian with English subtitles.
---

DVD Menus
(Koch Lorber - Region 1 - NTSC - LEFT vs. Nouveau Entertainment Ltd - Region 2 - PAL - RIGHT)
---
Screen Captures
(Koch Lorber - Region 1 - NTSC - TOP vs. Nouveau Entertainment Ltd - Region 2 - PAL - BOTTOM)
Subtitle sample
---
(Koch Lorber - Region 1 - NTSC - TOP vs. Nouveau Entertainment Ltd - Region 2 - PAL - BOTTOM)
---
(Koch Lorber - Region 1 - NTSC - TOP vs. Nouveau Entertainment Ltd - Region 2 - PAL - BOTTOM)
---
(Koch Lorber - Region 1 - NTSC - TOP vs. Nouveau Entertainment Ltd - Region 2 - PAL - BOTTOM)
---
(Koch Lorber - Region 1 - NTSC - TOP vs. Nouveau Entertainment Ltd - Region 2 - PAL - BOTTOM)
---
(Koch Lorber - Region 1 - NTSC - TOP vs. Nouveau Entertainment Ltd - Region 2 - PAL - BOTTOM)