Review by Gary Tooze
Production:
Theatrical: Columbia Pictures Corporation
Video: Twilight Time
Disc:
Region: FREE (as verified by the Oppo Blu-ray player)
Runtime: 1:36:03.632
Disc Size: 42,206,027,552 bytes
Feature Size: 31,873,579,008 bytes
Video Bitrate: 29.99 Mbps
Chapters: 24
Case: Transparent Blu-ray case
Release date: August, 2016
Video:
Aspect ratio: 1.85:1
Resolution: 1080p / 23.976 fps
Video codec: MPEG-4 AVC Video
Audio:
DTS-HD Master Audio English 3092 kbps 5.1 / 48 kHz / 3092 kbps / 24-bit (DTS Core: 5.1 / 48 kHz / 1509 kbps / 24-bit)
DTS-HD Master Audio English 2090 kbps 2.0 / 48 kHz / 2090 kbps / 24-bit (DTS Core: 2.0 / 48 kHz / 1509 kbps / 24-bit)
Isolated Score:
DTS-HD Master Audio English 2123 kbps 3.0 / 48 kHz / 2123 kbps / 24-bit (DTS Core: 3.0 / 48 kHz / 1509 kbps / 24-bit)
Commentaries:
DTS-HD Master Audio English 1986 kbps 2.0 / 48 kHz / 1986 kbps / 24-bit (DTS Core: 2.0 / 48 kHz / 1509 kbps / 24-bit)
DTS-HD Master Audio English 1799 kbps 2.0 / 48 kHz / 1799 kbps / 16-bit (DTS Core: 2.0 / 48 kHz / 1509 kbps / 16-bit)
Subtitles:
• English (SDH), None
Extras:
•
Audio Commentary with Actors Michael Callan and Dwayne Hickman

•
Audio Commentary with Film Historians Eddy Friedfeld, Lee Pfeiffer, and Paul Scrabo

•
Isolated Score Track

•
Lee and Pamela: A Romance (34:08)

•
The Legend of Cat Ballou (12:36)

•
Original Theatrical Trailer (3:30)
• Liner notes by Julie Kirgo
Limited to 3,000 Copies!
Bitrate:
Description: When hired gun Tim Strawn (Lee Marvin) kills her rancher father, Cat Ballou (Jane Fonda) becomes an outlaw set on vengeance. Enlisting the help of washed-up gunslinger Kid Shelleen (also Marvin) as well as the handsome bandit Clay Boone (Michael Callan), Cat strikes back at the land-development company that employed Strawn, and eventually targets the assassin himself. Adding to the lively comedic mood of the film are narrative song performances by Nat King Cole and Stubby Kaye.
The Film:
Western parody, tinged with melancholy for the good old days, in which prim Fonda returns home from school to find her rancher father under threat of eviction or worse, and hires a once-famous gunfighter (Marvin) - who proves to be a drunken bum - as protection against the dreaded hired gunman with the tin nose (also Marvin). The film presents such a mixture of comedy styles that the more lumpen slapstick routines, and the cosy musical interludes from Nat King Cole and Stubby Kaye, may lull you into overlooking some brilliant throwaways. Marvin is consistently brilliant.
Excerpt from TimeOut located HERE
It is a carefree and clever throwing together of three or four solid Western stereotypes in a farcical frolic that follows—and travesties—the ballad form of Western storytelling made popular in "High Noon."

There's the innocent young school teacher whose dear old daddy is gunned down by a killer for the monopolistic villain who wants to take over his valuable ranch. There are the two or three brazen young stalwarts who would like to help her but are powerless in the face of the organized antagonism of the cowardly citizens who want the villain to build his slaughterhouse. And there's the old and once-dreaded gunfighter the heroine desperately hires, first to give her father protection and then avenge his death.

So the characters are familiar. It is just the way they are played and the gusto with which the plot is mangled that makes this a breezy little film.

The heroine—the Cat Ballou—of Jane Fonda is a big-eyed, big-hearted grown-up child, a veritable Little Mary Sunshine, who takes to gunning and robbing a train with the gee-whiz excitement of a youngster confronted with a huge banana split. The lads who would like to assist her—Michael Callan, Dwayne Hickman and Tom Nardini—are younger and better-looking versions of the Three Stooges, with lively romantic overtones. And the aged gunfighter of Lee Marvin is a titanic and bleary-eyed drunk who, when he first tries to hit a target tacked up on a barn, doesn't even hit the barn.
Excerpt from the NY Times located HERE

Image : NOTE: The below Blu-ray captures were taken directly from the Blu-ray disc.
Cat Ballou comes to Twilight Time Blu-ray in a dual-layered, 1080P transfer with their usual high bitrate. It looks fabulous with deep rich colors and superb contrast. The image is dark, thick and gorgeous. It's clean with no damage or speckles and I see no evidence of manipulation or noise. This Blu-ray gives an impressive presentation in the original 1.85:1 aspect ratio - probably as good as it will get for this film.
CLICK EACH BLU-RAY CAPTURE TO SEE ALL IMAGES IN FULL 1920X1080 RESOLUTION
Audio :
Audio is likewise impressive. Frank De Vol's (The Dirty Dozen, Kiss Me Deadly, The Big Knife (1955), What Ever Happened To Baby Jane?, McLintock) memorable score is able to advance the film's lighter traits - and sounds superb in the DTS-HD (24-bit), lossless, audio transfer (also available in a 5.1 bump and an isolated track option.) Aggressive effects are rare but horses and western genre effects are tight. There are optional English (SDH) subtitles (see sample) and the Blu-ray disc is region FREE.
Extras :
Twilight Time add two audio commentaries - the first with actors Michael Callan and Dwayne Hickman originally from the 2000 DVD and the second has film historians Eddy Friedfeld, Lee Pfeiffer, and Paul Scrabo expanding on the production and performers in a very professional manner. Twilight Time produce their own extra featurette; Lee and Pamela: A Romance - a 1/2 hour with actor Lee Marvin's widow, Pamela and she is generous with her stories. It's very nicely done. She has written a book Lee - A Romance describing how they fell in love in 1945, when she was 15 and he was a 21-year-old veteran. The Legend of Cat Ballou is a standard 12-minute video piece from 2000 (from the original DVD) by Michael Gillis with director Elliot Silverstein discussing the production. There is an original theatrical trailer, the aforementioned Isolated Score Track and the package has liner notes by Julie Kirgo. It is limited to 3,000 Copies!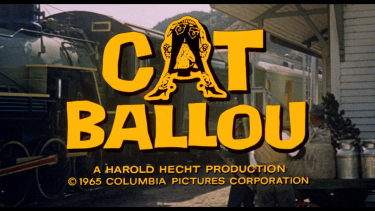 BOTTOM LINE:
Cat Ballou is a lot of adventurous fun. The performances are strong - Fonda showing some Barbarella-esque cheesecake and Marvin as the unforgettable alcoholic gunslinger. The Twilight Time Blu-ray provides as good an a/v transfer for the film as I have ever seen and further value with the commentaries, isolated score, featurettes and liner notes. It's a complete package of a very enjoyable and entertaining film - strongly recommended!
Gary Tooze
October 11th, 2016