Review by Gary Tooze
Production:
Theatrical: CG Cinéma
Video: Criterion Collection Spine #822
Disc:
Region: 'A' (as verified by the Oppo Blu-ray player)
Runtime: 2:03:51.465
Disc Size: 48,452,902,497 bytes
Feature Size: 35,241,498,624 bytes
Video Bitrate: 32.65 Mbps
Chapters: 19
Case: Transparent Blu-ray case
Release date: June 28th, 2016
Video:
Aspect ratio: 2.40:1
Resolution: 1080p / 23.976 fps
Video codec: MPEG-4 AVC Video
Audio:
DTS-HD Master Audio English 3333 kbps 5.1 / 48 kHz / 3333 kbps / 24-bit (DTS Core: 5.1 / 48 kHz / 1509 kbps / 24-bit)
Subtitles:
English (SDH), none
Extras:
• Beyond Time, a new interview with director Olivier Assayas (37:46)

•
Parallel Lives, a new program featuring actors Juliette Binoche and Kristen Stewart on their roles in the film

•
Cloud Phenomena of Maloja, a silent 1924 documentary by Arnold Fanck that is seen in the film (10:24)

•
Trailer (2:09)

•
PLUS: An essay by critic Molly Haskell
Bitrate:
Description: This multilayered, immensely entertaining drama from the great contemporary French director Olivier Assayas is a singular look at the intersection of high art and popular culture. The always extraordinary Juliette Binoche is stirring as Maria, a stage and screen icon who is being courted to star in a new production of the play that made her famous—only this time she must assume the role of the older woman. Kristen Stewart matches her punch for punch as her beleaguered assistant, called upon to provide support both professional and emotional for her mercurial boss. And Chloë Grace Moretz is Maria's callow new castmate, a starlet waiting in the wings. An amorphous, soul-searching tale, filled with ethereal images of its Swiss Alps setting, Clouds of Sils Maria brilliantly dramatizes one woman's reckoning with herself and the world.
The Film:
Juliette Binoche, Kristen Stewart, and Chloë Grace Moretz light up this exhilarating, behind-the-scenes look at art, acting and aging from acclaimed director Olivier Assayas (Carlos). Maria Enders (Binoche) is a renowned actress at the peak of her career. But when she's cast opposite a young Hollywood starlet with a penchant for scandal (Moretz) in a new production of the play that first made her famous, Maria must come to terms with what it means to be a middle-aged actress in a youth-obsessed industry. Retreating high into the mountains with her personal assistant (a revelatory Stewart, first-ever American winner of a César acting award), Maria confronts her personal demons and prepares for the most important role of her life. Set amidst the scenic splendor of the Swiss Alps, Clouds of Sils Maria is propelled by tour-de-force performances from three actresses at the top of their game.
Excerpt from MRQE located HERE
In the superb French film "Clouds of Sils Maria," Ms. Stewart plays an ordinary American abroad, a new-age, pop-savvy Daisy Miller who, with expressive intelligence that few blockbusters allow, makes a passionate argument for the kinds of movies the actress herself is best known for. Ms. Stewart has rightly won a lot of attention for her performance (the French film industry rewarded her with its highest honor, a César), but it would be a mistake to think of this as some sort of career rescue mission.

She plays Valentine, the personal assistant to a French movie star, Maria Enders, played with blissfully aggressive hauteur by Juliette Binoche. Ms. Stewart easily holds both her own and the screen alongside Ms. Binoche, delivering the kind of emotionally translucent performance that first got her noticed as the girl with the guitar in "Into the Wild," the one with the messy hair and bleeding heart on her sleeve. In the years since, Ms. Stewart hasn't always been asked to do more than look lovesick or imperiled and she's picked up some bad habits along the way. (She fidgets like a sugar-jonesing toddler.) Yet despite too many inferior roles, she retains an unalloyed, thin-skinned naturalism that scrapes away at every false note. The writer-director Olivier Assayas hasn't rediscovered her; she's always been there.
Excerpt from the NYTimes located HERE

Image : NOTE: The below Blu-ray captures were taken directly from the Blu-ray disc.
Clouds of Sils Maria looks excellent on Blu-ray from Criterion and is cited as from a "2K digital master" and the film was shot with an Arricam LT. We can presume that this is an excellent replication of the film's theatrical appearance. Being modern it looks pristine without any marks or flaws on this dual-layered transfer with a very high bitrate. Colors are realistic and some of the outdoor scenery sequences are extremely impressive.
CLICK EACH BLU-RAY CAPTURE TO SEE ALL IMAGES IN FULL 1920X1080 RESOLUTION
Audio :
DTS-HD Master 5.1 surround sounds strong but not challenged by the film's requirements. There are not a lot of separations. Many will notice Handel's Sonata No. 2 in D Minor and Pachelbel's Canon in D. There are optional English subtitles (and mandatory English subtitles for the non-English dialogue - see sample) and my Oppo has identified it as being a region 'A' disc.
Extras :
Beyond Time, a new interview with director Olivier Assayas running 38-minutes. Writer and director Olivier Assayas created the part of Maria Enders in Clouds of Sils Maria for Juliette Binoche at the actor's request - she wanted to work with him again after their collaboration on Summer Hours. In april 2015, Assayas sat down with Criterion in Paris to discuss the project. Parallel Lives, is a new program featuring actors Juliette Binoche and Kristen Stewart on their roles in the film. In these interviews, conducted by Criterion in Paris and New York City in 2015, actors Binoche and Stewart reflect on their work with director Assayas and taking on the roles of Maria and Valentine in Clouds of Sils Maria. Cloud Phenomena of Maloja, is a silent, 10-minute, 1924 documentary by Arnold Fanck that is seen in the film. It is accompanied by a score by the Sardinian jazz trumpet player Paolo Fresu, recorded during a live performance at the Festival della Montagna in Cuneo, Italy, in 2010. There is also a trailer and the package has liner notes with an essay by critic Molly Haskell.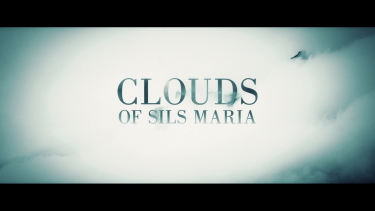 BOTTOM LINE:
Clouds of Sils Maria has so many positives. It's a film that demands a certain amount of patience and intelligence but in embracing it - the viewer is amply rewarded. It's an excellent choice for Criterion to bring to Blu-ray. It's one of Assayas' best efforts and Binoche has been channeling Gena Rowlands in some of her most challenging Cassavetes-inspired roles. This was far superior to what I was anticipating - basically because I had read very little about Clouds of Sils Maria. It seems to have been unjustly neglected. This Blu-ray is an easy recommendation. It's one of the best surprises I've had this year.
Gary Tooze
June 4th, 2016