NOTE: The below
Blu-ray captures were taken directly from the
Blu-ray disc.
ADDITION: Milestone - Region 'A' - Blu-ray (June 2019): The Milestone 1080P presentation is also 4K-restored, by the Film Foundation and Cineteca di Bologna, and starts with the same text screen (below) as the Masters of Cinema. It is hard to identify significant differences from the static screen captures - the pixels have shifted a bit and the MoC may export more grain and the US Blu-ray may be smoother. It changes from scene to scene. Both looks fantastic in-motion on dual-layered disc with high bitrates.
T
he audio superiority leans to the Masters of Cinema - also linear PCM but 24-bit as opposed to 16-bit, and MoC offers the optional French DUB. The Milestone sounds pleasing with the Nino Rota (
Il Bidone, 8 1/2
,
I Clowns
,
Purple Noon
,
The Leopard
etc.) score but marginally more brittle than the richer, deeper UK transfer. Most will not find this a deal-breaker though. The Milestone also offers optional English subtitles (see sample below) and their
Blu-ray
disc is Region 'A'-locked.
The first Milestone Blu-ray has a 3-minute video introduction by Martin Scorsese also showing some split-screen restoration sequences. Milestone have a second Blu-ray that houses a new 42-minute, 2016, video interview with Caterina d'Amico, the daughter of legendary screenwriter Suso Cecchi d'Amico (Rocco, The Leopard, Bicycle Thieves) and co-author of The Life and Work of Luchino Visconti. It is in Italian with English subtitles. Also included are similar video interviews with cast and crew, as found on the MoC, running almost 35-minutes in total and a short before-and-after restoration featurette as well as 6-minutes of original production outtakes.
Great Blu-ray release from Milestone - I love the cover and the 4K-restored image, uncompressed audio and second BD of extras. The film is a must own looking and sounding this impressive after suffering through years of weak DVDs. Strongly recommended!
*
**
ADDITION: Masters of Cinema - Region 'B' - Blu-ray (February 2016):
This looks so impressive - I was blown away. It starts with this text screen: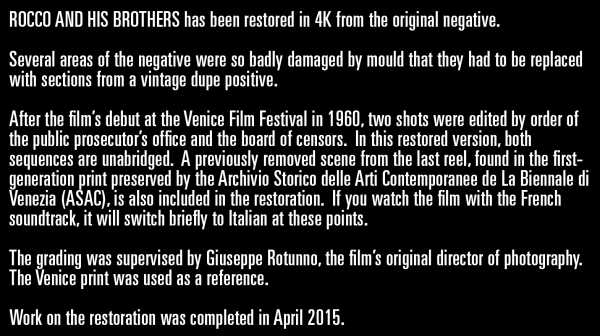 I'll let the screen captures speak for themselves but this is one of the highlights of the year, IMO. 15 years ago we used to watch this film on that horrible Image Entertainment SD transfer. What a revelation this 4K restoration is. I am floored. It's like seeing the film for the very first time.
Audio is via a linear PCM Italian mono track at 1152 kbps (24-bit) and a similar French DUB. This is also notable from listening to the older DVDs. The score by Nino Rota (Il Bidone, 8 1/2, I Clowns, Purple Noon, The Leopard etc.) is sublime sounding predictably flat but depth is apparent. Dialogue is crisp and clean - consistent throughout. I sampled the French DUB. There are optional English subtitles and the Blu-ray disc is region 'B' locked.
Extras duplicate the 2008 Masters of Cinema DVD with 9-minutes worth of two newsreels (Cinecronaca and Caleidoscopio) the 2003, 20-minute, French documentary entitled Les coulisses du tournage and the 26-minute 1999 interview with Visconti's cinematographer Giuseppe Rotunno. There is also the same 23-minut interview with actress Claudia Cardinale from 1999 and a 1/2 hour 2002 interview with actress Annie Girardot. I appreciated re-watching the educational hour-long documentary about the life and work of Visconti (titled Luchina Visconti) and there is an original Italian trailer, The extra material is optionally subtitled to English (except the trailer.) The package has a 40-page liner notes booklet featuring writing by Guido Aristarco, an essay written by the director in 1960, a vintage interview with Visconti and rare archival imagery.
This is a great Blu-ray. This masterpiece film gets an outstanding a/v presentation, the first of the bunch without PAL speedup, and we give it our absolute very highest recommendation!
***
ADDITION: Masters of Cinema - Feb 08': In comparison we can throw-out the non-anamorphic Image Entertainment and the awful boosted C'est la Vie. IMdb, and other sources, claim this film was shot with an intended ratio of 1.66:1 but both the Medusa and MoC are around 1.8:1 - both are progressive and 16X9 enhanced. They look remarkably similar with possibly the MoC having some boosted black levels to bring up sharpness at times. Both look very good but not pristine. For all we know this is the best this film will look on digital. The Masters of Cinema package vaults ahead with some strong supplements - all optionally subtitled in English.
First we have Cinecronaca newsreel from 1960 - it runs almost 7 minutes. Then there is a short Caleidoscopio newsreel - also from 1960. We may view the original Italian trailer running a lengthy 3minutes 15 seconds. Les Coulisses Du Tournage is a French featurette / documentary from 2003 with extensive clips from the film and input from Cardinale and others - it runs almost a half hour. Guiseppe Rotunno, Visconti's cinematographer on Rocco and His Brothers, is interviewed from Italian TV 1999. It is 20 minutes long. There is another interview - this time with Annie Girardot from 2002 from French TV talking about her experiences working with Visconti - it is a half hour long. Next up is a 23 minute Claudia Cardinale interviewed from from 1999 as part of the Italian RAI series for Memories of Italian Cinema. Finally a wonderfully insightful, hour long, RAI Luchina Visconti documentary from 1999 with input from Burt Lancaster, Cardinale, Jean Marais and others. All extra material is optionally subtitled in English (except the trailer). Finally there is a wonderful 40-page liner notes booklet with essays by Guido Aristarco and Visconti plus an interview with Visconti.
BOTTOM LINE: the image appears as equal to, or a marginal improvement over, the Italian Medusa edition, but the huge bonus is the almost 3 hours of relevant supplement material on the second disc is almost worth the price alone. Add to that the magnificent included booklet and it's easy to identify the Master of Cinema as the definitive package for this classic neorealist film - Visconti's personal favorite. We say - BUY!
***
ADDITION: Medusa - Oct 06': On the Medusa DVD cover there's a note: VERSIONE RESTAURATA. Even though these seems to be the best version (with English subs) to date, it's not Criterion standard. The Image is 16X9 enhanced, but has an overall softness. There's aliasing visible, and occasionally the image looks very "digital". But it can be viewed successfully with a projector, where the other versions exhibit too many flaws. Why these edition is 1:40 seconds longer than C'est la Vie I don't know.
Both are relatively bad prints but the C'est La Vie has had some contrast boosting. Both are hazy. The C'est la Vie has a 2nd disc with a documentary about director Visconti, but that hardly makes up for the poor image quality. If you require English subtitles then the Image has the best picture quality, but if you understand French then there is a dubbed TV1 version with slightly better picture image.